Australasian Sangria Blog Hop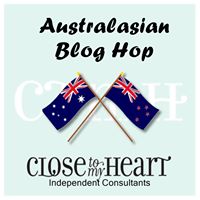 Welcome to the Sangria Australasian Blog Hop.  This is a circular hop.  If you arrived from
Mez's Craft Room
you are in the right place. Simply read through this post and click on the link to the next blog at the end of it.  Keep reading and 'hopping' until you find yourself back where you started from.  Each blog will showcase a project featuring the
Sangria
collection which is available through until the end of August 2016.
Perth has a lovely museum with a really quaint cafe.  We like to sit ou…
Learn while you play
I had my first play with our new Water Colour Paint set today and it was FUN!    I have opened the lid of the paints several times but I've been too scared to have a go.
After chatting to a couple of consultants at our state training day yesterday I was encouraged to just try something small and easy.
I simply painted 3 shades of blue across a piece of white daisy cardstock, let it dry, stamped on top of it and then trimmed it down.  It's…