Welcome!
You visited at a great time!  I have something just launched a membership
Join a group of passionate memory keepers, recording stories of the people, places and things they love best
through their photos in scrapbook albums.
Inspiration, motivation and accountability to keep you recording and sharing the photos and stories that matter most to you.
Simple systems to organise your digital library, plan your albums, tell the stories behind your photos and display them attractively on your scrapbook pages.
Monthly scrapbook workshop classes and Zoom Scrap 'n' Chat sessions for members only
---
If this is your first visit to my website, be assured this is the place for inspiration
to make sharing your photos and stories easy.
I offer classes for beginners and experienced memory keepers.  Let me help you tame the beast that is your digital and print photo archive.  Together, we will explore creative ways to display your photos in scrapbook albums and share the stories that mean the most to you.  Along the way, you will find a group of like-minded memory keepers keen to have fun, build relationships and expand the community that is Passionate About Pages.
 My most popular classes are the ones that help new and experienced scrapbookers create multiple layouts with products they own using the tools and embellishments they love best - all in short bursts of time.  These workshops are called Same But Different and I regularly offer new patterns.  You will find my best sellers listed below.
These ones are offered as online classes that you can work through at your own pace.  They include handouts you can download and step by step videos to walk you through the whole process.  Each layout offers many options for the number and size of photos to include.
If you are visiting after watching my presentation at the 2023 CTMH Virtual convention, you will find the Heroes and Supporters workshop in the 6 class bundle.  I'm so happy my idea has sparked interest for you.  Prices are in Australian dollars - USD is about two thirds of this amount :)
I'm here to help you.
Shaunna xxx
The fastest way to complete albums is using Same But Different Scrapbook Workshops
Let me show you how versatile a Same But Different scrapbook workshop can be.
In each lesson you follow a pattern to create quick and easy scrapbook pages that you can leave simple or dress up a little.  Multiple layouts can be created from one pack of papers, each one looks the same…but different as you change the orientation of elements, vary photo size and placement and add finishing touches to suit your photo theme.
You can use the same designs over and over with many different paper packs and each time they will look a little the same... but different! This is your answer to lack of time or creative inspiration. I guarantee every pattern will work for ANY papers you have on hand.
Six Same But Different patterns
in one place
Valued at $150 - yours for just $117
Online Anytime
1 8 & 4. Create your own co-ordinated paper packs from left over sheets of paper, giving you the choice to use a full new pack or papers from your crafty stash.   
2 Quick and easy Borders, allow lots of real estate for multiple photos on a layout.
3 Heroes and Supporters uses one enlargement  supported by multiple smaller photos to fill in the details of the story.
4 Simple Strips Grab all your left-over strips of pf paper and turn them into a focal point on your page design. 
5 Repeated Shapes Revisit thin cuts, stamps, punches and digital art collections you own 
6  Half & Half  2-3 cuts are all you need to build the foundation of a great layout.
3 x 3 Same But Different Class
$25
Online Anytime
Let me show you how to take one simple pattern, cut it multiple times and arrange the pieces in a variety of ways to create several layouts that look the same, but different!
Follow a super simple cutting and assembly guide to create 6 double page layouts from a pack of paper and it's co-ordinating cardstock.
Keep them clean and classic, add a little decoration or elevate them using lots of different techniques and goodies from the co-ordinating embellishments & stickers or from your crafty stash.
This class is perfect for beginner and experienced scrapbookers and is ideal for those of you with limited time to add your favourite stories and photos to albums.
Candid Moments Same But Different
$25
Online Anytime
Capture the everyday candid moments in your scrapbook pages
The simple elements of this pattern offer great flexibility for design and photo placement.   It works for all photo themes and can accommodate enlargements, standard 4x6 photos and multiple smaller prints. 
I'll show you how to combine stencilling and dry embossing with stickers and embellishments to take a few 12" panels and turn them into awesome scrapbook layouts. We will use one paper collection plus one simple cutting pattern to create NINE double page 12 x 12 scrapbook layouts that are all a little bit the same... but different!
What's the next step for you?
The best part of my job is helping people like you choose their favourite photos, add them to albums and tell the story behind them.  You may be an old hand at this scrapbooking caper or someone tentatively taking your first steps toward creating an album of memories to treasure. 
There is something for everyone at Passionate About Pages.  Learn new techniques and scrapbooking processes, create with like minded people and become part of an uplifting and loving community of memory keepers.

I'd love to hear from you, especially if you are new to scrapbooking or have a special album project to get organised.  Click the button to send me a message.
Join a class
I offer face to face and online events and classes.  They vary in length from a few hours to full weekends.  Fun album challenges can span several weeks.  

Every event is suitable for beginners through to advanced scrapbookers - you will find something new to learn each time you join in.
My lovely customers tell me the laughter and community is as important as the tips and techniques I'm sharing.  
Close To My Heart Products
I am a Maker with Close To My Heart , selling their products because I know the quality is outstanding. I am continually delighted by the beautiful array of papers, stamps, thin-cuts and embellishments they offer.  There is always something new and on trend to excite us all.
Monthly specials offer variety on a budget for those wanting to try new things.
I love the VIP program which showers shoppers with free product of their choosing.  Regular shoppers also have the opportunity to join a hostess club and earn half price items from me.  This is an awesome way to get those big ticket items you desire.

Take control of your digital images
Do you have photos spread over numerous devices?
Would you like to do something with them but feel overwhelmed?
Don't know where to begin collating and organising them?
Click the button to download my free Overcoming Photo Overwhelm  Ebook. Learn a simple system that will help you reduce the number of saved images on your devices and make them easily searchable in one place.  Choosing photos for your scrapbooking projects will be so much easier!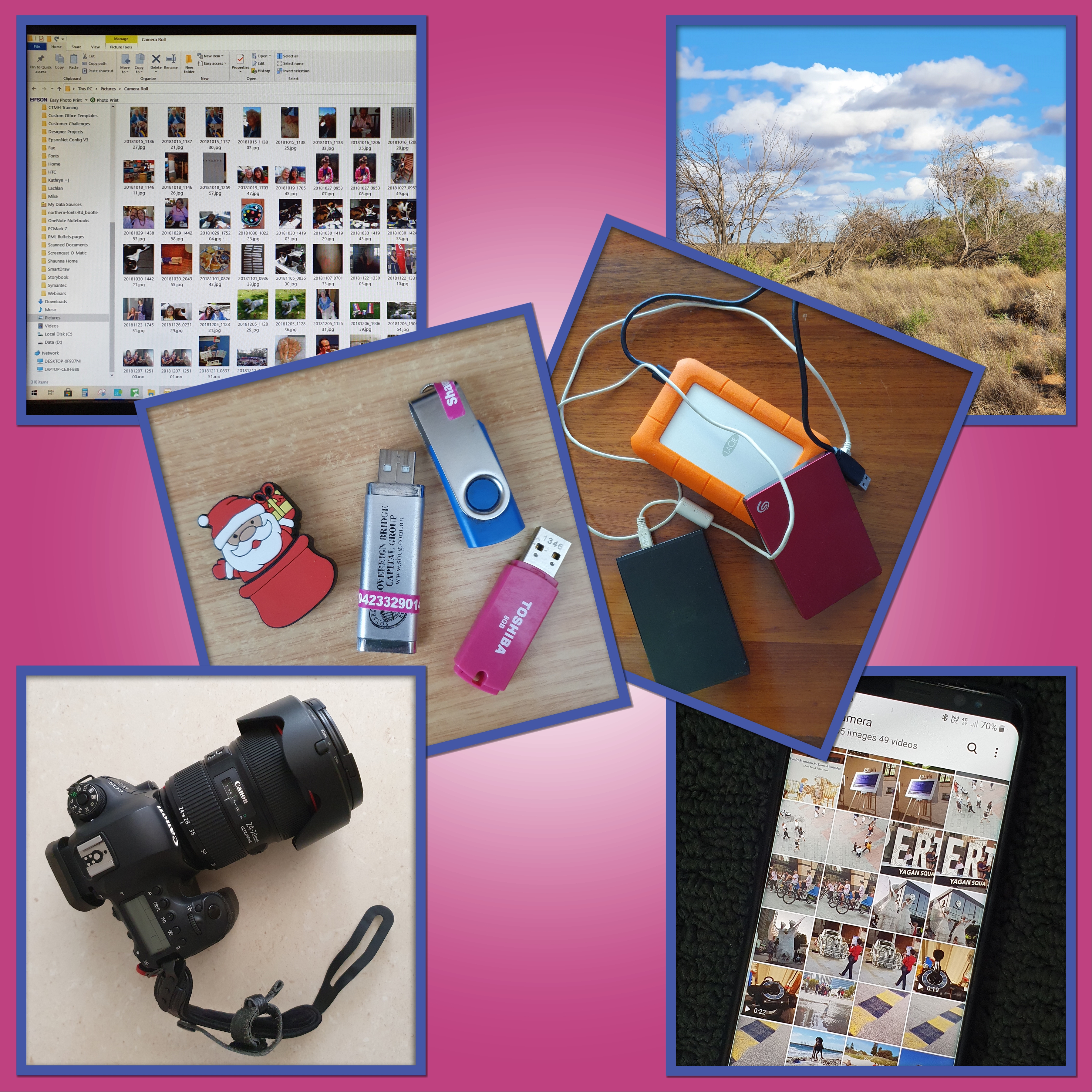 Start your own Close To My Heart Business
If you are a committed memory keeper or paper crafter, chances are you've thought about turning that passion into a business.   

I'd love to share a simple system to get started making sales to the people you know and love.  This is a fun business that you can run part time around your other commitments or work up to full time.
I haven't wiped the smile from my face since I first joined in July 2013.  Check all the details about becoming a Close To My Heart Maker and get back to me if you have questions. I'd love to have a chat to see if we are a good fit for each other.