Keep Your Head Up Australasian Blog Hop
Help Close To My Heart Raise Funds for Australian Bushfire Relief
Welcome to the Keep Your Head Up blog hop. Today I have teamed up with 2 sister consultants to share creative inspiration using Close To My Heart's fundraising stamp set. This is a circular hop. You may have arrived from Dannii's blog, a link from my Facebook page or stumbled upon us by accident. Regardless of how you got here, you are welcome! Simply read through my post, click the link to the next consultant and continue through until you find yourself back here. Then it's time to head to the crafting table for some stamping fun times.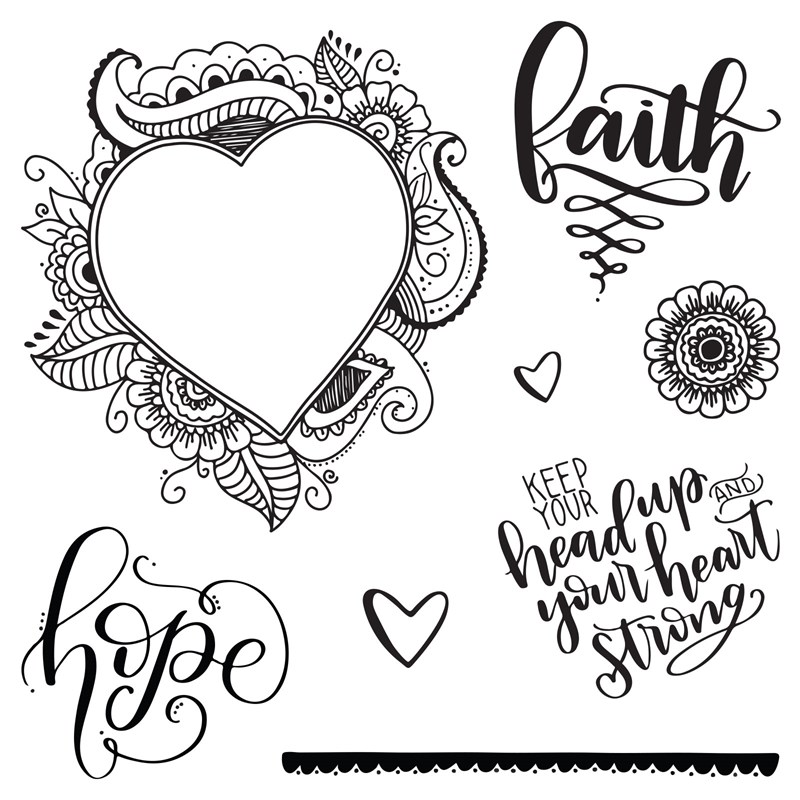 This stamp set is titled Keep Your Head Up (W1202).  It was designed especially to support the Red Cross (Aust) fundraising appeal to help those impacted by recent bush fires.  All proceeds from the sale of these stamps will be donated to the Australian Red Cross.
Isn't it beautiful? The sentiments share the message we all send to those impacted by the fires. I LOVE the heart and have been experimenting with designs for my albums and cards.
Create a Birthday Celebration Layout
Today's project is a 2 page layout that will showcase photos taken at my niece's 21st next weekend.  She is the youngest of my nieces and the first one who's celebration we have been able to attend – hence the title.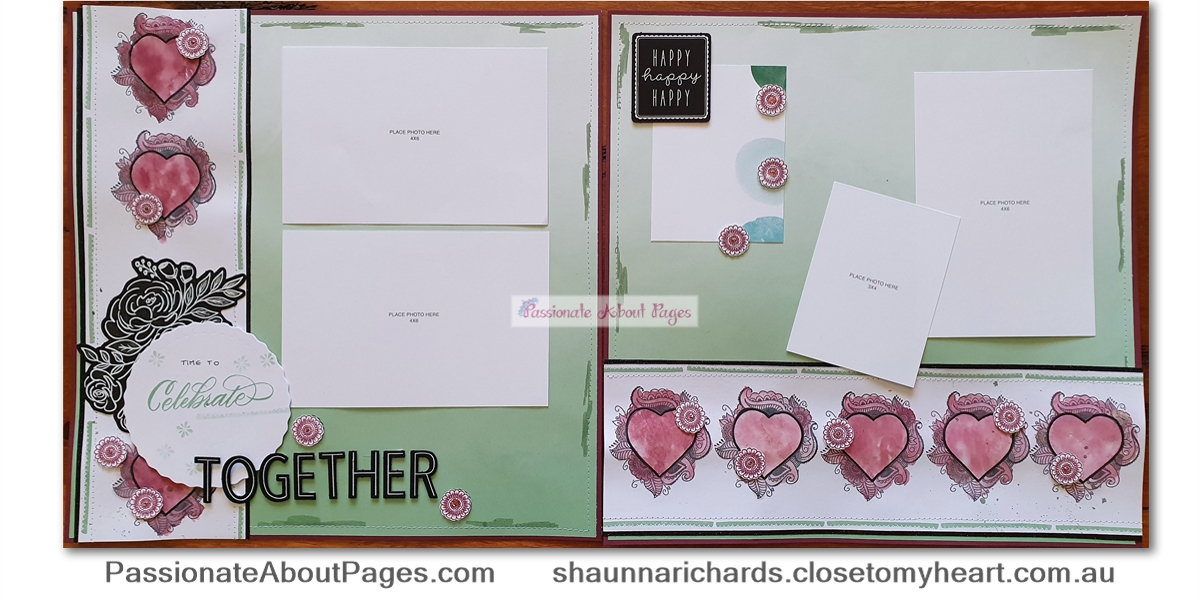 One of the best things about being a crafter is constantly learning and trying new techniques.  This is the first time I've ever sewn on my pages.  It was way easier than I thought and lots of fun!  If you are a sewer, have a go.  It's a great way to add texture to your page without adding bulk.  Be sure to pull the threads through to the back and hold in place with a piece of washi tape.
Mix Ins Paper packets offer a range of background papers. The Juniper Shimmer Brush 'scribbles' add an accent to the stitch line.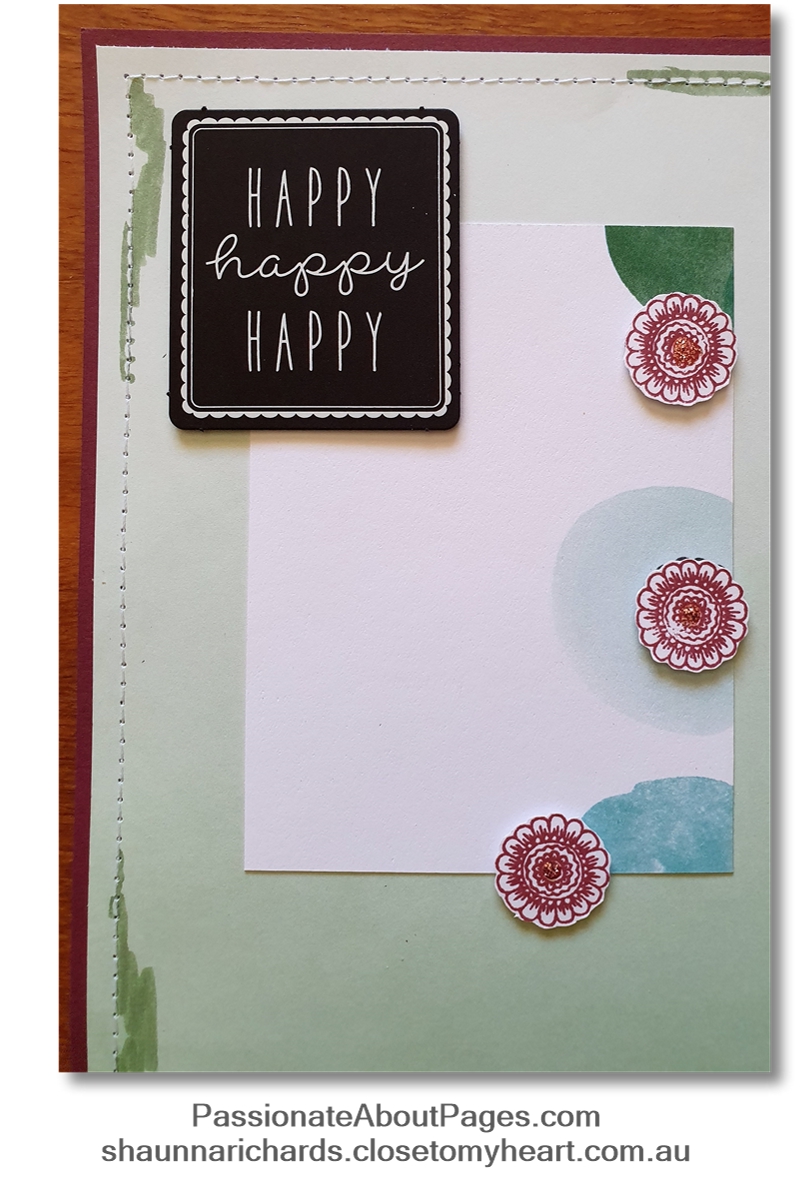 Hearts were stamped repeatedly to create the border panels.  Set them aside to dry completely before watercolouring.  This is a very detailed stamp so colouring with the paints would be quite tricky.  Adding a wash over the whole design is fast and easy.  Use watercolour paper for best results and wet the image with clean water before adding the colour.
You can go over the hearts with your journalling pen if you want the shape to stand out a bit more. A flower stamped in Sangria ink, fussy cut and popped up on Thin Foam finishes each heart nicely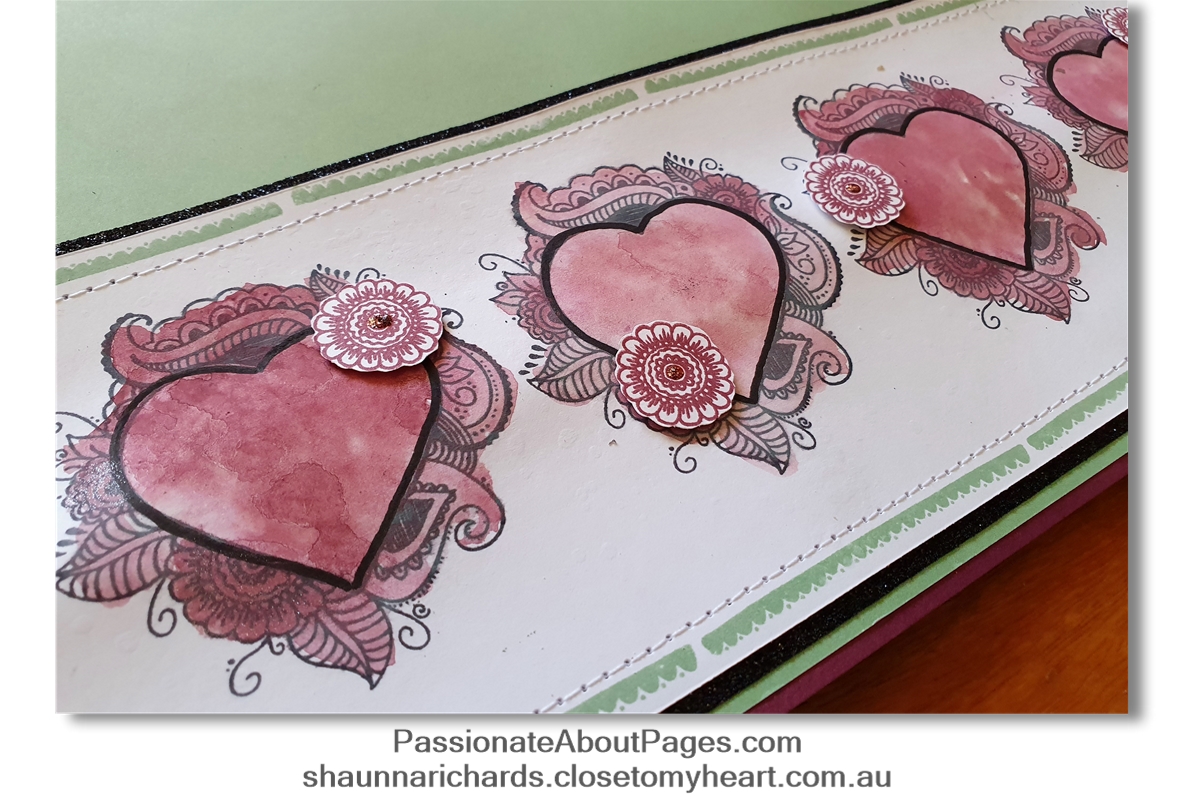 Pops of black add strong contrast to this pastel layout.  The complements are from the Every Little Thing collection.  Painting with a shimmer brush gives the flowers a lift.  A narrow strip of shimmer trim frames the borders and unifies the design. Do you love the frilly circle die-cut? It's the spinner part of Card Front Spinner Thin Cuts set.
Order your stamp set today
This is a B-size stamp set that would normally be priced at $20, but Close To My Heart have decided to make it available for just $10. When you purchase the set all proceeds from its sale will be donated to the Red Cross, with the donations designated to the relief efforts for the Australia bushfires.

In order to maximise the donation amount, this set will be non-commissionable, meaning it does not count to Hostess Rewards and SOTM totals. This way all proceeds—including the amount that would normally go toward paying commissions—will be donated.

If you would like to support this fundraiser, simply place an order with your Close To My Heart consultant  

Let's keep the stamp department flat out making these beautiful sets for us!
Time to Hop
Thanks for taking the time to visit my blog. A cheeky like, a comment or subscription shows me you enjoyed what I shared. Next stop on the hop is Doris Taylor's Creative Inspirations . Enjoy!
Happy Scrapping,
Shaunna
Close To My Heart products used on this layout
W1202 Keep Your Head Up Stamp set
X9011 Mix Ins Paper Packet
Z3626 Card Front Spinner Thin Cuts
Z3271 Archival Black Exclusive Stamp Pad
Z6516 Sangria Exclusive Stamp Pad
Z6511 Julep Exclusive Stamp Pad
Z3225 Waterbrush - Medium Round
Z3132 Watercolour Paints
Z4243 Watercolour Paper Pad
Z3517 Black O.5 Journalling Pen
Z3508 Julep Shimmer Brush
Z3293 Clear Shimmer Brush
Z3341 Thin Foam Dots
Z1809 Black Shimmer Trim