A Lardhead Adventure
When my sister, Rhonda,  and I were young our family's favourite TV show on Sunday Night was called,
"Ask the Leyland Brothers"
  It screened between 1976 and 1980, covering 153 episodes. The series followed the
Leyland brothers
, Mike and Mal, who traveled across
Australia and New Zealand
in response to questions posed by viewers.  Mike and Mal were slow talking Aussies who had awesome adventures with their wives and children.
Once I had my driver's license, Rhonda and I would head off for short breaks around the South West of WA.  We had an old cassette recorder that sat on the bench seat between us and we would record our own
'Leyland Style'
episodes of our adventures.  Being prone to wrong turns, forgotten tent poles and mishaps, we christened ourselves
"The Lardhead Sisters". 
We thought we were hilarious!
When planning Rhonda's 50th birthday travel in Italy we decided our two daughters need to experience a Lardhead adventure with their mummies.  They are two well travelled, super organised and self sufficient young women.  Rhonda and I will do our best to destroy that reputation and introduce them to our world of wrong turns and lame adventures.  We hope to have them collapsing in laughter over something quite inconsequential and record it all with photos...stay tuned for future posts!
Today's layout marks the beginning our
Lardheads in Italy Tour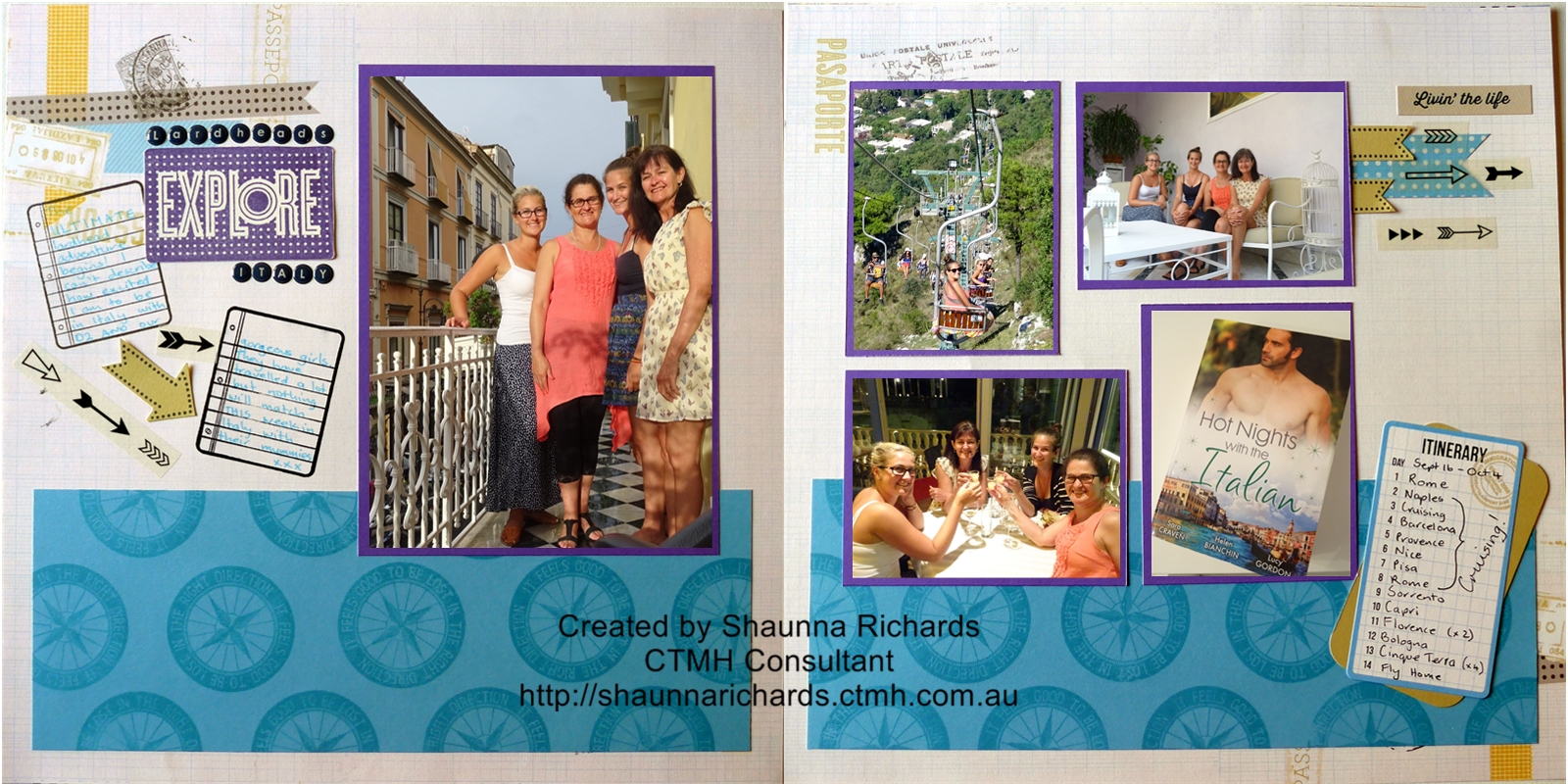 This is my take on the Wanderful WOTG  layout without Cricut cuts.   I changed it a little so I could use 3"x4" photos and I'll be adding some flip flaps later!  The layout below is the one in the Wanderful Workshop on the Go Kit which uses Cricut cuts.  All the instructions to create it are contained in the kit. 
I love how the same sketch can be used so many ways and look different each time.
Whilst this layout marks the beginning of our Lardhead adventures it is the last in my Travel Bug Challenge.  I hope you've enjoyed trying some of the ideas presented over the past 4 weeks.  If you have been part of the challenge, take a couple of days to complete your projects and then send your recording sheets to me so I can order your rewards. They need to be in my hands by October 6.
Happy Scrappin'
Shaunna