A few of my favourite things... Bonding Memories Glue Pens
Working with paper is so much easier with the right adhesives.  Let me share some tips about this versatile glue pen.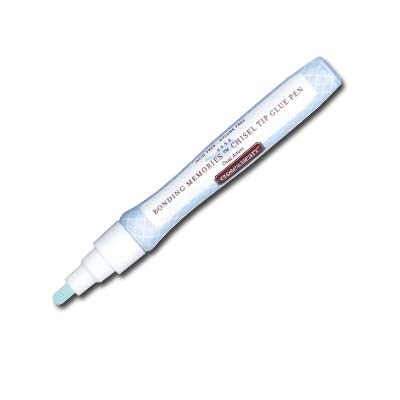 Bonding memories is a liquid glue that offers the versatility of being permanent or temporary.  The foam applicator is white when you first open the packaging.  A couple of 'pumps' will see blue glue running towards the tip DON'T over pump it or you will have a puddle :)  The glue goes on blue and when you stick the piece to another sheet of paper it will bond permanently.  If you allow time for the glue to turn white before affixing, it will be a temporary bond.  This is great if you are experimenting or it is something you want to be able to remove later.
I love this glue for my card making because I get right to the edges of each layer and they don't lift off as the card is being handled.  Having the choice of 2 sizes means I always have the right tool for the job.
Bonding memories is strong - perfect for 3D objects.  Stick pieces together while it's blue and they won't come apart with handling.
This adhesive is acid free so it's perfectly OK to use it on your scrapbook pages.  I don't use it on my photos because I'm always a little nervous with liquid and photographic prints but I do stick down fussy embellishments with it on my pages.
Order your Bonding Memories Glue Pens
here
.
Happy Scrappin'
Shaunna