Co-ordinating pages for unrelated themes
Sometimes we only have enough photos for a single page.  "WOW!" I hear you say, "Does that actually happen?"  The answer is , "Yes, occasionally."  When it does it brings the problem of needing to find a way to co-ordinate the two layouts so it remains pleasing to the eye when you turn to this page in your album.
Here are my tips for this situation...
 Keep the layouts simple
Use the same papers on both pages
Choose generic images or shapes for your decorations
Keep headings in the same style
These two pages are quite unrelated.  The left hand side is a brief summary of what happened in our house on the 11.12.13 (an auspicious date with the numbers running consecutively) and the right hand page features a fun gift my daughter found for my mum in the lead up to Christmas.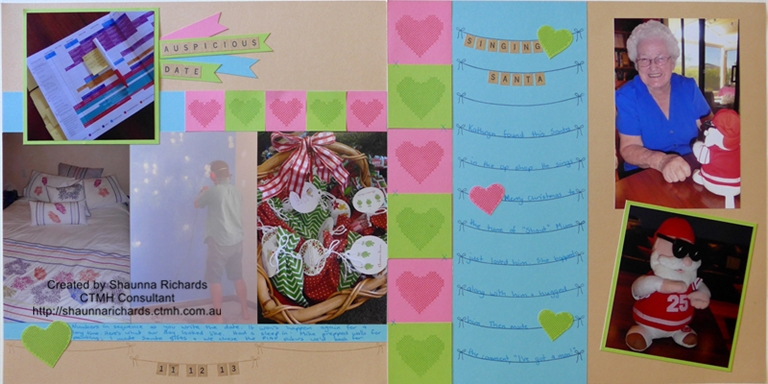 I decided plain cardstock was the go and just chose 3 bright colours I liked - I wouldn't be able to match colours to all the photos anyway.  The colours reflect my mood more than the subject matter of the photos.  I had just got my hands on this month's Stamp of the Month,
Cross Stitch Wishes
, so it was a done deal that they would provide the embellishments.  A girl just has to play with her new toys!
I loved using the string stamp as my journaling lines and the little
Keyboard Kraft Alphabet
stickers ($6.50) are an absolute favourite for me at the moment.  They just seem to fit with most layouts.
Get your
Cross Stitch Wishes
Stamp of the Month for just $5 with any $75 purchase during January or pay full price of $24 (S1401).  Visit
http://shaunnarichards.ctmh.com.au
to order online or email me at
shaunnarichards@bigpond.com