Isabella Collection Blog Hop
 Oh my goodness!  In these Covid times it was so lovely to play with this paper collection that feels a little like the Mediterranean!   Some patterns are light and bright, some lemony, some remind you of the ocean and others are more earthy.   This hop features the artwork of some talented women from across Australia and New Zealand.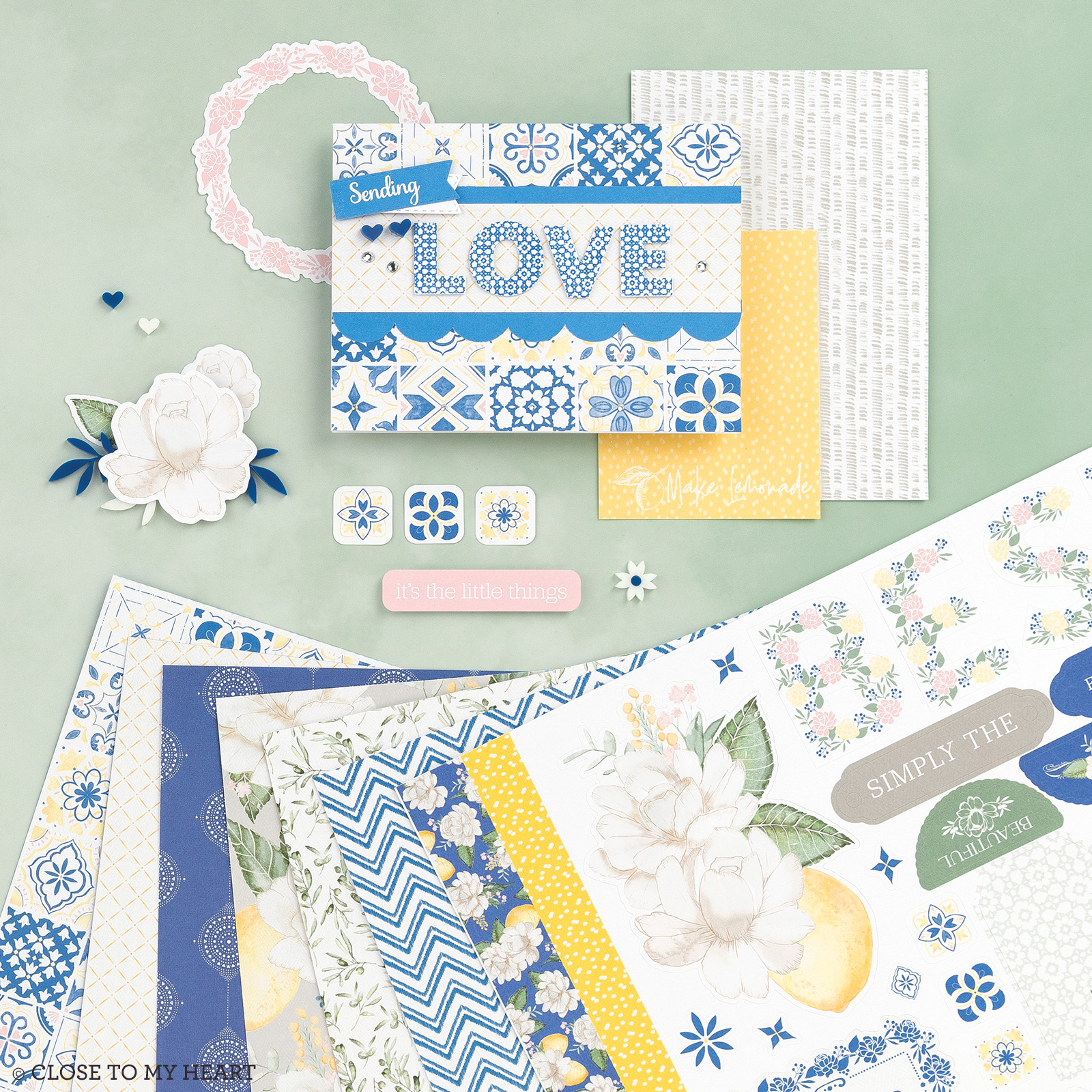 If you arrived from Doris's Blog, Creative Inspirations, you are in the right place.  If this is your first time on a blog hop, simply read on and enjoy my creations.  Click on the link at the end of this post and it will take you to the next blog and so on and so on. Easy and fun! Best part- you can see several different projects you can create with Close To My Heart's Isabella collection.   When you land back here, you are done and it's time to hit the scrapbook room for some crafting fun.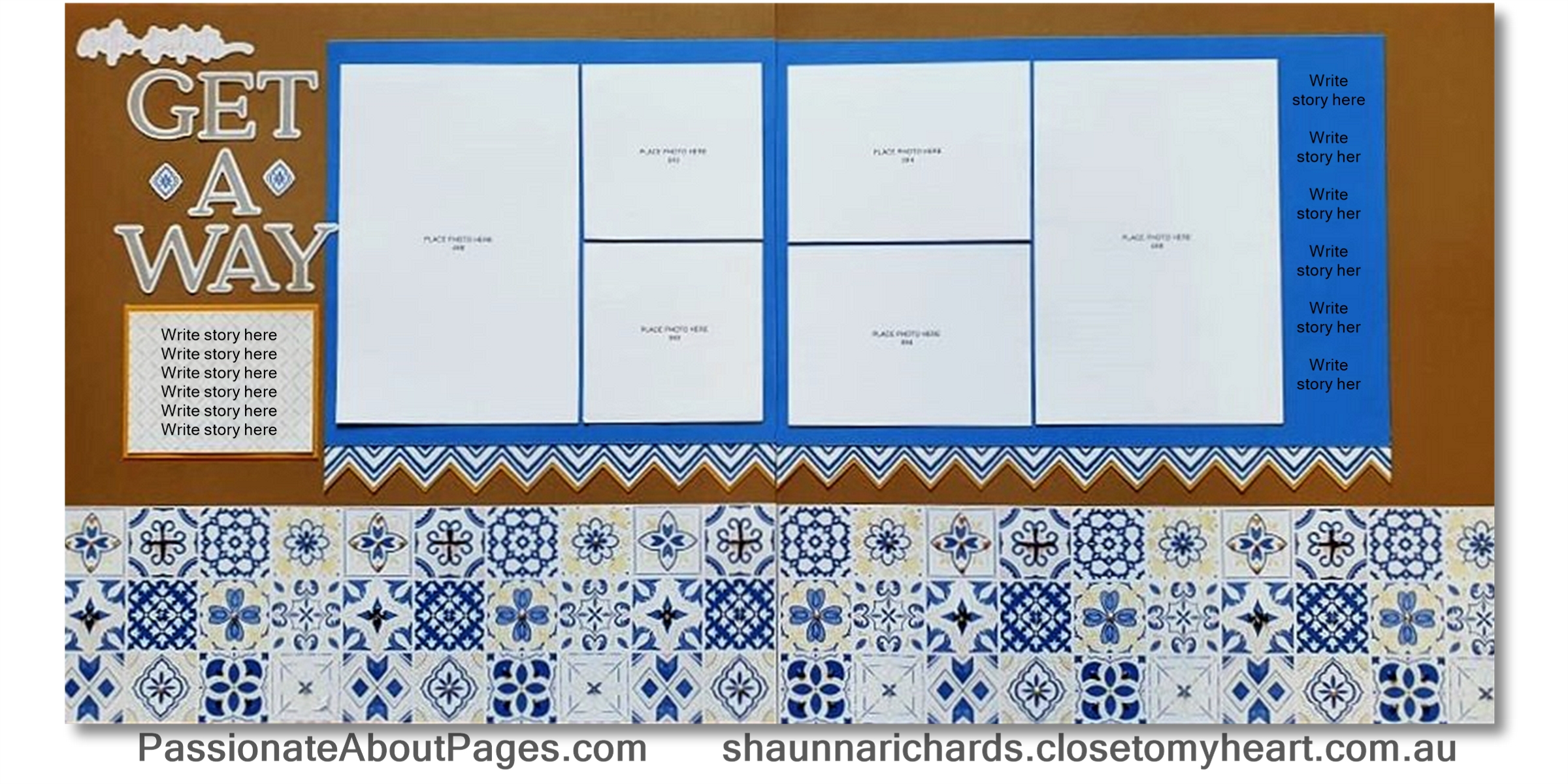 Create a quick and intricate border with pre-printed tile paper
How pretty are the tile designs printed on the border strips?  At first glance it looks like you've spent hours piecing theses squares but all it really took were two cuts with your trimmer! 
You can dress this border up as I have with Bisque Liquid Pearls, Steel Stickles and Bitty Sparkles or leave it plain.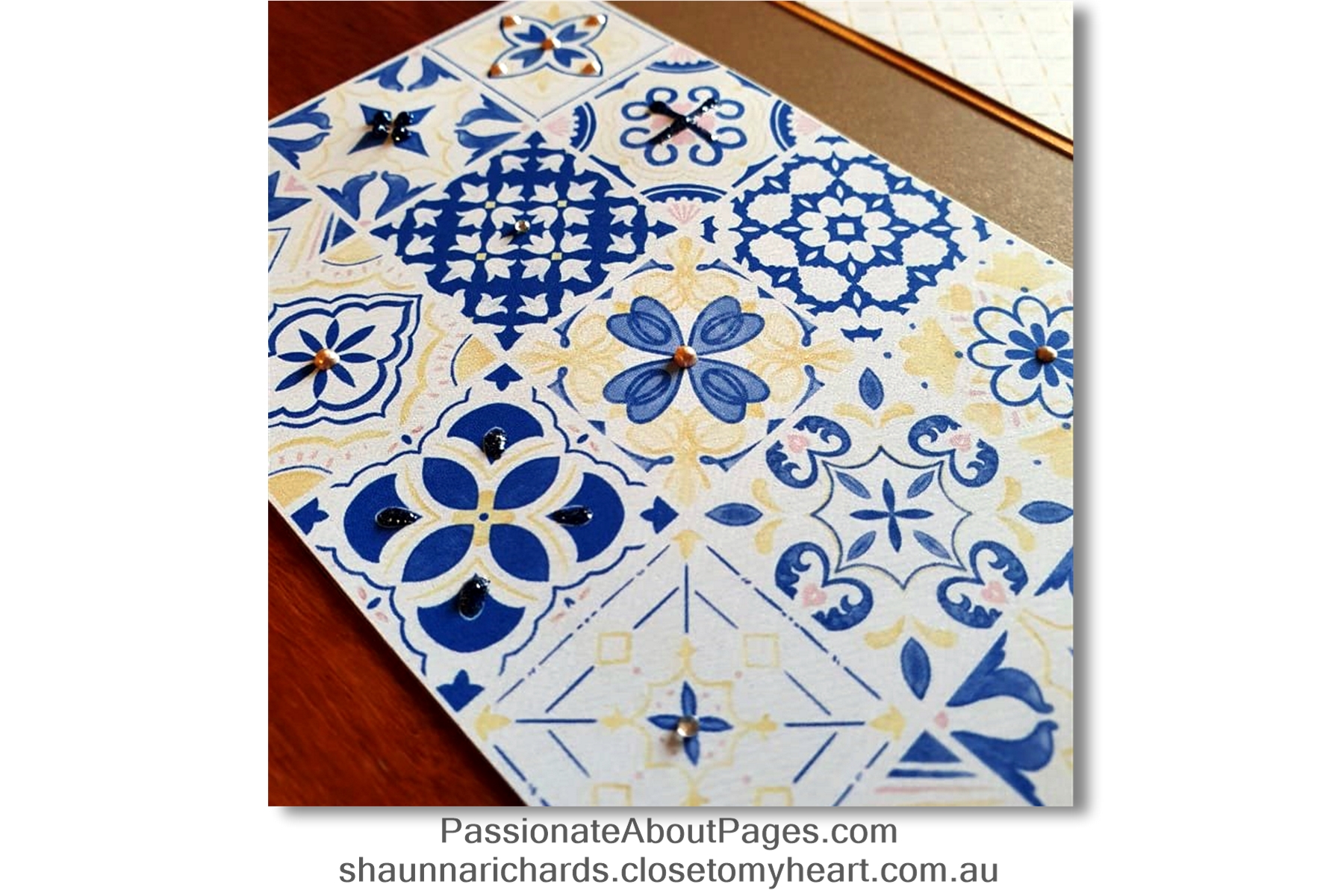 Fussy cut chevrons for impact
The reverse side of the tile paper features a fun chevron pattern in bright and breezy Bluebird tones.  By fussy cutting along the zig zags you can create an interesting border under your photos.  Mount this strip on Sundance cardstock and cut again for extra pop.
Cutting tip: Use sharp, pointy scissors like Close To My Heart's Micro Tip scissors for best results. Cut all the zigs first and then come back and do all the zags.  That way you do not have to change the angle of your scissors and constantly move your paper.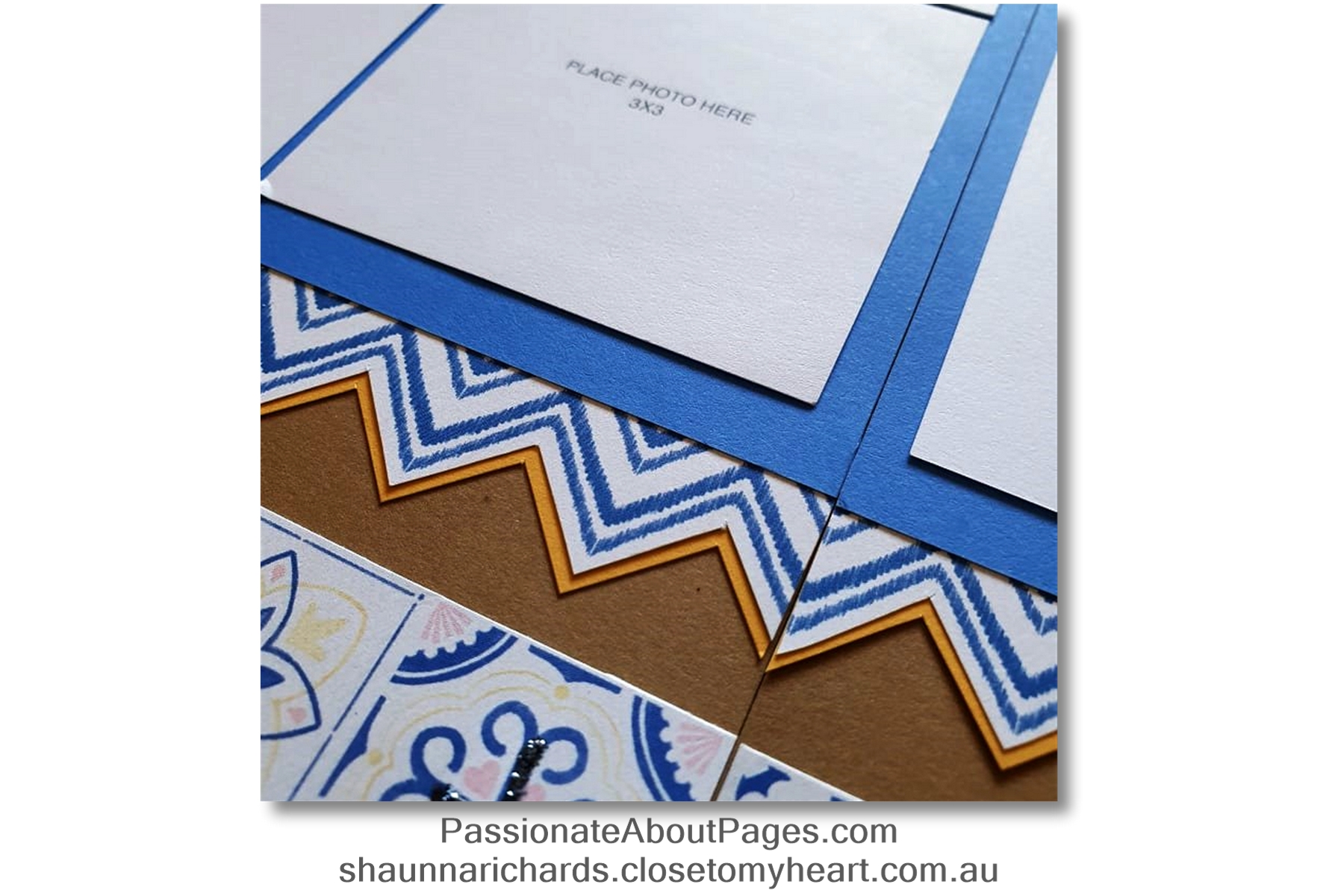 Rearrange letters in word stickers. 
By changing the alignment of the word, 'Getaway', you can create an interesting title block.  Add clear shimmer brush over the grey part of the stickers for a little accent.  You could arrange 'Best' from the sticker sheet in a similar way by putting the ST underneath the BE.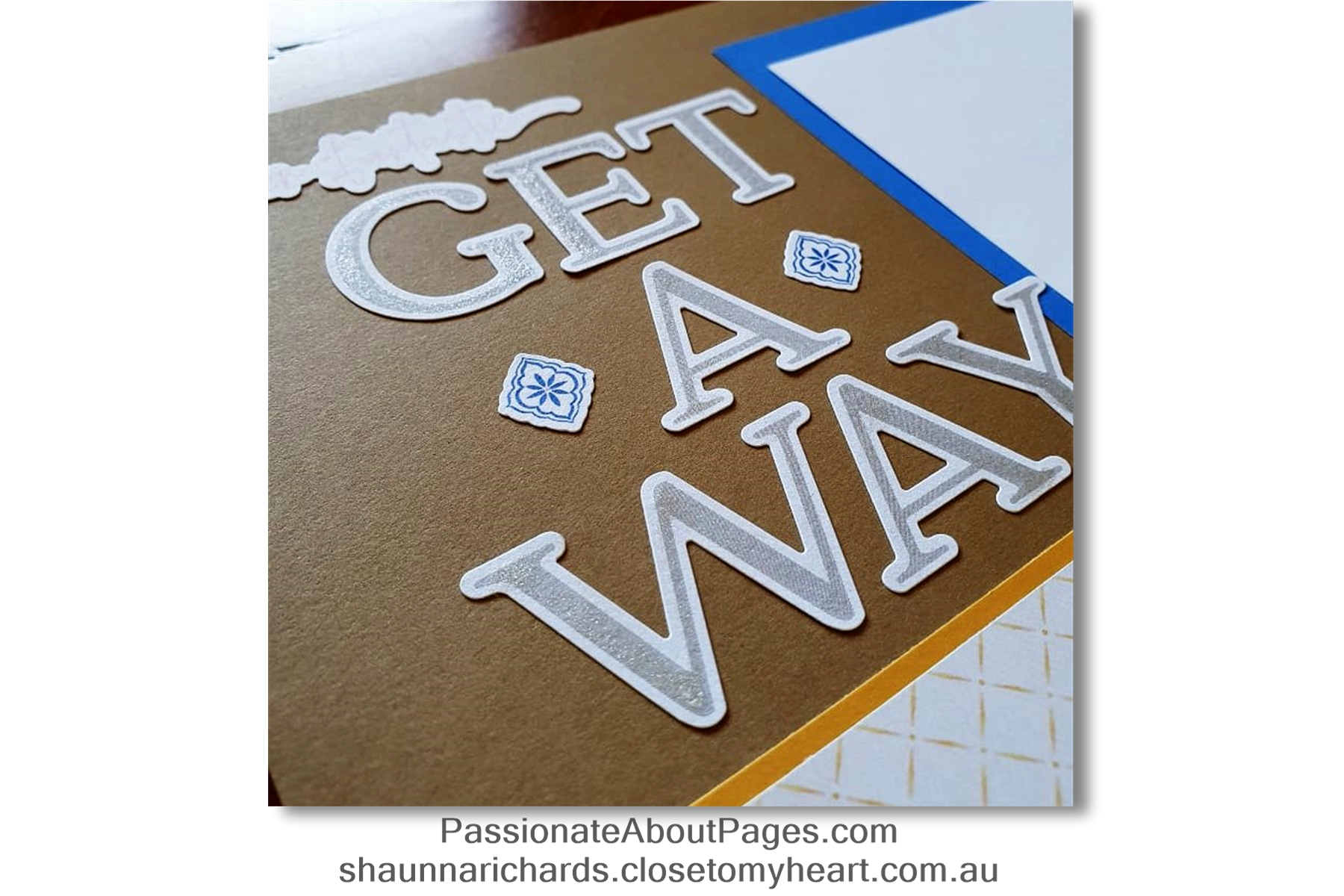 Order your supplies
The Isabella collection is available, while stocks last, until the end of August, 2021.   Choose papers, Cricut collection, stickers, co-ordinating cardstock, Acrylic Shapes, PML Cards and 2 stamp/thin cut sets individually.  There is also a card workshop kit and a scrapbooking workshop kit.
Check your consultant's website.  If you're an Aussie without a consultant, come shop with me by clicking here.
Next up is Dannii's blog, Scrappy Chicks . I'm sure you will enjoy her creativity.
 Happy Scrapping,
Shaunna
Products used in this project
X7270S Isabella  Paper & Sticker Pack
X5950 Toffee Cardstock
X6037 Bluebird Cardstock
X6051 Sundance Cardstock
Z3293 Clear Shimmer Brush
Z3792 Bisque Liquid Pearls
Z3786 Steel Stickles Glitter Glue
Z1263 Bitty Sparkles
Z3372 Adhesive Runner
Z3396 Aluminium Cut Rail Trimmer
Z1836 Non-stick Micro-tip Scissors
Unless otherwise stated within the post, this is my original work. Please feel free to use as inspiration for your own personal use, but do not use for publication, contest/message board entries, or to sell. If my work inspires a work of your own, please give credit by posting a link to my blog. Thank you! 
About Shaunna
Shaunna Richards is the founder of Passionate About Pages, a business built on finding connections to help women keen to preserve their memories though photos, memorabilia and storytelling in traditional scrapbook albums.
Shaunna's 20+ years in the scrapbooking industry coupled with her teaching background make her the perfect person to show you how it's done.