Eat Play Love Australasian Blog Hop
Don't you love it when a paper pattern perfectly matches an outfit someone is wearing in your photos?  Eat, Play Love's floral did that for my photos of a very special meeting between my granddaughter and her Great Grandmother.
Welcome to the CTMH Australasian Eat Play Love Blog Hop.  This hop features the artwork of some talented women from across Australia and New Zealand.
If you arrived from Doris's Blog, Creative Inspirations, you are in the right place.  If this is your first time on a blog hop, simply read on and enjoy my creations.  Click on the link at the end of this post and it will take you to the next blog and so on and so on. Easy and fun! Best part- you can see several different projects you can create with Close To My Heart's Eat Play Love collection!   When you land back here, you are done and it's time to hit the scrapbook room for some crafting fun.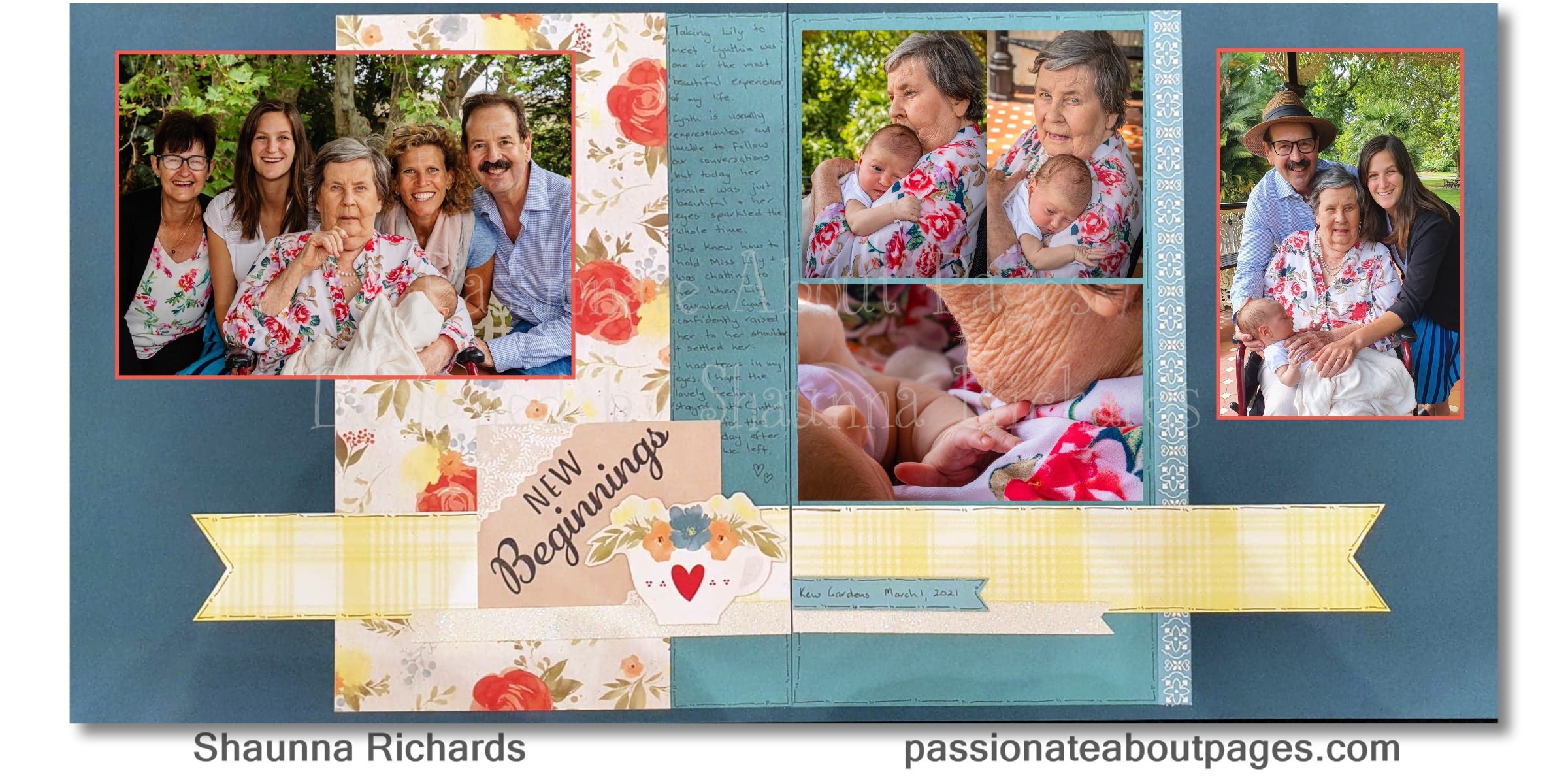 Use bold prints behind other elements
Placing a 6" x 11 ½" piece of the bold floral in the centre of the layout and overlaying the 5" x 7" photo and other elements on top of it help to create interest on the page without overwhelming the photos.
This layout was a kit I received at a consultant training day in Melbourne.  It was designed by Paula Gee and her team who were hosting. I really like the fact you have space to vary photo size and placement to suit your own needs.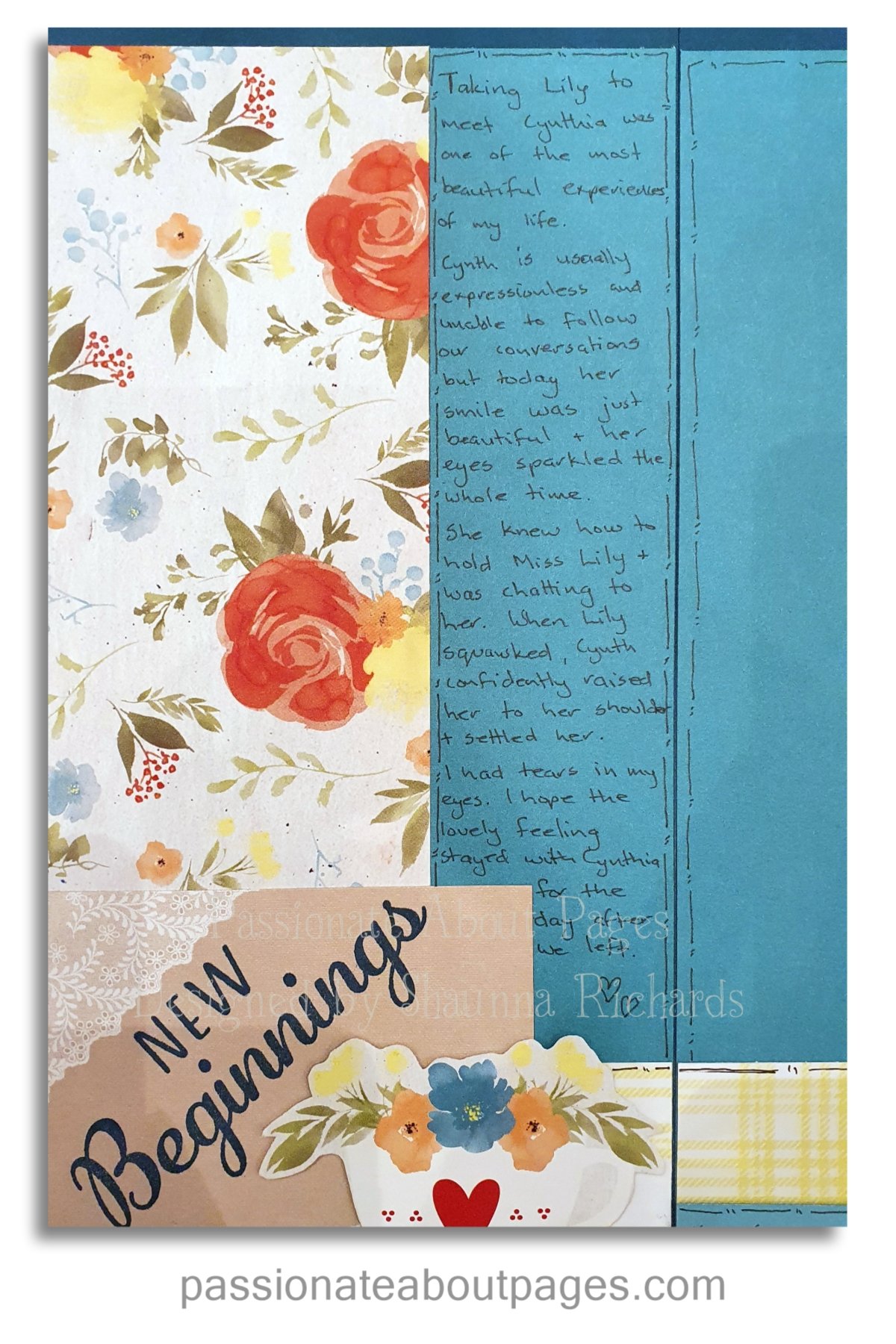 Use a PML card as the anchor for an embellishment cluster
The title for this layout is stamped directly onto a pre-made PML card.  The teacup is also cut from a PML card making this a very quick layout to pull together.  White glitter paper under the yellow check banner helps lift this area of the page and the date is added on a small banner made from Peacock cardstock.
Adding free-hand pen stitching is a great way to frame plain elements on the page.  Don't stress over perfection – it's fine to draw a few lines wonky!
Write the story down the page
Use a narrow section of your layout for your story.  You can have multiple short lines rather than a few longer ones.  This helps the story to become an integral part of the design.
Order your supplies
The Eat Play Love collection is available, while stocks last, until the end of April, 2021.   Choose papers, Cricut collection, stickers, co-ordinating cardstock, PML Cards and 2 stamp/thin cut sets individually.  There is also a lovely card workshop kit and a scrapbooking workshop kit.
Check your consultant's website.  If you're an Aussie without a consultant, come shop with me by clicking here.
Next up is Lauren's blog, CTMH Craftings.
 Happy Scrapping,
Shaunna
Products used in this project
X7267B Eat Play Love Paper & Sticker Pack
X7267C Eat Play Love Coordinating Cardstock
X7267D Eat Play Love Picture My Life Cards
Z3237 White Glitter Paper
Z3516 Black .03 Journal Pen
D2012 Daisy Meadows Scrapbooking Stamps
Z2805 Black Exclusive Ink Pad
Z3372 Adhesive Runner
About Shaunna
Shaunna Richards is the founder of Passionate About Pages, a business built on finding connections to help women keen to preserve their memories though photos, memorabilia and storytelling in traditional scrapbook albums.
Shaunna's 20+ years in the scrapbooking industry coupled with her teaching background make her the perfect person to show you how it's done.