Tiled Letters Scrapbook Layout
Letter Tiles - my newest favourite product!

You know I love to stamp titles on my pages. The thing I love most about a stamped title is never running out of letters like you do with stickers.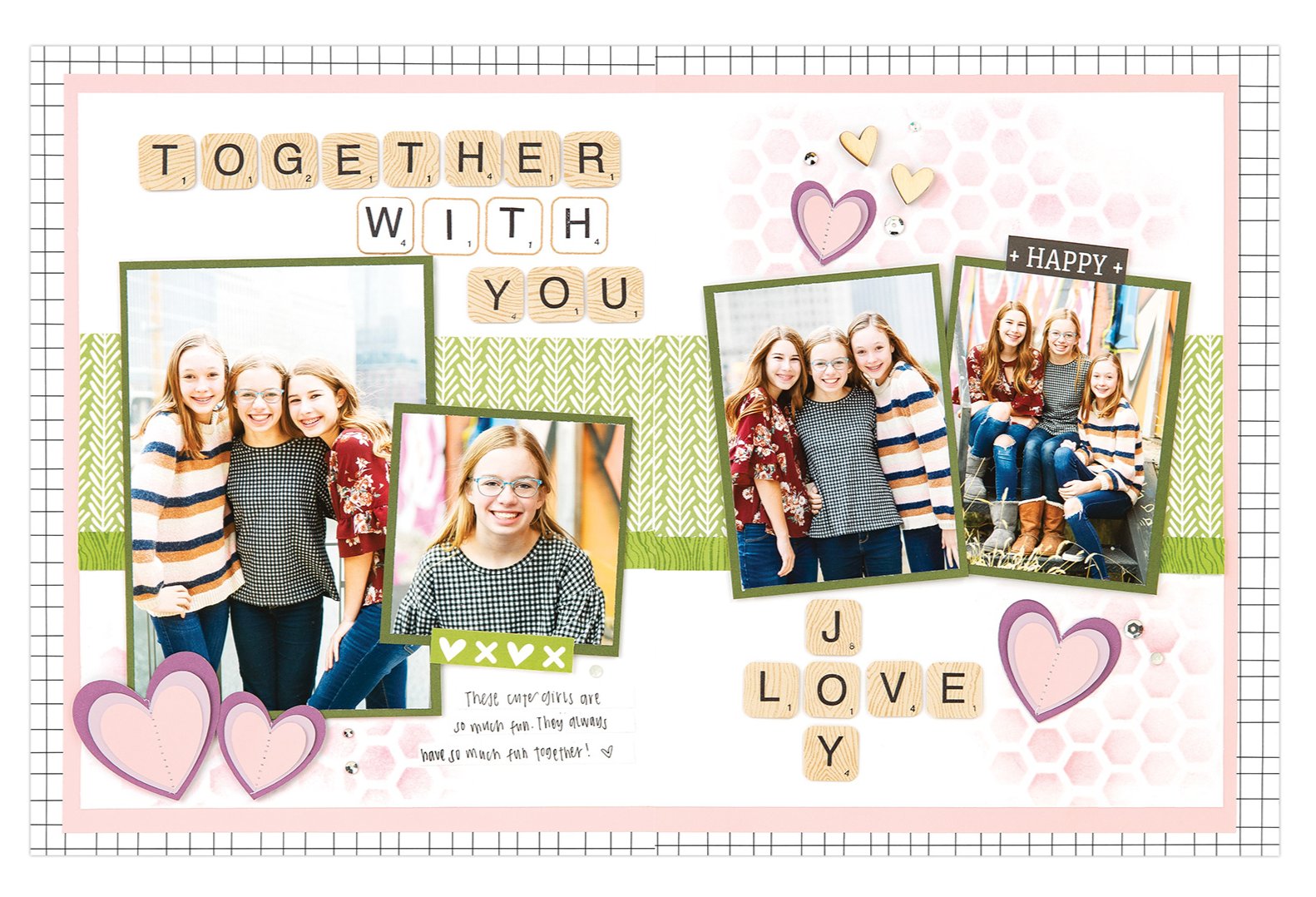 This beautiful two-page 8 1/2" x 11" layout was created by the artists at Close To My Heart.  It's a great colour combo and features fun embellishments made with hearts and stencils.
The letter tiles alphabet set from gives you several options for creating an interesting title on your layout.  The cut tiles are about ¾" square which accommodates long words on your pages.

Just letters
       Stamp as you would normally to make a title.  I used this technique in my Doodled Borders blog post recently
Framed letters
       Stamp the outline frame and then add a letter inside it. The word 'with' is created this way on the layout above.
Faux wood tiles
       Use the background stamp on coloured cardstock to create the look of wood. 
       Cut your tiles using the 3 frame thin cuts that come with this set.  Most die-cut machines will let you run 2 layers of cardstock               through at one time.
       Add your stamped letters.
       Line your tiles in a row or intersect them like a crossword.
Coloured tiles
      Use any coloured paper or cardstock as your base.  Cut tiles with thin cuts and stamp letters.

There are so many possibilities with this set – let your creativity guide you.   

A list of supplies used in this layout follows.  Order yours from my online shop
Happy Scrapping,
Shaunna
Products used in this layout

Z3920 Letter Tiles Stamp + Thin Cuts
X9023 Mix-in Paper Packet
X5949 Almond Cardstock
X6053 Avocado Cardstock
X6036 Ballerina Cardstock
X6054 Grape Cardstock
X6041 Lilac Cardstock
X5959 New England Ivy Cardstock
Z3271 Archival Black Exclusive Inks™ Stamp Pad
Z6523 Avocado Exclusive Inks™ Stamp Pad
Z6501 Ballerina Exclusive Inks™ Stamp Pad
Z2828 Toffee Exclusive Inks™ Stamp Pad
Z3828 Tattered Rose Distress Oxide™ Ink Pad
Z4304 Silver Loose Sequins
Z3869 Wood Hearts
Z3883 Stencil Pack 2
Z3515 Black Journalling Pen (.01)
Z697 Round Sponge
Z3886 Mini Ink Blending Tool
Z341 Glue Dots® Mini Dots
Z2060 Thin 3-D Foam Tape
Die-cutting & Embossing Machine
Cricut® Basic Shapes or Heart Thin Cuts