Every Thank You Australasian SOTM Blog Hop
I'm delighted you've joined the Every Thank You Stamp of the Month Australasian Blog Hop.  This is a circular hop.  If you arrived from Doreen's blog, Scrapping and More, you are in the right place. Simply read through this post and click on the link to the next blog at the end of it.  Keep reading and 'hopping' until you find yourself back where you started from.  Each blog will showcase a project featuring the Every Thank You (S2101) stamp set which is January's Stamp of the Month from Close To My Heart.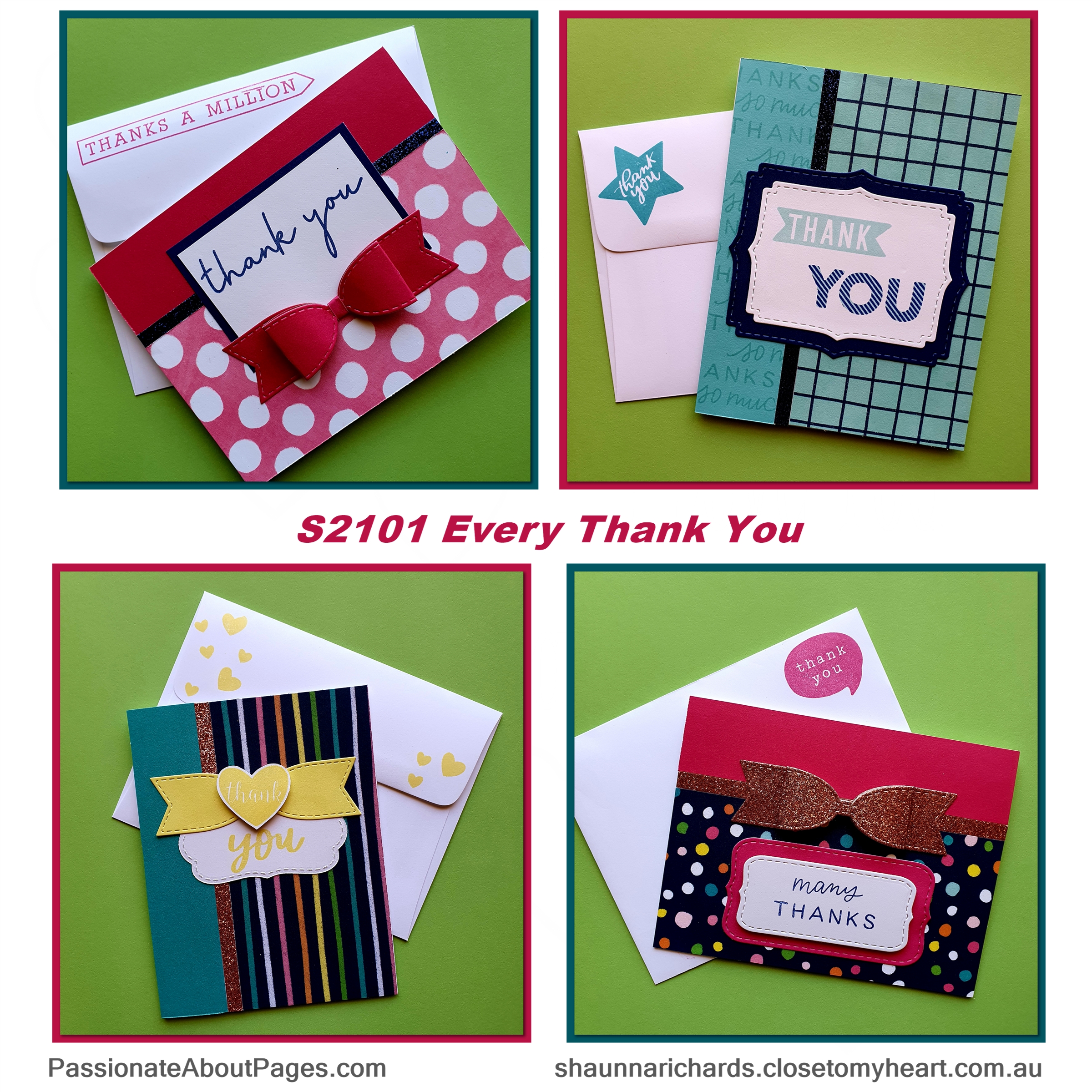 One design four ways

My list of people to thank is long at the moment so I wanted a quick way to make several cards.  I did want to individualise them a little too so I didn't get bored!

Each of the four cards featured in this post is based on Pattern 2 in Make It From Your Heart Vol 4.  This how to book has sketches and cutting measurements for 24 different cards.  There are also two samples of completed cards shown for each pattern.  It is my absolute go to for cards in a hurry.

Use both sides of paper

When cutting pieces remember that printed papers have different patterns on each side and Close To My Heart cardstock is two toned – light on one side, dark on the other.

This makes it easy to have your cards look different even thought the basic design is the same.

Change the shape of the sentiment box

Another super easy way to change the look of this card is to use different shapes for the sentiment box.  The first card uses a simple rectangle and the other three use different bracket thin cuts. 

Choose a single shape or layer a smaller shape on a larger one.

So many Thank You's to choose from

This stamp set has many different fonts and sizes of words on it along with those gorgeous shapes.  This means you can always find a stamp to fit your chosen sentiment box.  This is a must have set in your collection for this reason alone.

Add a bow just for fun

How cute is that dimensional bow?  This is the small bow thin cuts.  There is also a big one.  They are so very easy to make using the dies, a bone folder and glue dots.  Add the complete bow, just the tails or just the top segment to get different effects on your cards. 

Decorate your envelopes

It's always fun to add some stamping to your envelopes.  Decorate the back flap if it is going in the post so your stamping doesn't mess with the sorting machine scanners.  If it's a hand delivered card, use one of the shape stamps where a postage stamp would go.

Order your Stamp of the Month

Every Thank You (S2101) is only available during January, 2021.  Full retail price is $34 but VIP's can have this gorgeous set FREE when accompanied by an $80 order. If you are not a VIP, you will pay $9 with a qualifying order.  But seriously…check out Close To My Heart's VIP program first!  Place your order with your Close To My Heart Consultant
Thanks for visiting! I'd love you to give this post a like, leave a comment or share the post with a crafty friend before you click on the underlined link and move on to Doris's Blog, Creative Inspirations. I'm sure you will like what she has to show us.A list of the products used on this project follows.  All items are available to purchase from your Close To My Heart Consultant. If you don't have a consultant, this link will take you to my website.

Happy Scrappin'

Shaunna

CTMH products used in the Project

S2101 Every Thank You Stamp Set

9044 Make It From Your Heart Vol 4

X8016B Party Time Paper Pack

X8016C Party Time Co-ordinating Cardstock

Z3842 Desert Rose Glitter Paper

Z3840 Sapphire Glitter Paper

X254 White Cards and Envelopes

Z3690 Small Bow Thin Cuts

Z3687 Stitched Simple Bracket Thin Cuts

Z3688 Stitched Scallop Bracket Thin Cuts

Z368 Stitched Fancy Brackets Thin Cuts

Z2812 Raspberry Ink Pad

Z2848 Sapphire Ink Pad

Z6517 Lemonade Ink Pad

Z2895 Lagoon Ink Pad

Z2089 Micro Dots

Z3441 Dual Tip Multi-bond Glue Pen

Z1836 Non-stick Micro-tip Scissors