Pregnancy Bump Scrapbook Layout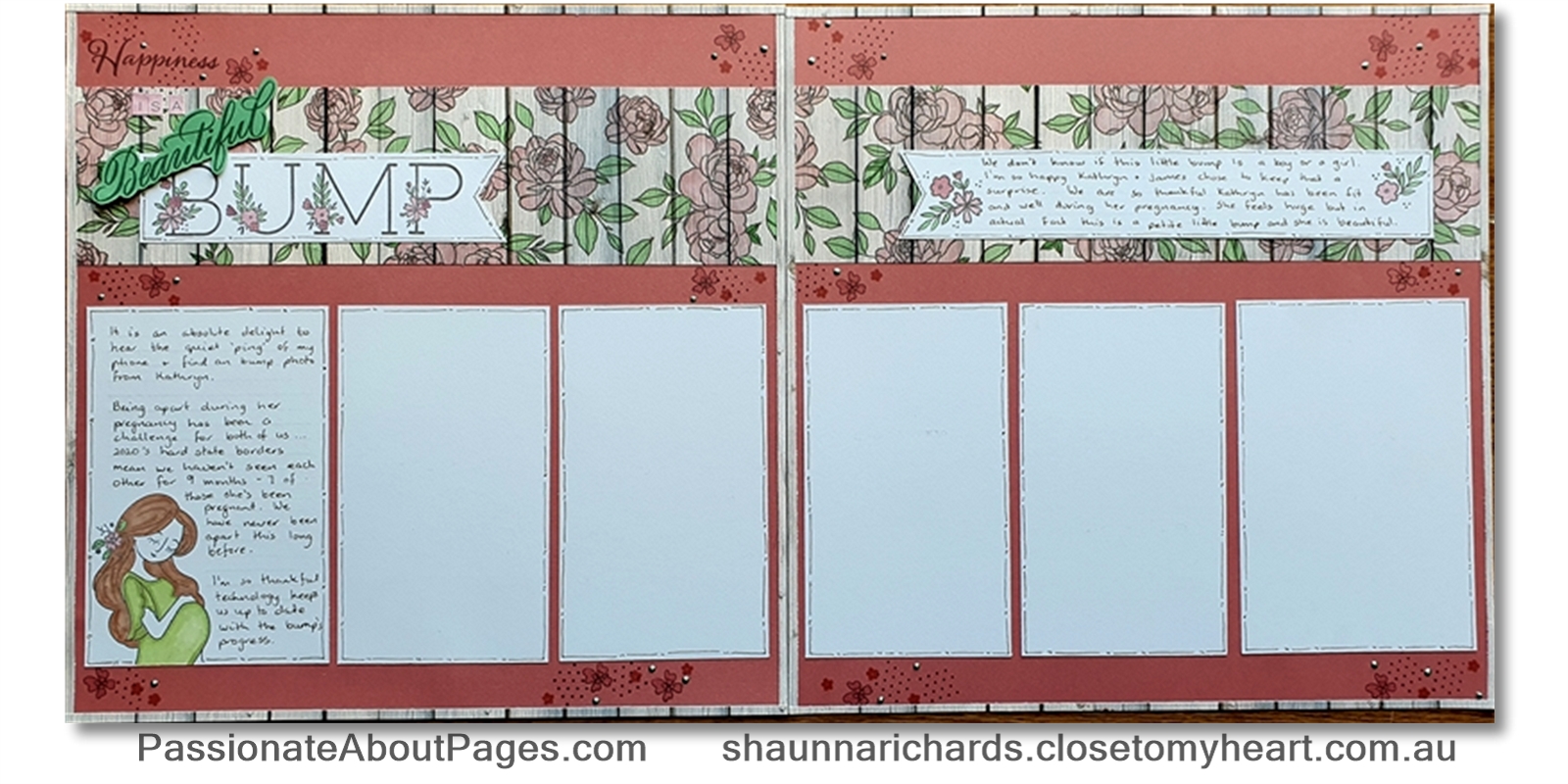 Happiness Never Grows old when we are eagerly awaiting the arrival of a new life.  This layout celebrates the growing 'bump' soon to arrive in our family.

Take photos each month of your pregnancy

During each of my pregnancies, I had a monthly photo taken.  These photos began each of the baby albums and my kids loved seeing them.  Now my daughter is having a baby, she is keen to see how I looked carrying her and she is recording her bump's progress.

Beautiful blooms go hand in hand with pregnancy photos

Create a beautiful 3" stamped strip for your page using December 2020's Stamp of the Month, Happiness Never Grows Old (S2012) along with the beautiful Floral Alphabet set (E1059) and Wood Grain Paper (X8017).

Begin with two 3" x 12" strips of wood grain paper and random stamp the two large flower clusters in Espresso ink.  Fill any gaps with individual leaves and flowers.  Colour with Tr-Blend Markers but don't do lots of shading as the espresso ink may run if it gets too wet.  I used the lightest shade of Antique Pink (Z2529) and the medium shade of Light Green (Z2485)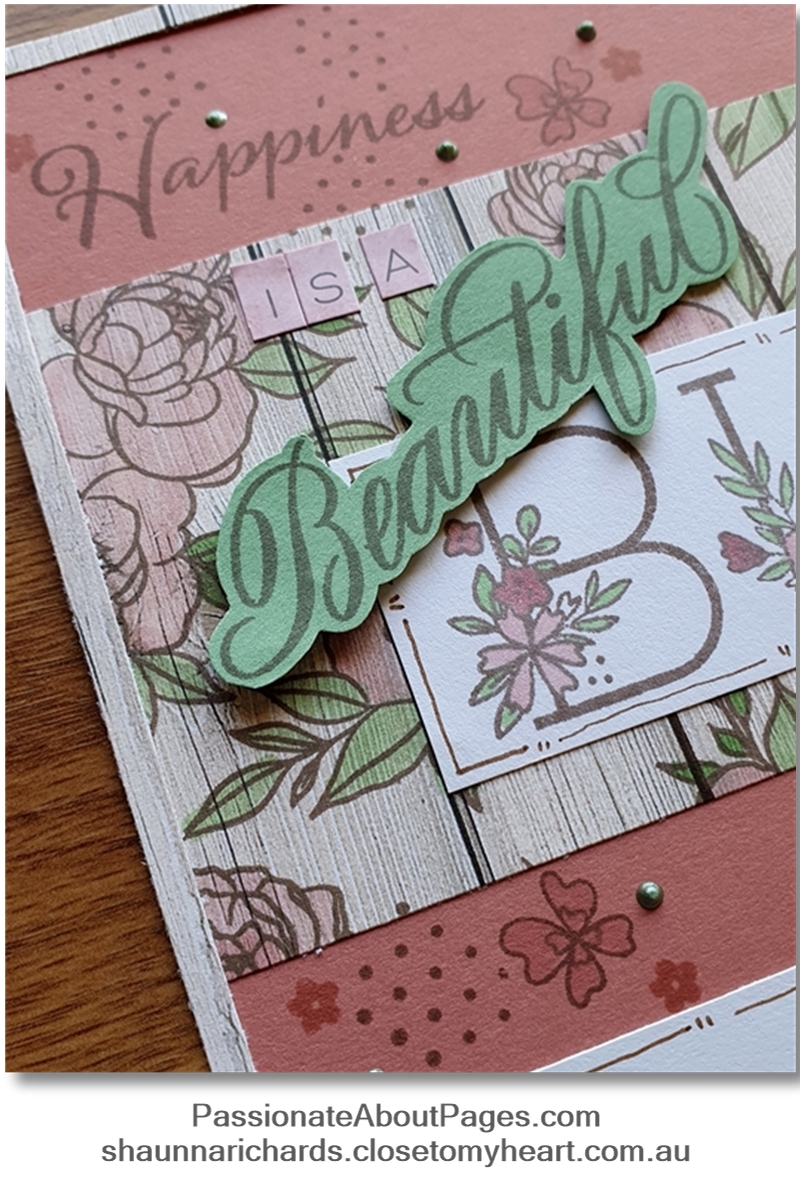 Create a banner using the Floral Alphabet and add extra words using Melissa Esplin stamps and Story by Stacey alphabet stickers.  'Happiness' is from the stamp of the month – either cut the stamp apart or mask to exclude the rest of the phrase.

Make your journal box a feature on the layout

Decorating a 4" x 6" piece of cardstock is a fun way to create a focal point on your layout.  This beautiful image is from the Baby Bump Stamp Set (B1706).  You will find it in the Online Only section of my shop.  Colour it to match the mum to be and finish the box with pen work outlines and stamped journalling lines.

Add a faux layer to the outside of your pages

Here's a tip if you love the look of layered borders on your pages but don't like to use extra full sheets of layouts.  Trim 1/8" strips of paper and stoick on top of the base page to give the illusion of a frame.  In this case, I cut two horizontally from one sheet of the wood grain paper and two vertically from a second sheet.

Happiness Never Grows Old (S2012) is only available this month

If you love this month's stamp set, head over to my website to place an order.  Full retail price is $34 but VIP's can have this gorgeous set FREE when accompanied by an $80 order. If you are not a VIP, you will pay $9 with a qualifying order. 

A list of the products used on this project follows.  All items are available to purchase from my  website.

Happy Scrappin'

Shaunna

CTMH products used in the Project

S2012 Happiness Never Grows Old Stamp Set

E1059 Floral Alphabet Stamp Set

B1706 Baby Bump Stamp Set

D1868 Joy by Melissa Esplin Stamp Set

X8017 Wood Grain Paper Packet

X6055 Desert Rose Cardstock

X6045 Sage Cardstock

X6046 French Vanilla Cardstock

Z3794 Sage Liquid Pearls

Z2529 Antique Pink TriBlend Marker

Z2485 Light Green TriBlend Marker

Z2484 Citrus Green TriBend Marker

Z2478 Earth Brown TriBlend Marker

Z2477 Tan TriBlend Marker

Z2829 Espresso Ink Pad

Z3341 Thin 3-D Foam Dots

Z1836 Non-stick Micro-tip Scissors