Serenity Australasian Blog Hop
Welcome to the CTMH Australasian Serenity Blog Hop.  This hop features the artwork of some talented women from across Australia and New Zealand.

If you arrived from Dannii's Blog, Scrappy Chicks, you are in the right place.  If this is your first time on a blog hop, simply read on and enjoy my creations.  Click on the link at the end of this post and it will take you to the next blog and so on and so on. Easy and fun! Best part- you can see several different projects you can create with Close To My Heart's Serenity collection!   When you land back here, you are done and it's time to hit the scrapbook room for some crafting fun.

Make a Scrapbook Layout for a Frame

When you capture a smile and a twinkling eye that shows the woman your mum used to be before Alzheimer's, it's worth making a super special layout for a 12 x 12 frame on the wall.

You will want the Serenity Paper pack, co-ordinating cardstock, PML cards and Cricut collection for this project. 

Begin in the centre of the page

There's no need for complicated measurements. Start with a 4" x 6" photo.  Double mat it and centre on the base page.  My glitter piece is 4 5/8" x 6 5/8" but you could have a smaller gap between the photo and the first mount by cutting at 4 ½" x 6 ½"

Make the top and bottom centre panels the same width as the photo mount.  Make the left and right centre panels the same height as the photo mount.  Cut the top layers of each panel 1/8" smaller than the base of the panel.

Make 4 corner pieces to match the dimensions of your outer panels.  You want definite horizontal and vertical lines dividing your page into 9 segments.

Cut the Sapphire floral PML card in half lengthways and position on left and right panels.

Cut your Cricut Embellishments

The serenity Cricut collection includes all these gorgeous layered elements.  You can manipulate them in Cricut Design space to change size, ungroup layers and hide some of the contour lines. 

My preferred adhesive for these small elements is the Dual Tip Multi-bond Glue

For this project I used:

6 petal flowers 2" and 1 ½" high
Decorative flower is 2" high. 
Resize the leaves and berries sprig so they are proportional to the flower. Hide contour lines on the leaves
I love you is 2" x 5 ½".  Use Micro Glue dots to attach this to the Glitter paper.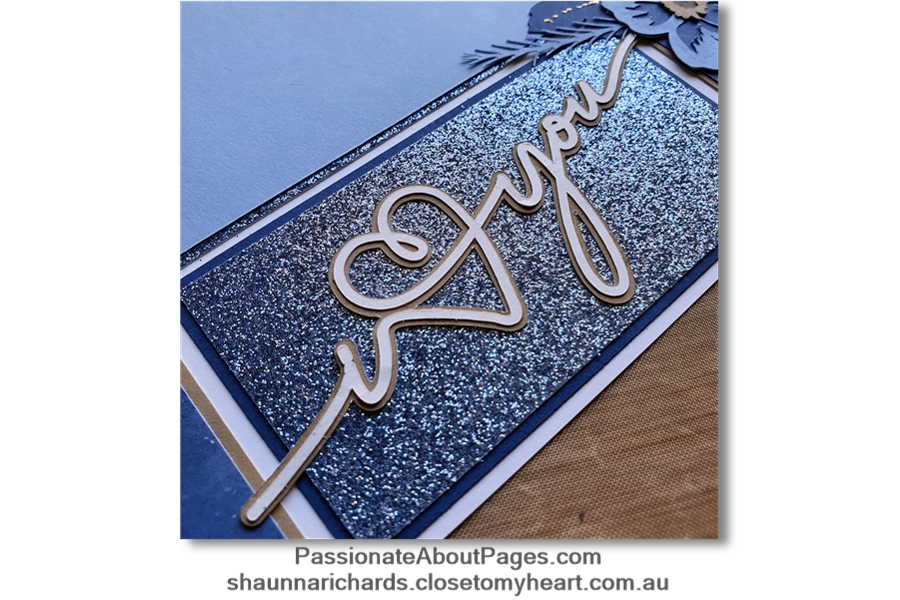 Add Liquid Pearls to emulate heat embossing

Adding the Rose Gold liquid pearls in dashed lines on the leaves and as dots on the flower centres gives the illusion of heat embossing without the hassle!

Brush the Blue Belle Shimmer Brush over some flower petals to create a shine.

What to do if you don't own a Cricut!

If you don't own a Cricut, order the paper pack that comes with stickers and use those.  The look of the flower clusters will be similar but bolder. 

Colour the white borders around the stickers with Ice Grey TriBlend Marker or Bluebell Shimmer Brush to help them blend with the papers.

Order your supplies

The Serenity collection is available, while stocks last, until the end of December, 2020.   Choose papers, Cricut collection, stickers, co-ordinating cardstock, PML Cards and 2 stamp/thin cut sets individually.  There is also a lovely card workshop kit and a scrapbooking workshop kit.

Check your consultant's website.  If you're an Aussie without a consultant, come shop with me by clicking here.

Next up is Doreen's blog, Scrapping and More. I'm sure you will enjoy her creativity.

 Happy Scrapping,
Shaunna

Products used in this project

X7263B Serenity Paper Pack

X7263C Serenity Coordinating Cardstock (includes 2 sheets glitter paper)

X7263D Serenity Picture My life Cards

Z3891 Cricut Serenity Collection

Z3793 Rose Gold Liquid Pearls

Z3809 Blue Belle Shimmer Brush

Z3441 Dual Tip Multi-bond Glue

Z3372 Adhesive Runner

Z2089 Micro Dots