S2012 Happiness Never Grows Old Australasian Stamp of the Month Blog Hop
I'm delighted you've joined the Stamp of the Month Australasian Blog Hop.  This is a circular hop.  If you arrived from Danielle's blog, Scrappy Chicks, you are in the right place. Simply read through this post and click on the link to the next blog at the end of it.  Keep reading and 'hopping' until you find yourself back where you started from.  Each blog will showcase a project featuring the Happiness Never Grows Old (S2012) stamp set which is November's Stamp of the Month from Close To My Heart.

Sweet blooms growing on a trellis

The flower clusters in this set made me think blooms growing on a trellis in the garden.  What luck!  The NEW Geometric Grids Thin Cuts LOOK like a trellis.  It's a match made in heaven.

A flick through Make It From Your Heart Vol 3 helped plan what the layout would look like. Pattern 5 was my starting point.  The width of vertical elements needed minor adjustments to fit the dimensions of the thin cut.

You will want 5 of the thin cuts. Trim one one edge on two of them and overlap to make the RH page panel. Cut the other two in half length ways to make the narrower trellis on the LH page

Heat emboss, colour and fussy cut stamped images
Silver heat embossing powder adds a little shine to the floral elements.  The fussy cutting did take a little time but it's easy to do using micro-tip scissors and gives the illusion of real flowers on the trellis.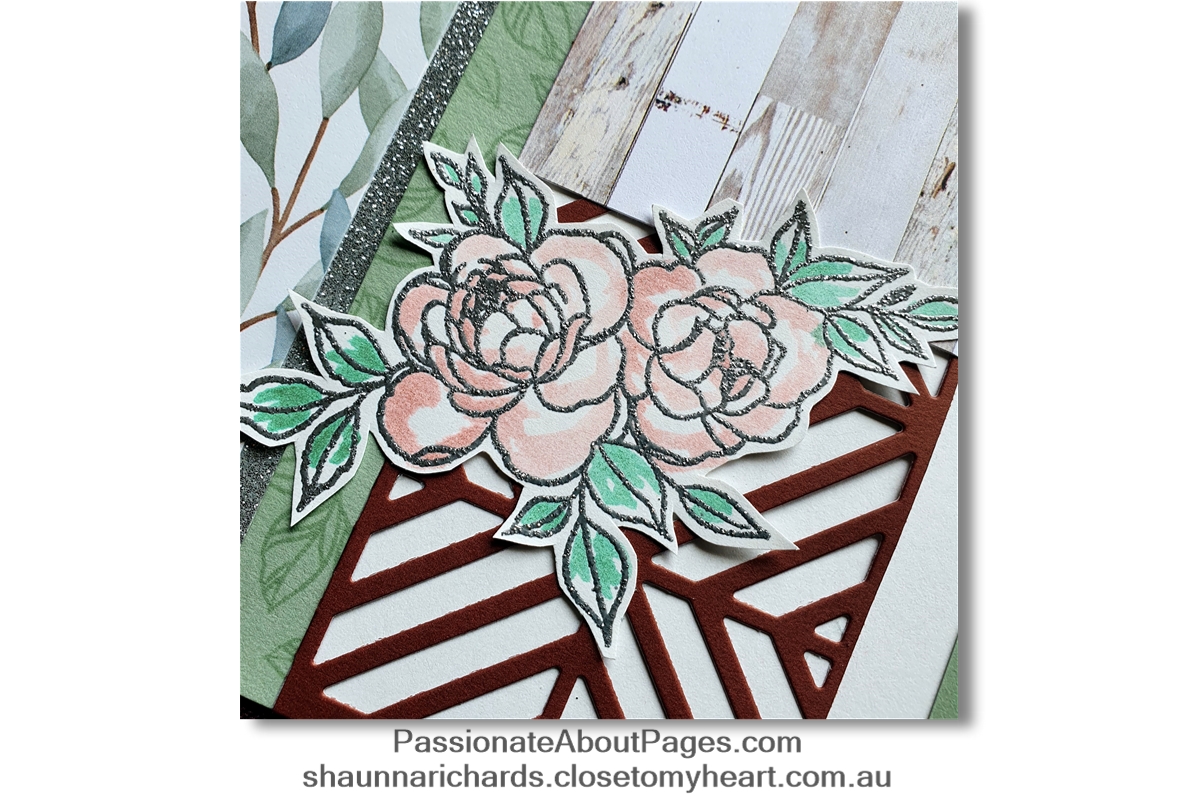 Colouring was super quick with shimmer brushes.  Just add a flick of colour to each segment on the flowers and leaves.  No need to worry about going over the lines because the heat embossing won't run.

Can't find a zip strip to suit?

Make your own!  Use one of the leaf stamps in the set to fill a 1" strip of cardstock.  Tone on tone ink works great.  Then cut the strip in half longways and you are good to go!
Layered thin cuts make your title pop
Cut 3 or 4 sets of letters for the title word and glue the layers together.  This adds dimension and helps your title to stand out.  Combine the feature word with stamped sentiments and a few stickers to create a focal point on the layout.
Order your Stamp of the Month

Happiness Never Grows Old (S2012) is only available during December, 2020.  Full retail price is $34 but VIP's can have this gorgeous set FREE when accompanied by an $80 order. If you are not a VIP, you will pay $9 with a qualifying order.  But seriously…check out Close To My Heart's VIP program first!  Place your order with your Close To My Heart Consultant
Thanks for visiting! I'd love you to give this post a thumbs up, leave a comment or share the post with a crafty friend before you click on the underlined link and move on to Doris's Blog, Creative Inspiration. She always has something gorgeous to share.

A list of the products used on this project follows.  All items are available to purchase from your Close To My Heart Consultant. If you don't have a consultant, this link will take you to my website.

Happy Scrappin'

Shaunna

CTMH products used in the Project

S2012 Happiness Never Grows Old Stamp Set

9043 Make It From Your Heart Vol 3

Z3894 Geometric Grid Thin Cuts

Z3760 Simple Serif Uppercase Thin Cuts

X8015S Lovely Paper Pack + Sticker Sheet

X8017 Wood Grain Paper Packet

Z1799 Silver Shimmer Trim

Z2067 Silver Embossing Powder

Z3814 Flaming Shimmer Brush

Z4225 Mint Shimmer Brush

X6052 Cinnamon Cardstock

X6045 Sage Cardstock

X6046 French Vanilla Cardstock

Z891 Versamark Ink Pad

Z6522 Cinnamon Ink Pad

Z3341 Thin 3-D Foam Dots

Z1836 Non-stick Micro-tip Scissors