S2009 Here For The Memories Australasian SOTM Blog Hop
Welcome to the Stamp of the Month Australasian Blog Hop.  This is a circular hop.  If you arrived from Lauren's Blog, you are in the right place. Simply read through this post and click on the link to the next blog at the end of it.  Keep reading and 'hopping' until you find yourself back where you started from.  Each blog will showcase a project featuring the Here for the Memories (S2009) stamp set which is September's Stamp of the Month from Close To My Heart.

3 ways to use Here for the Memories

Celebrate your scrapbooking hobby. This stamp set is perfect for all those photos you take with your scrappy friends at workshops and retreats.
Make a layout about yourself for a change.  Share why you love memory keeping, how long you have been making albums and what you have learnt along the way.
Enhance pages of those you love.  So many of the sentiments on this set are perfect for photos of your family doing the things they love.
Photo Collage prints add fun to your scrapbook pages

It's fun to make a quick collage for a social media post.  Why not print it for your album too?  It was the quickest way I could think of the get these 25 silly snaps all on one page!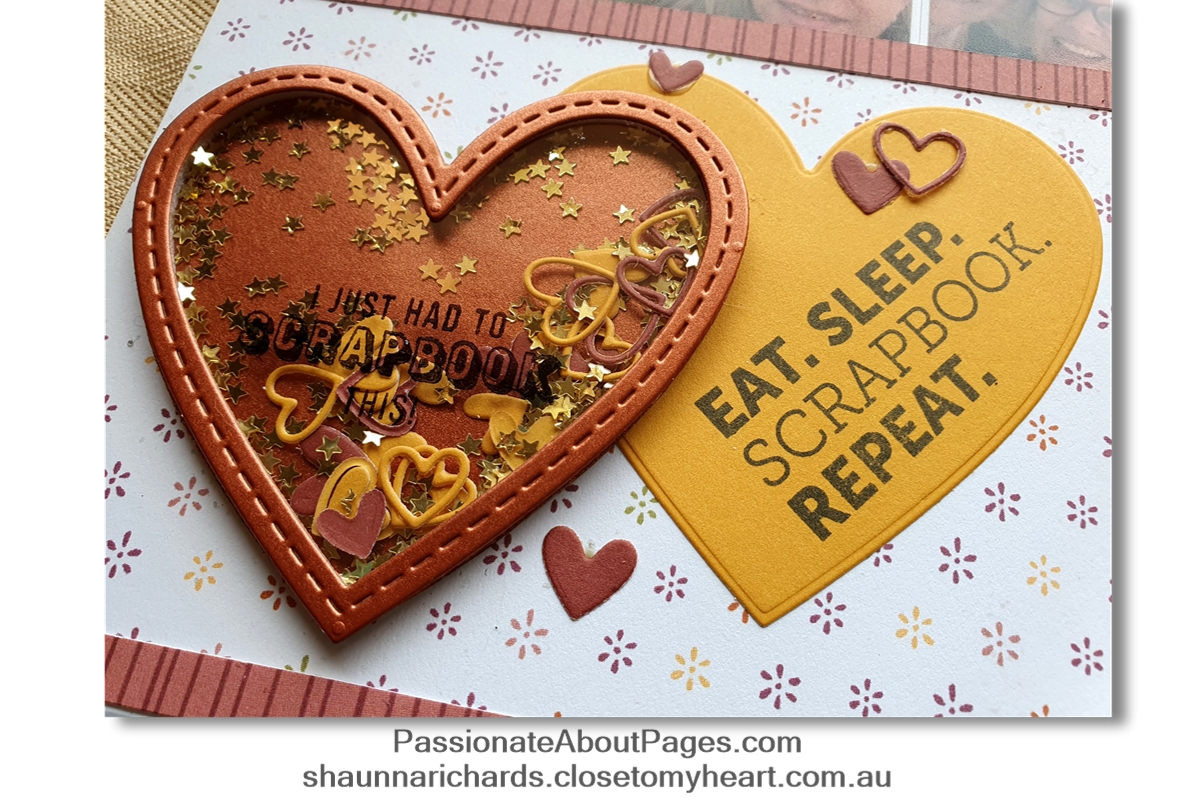 Stamp on a Heart Shaker Window

It's easy to get a clear stamped image on the shaker window acetate using StazOn ink.  This ink is specially designed for use on non-porous surfaces.  Be sure to clean the stamp with StazOn cleaner for best results.

The little hearts inside the shaker were cut with the new Heart Shaker Window thin cuts – don't you just love the thin outline hearts?  Mix in some tiny gold star confetti for fun.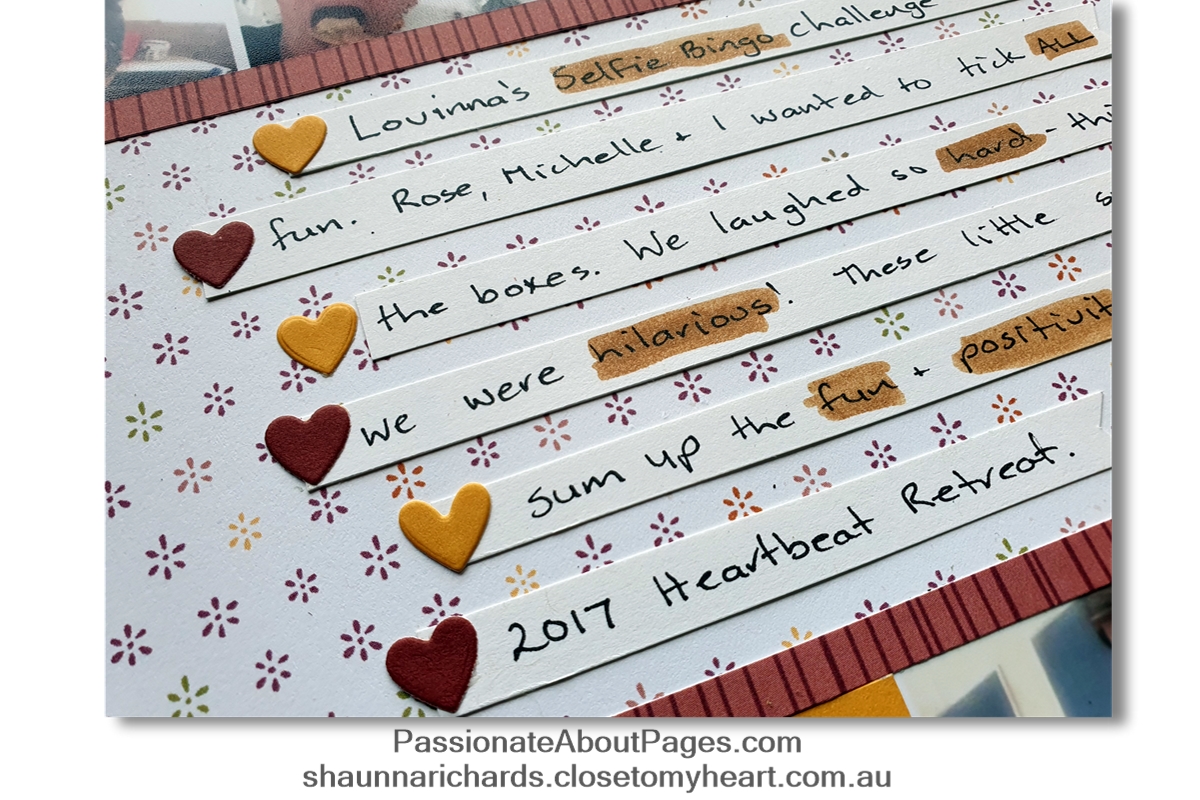 Create heart bullet points for journalling

Writing on narrow strips of paper lets the patterned background show through and makes your story an integral part of the design.  The tiny hearts are perfect as bullet points and the toffee shimmer brush highlights key words to draw the reader's eye.

Order your Stamp of the Month

Here for the Memories (S2009) is only available during September, 2020.  Full retail price is $34 but you can have this gorgeous set for just $9 when accompanied by an $80 order. Place your order with your Close To My Heart Consultant.
Thanks for visiting! I'd love you to give this post a thumbs up, leave a comment or share the post with a crafty friend before you click on the underlined link and move on to Danni's Blog , Scrappy Chicks , to see the lovely project she has designed for you.

A list of the NEW products used on this project follows.  All items are available to purchase from your Close To My Heart Consultant. If you don't have a consultant, this link will take you to my website.

Happy Scrappin'

Shaunna

CTMH products used in the Project

S2007 Here for the Memories Stamp Set

X7260B Bloom with Grace Paper Pack

X7260C Bloom with Grace Co-ordinating Cardstock

Z3880 Copper Ore Paper

Z3870 Heart Shaker Window Thin Cuts

Z4312 Heart Shaker Window Foam & Acetate

Z3677 Gold Star Confetti

Z3662 Toffee Shimmer Brush

Z2536 Precious Metal Metallic Markers

Z3271 Archival Black Ink

Z888 Black StazOn Ink

Z890 StazOn Cleaner