Summer Vibes Blog Hop
Welcome to the CTMH Australasian Summer Vibes Blog Hop.  This hop features the artwork of some talented women from across Australia and New Zealand.


If you arrived from  Dannii's Blog, Scrappy Chicks,  you are in the right place.  If this is your first time on a blog hop, simply read on and enjoy my creations.  Click on the link at the end of this post and it will take you to the next blog and so on and so on. Easy and fun! Best part- you can see several different projects you can create with Close To My Heart's Summer Vibes collection!   When you land back here, you are done and it's time to hit the scrapbook room for some crafting fun.

Summer Vibes – Sunshiny colours to brighten your day

The more I create with this collection, the more I appreciate the colour choices in it.  There is a nice mix of bold prints and colours with more subtle designs.  It will showcase any of your summertime photos perfectly but is also great for travel, family and sports themes.

Everything old is new again

Do you have scrapbook layouts you return to again and again?  Each time you use the design it just works and makes you happy?  Colour blocking is one of those designs for me.  It's a great way to use the last pieces from a kit too.

I don't begin with a pattern, just my photos. Actually, in this case, it's  photo place holders because the delivery of my prints is delayed 😊

Decide on the size of your canvas – this one is 11" squares.  Place your largest photos first and then add the smaller prints until you have a layout that is balanced and pleasing to your eye.  Choose a spot for your journaling and then fill any blank spaces with rectangular pieces of printed paper.  Aim to have an even space between each element.  ¼" is a good standard size gap.

Add embellishments last

Once all the photos and papers are arranged you can add your embellishments.  This layout features stamps from the Summer Vibes Scrapbooking set.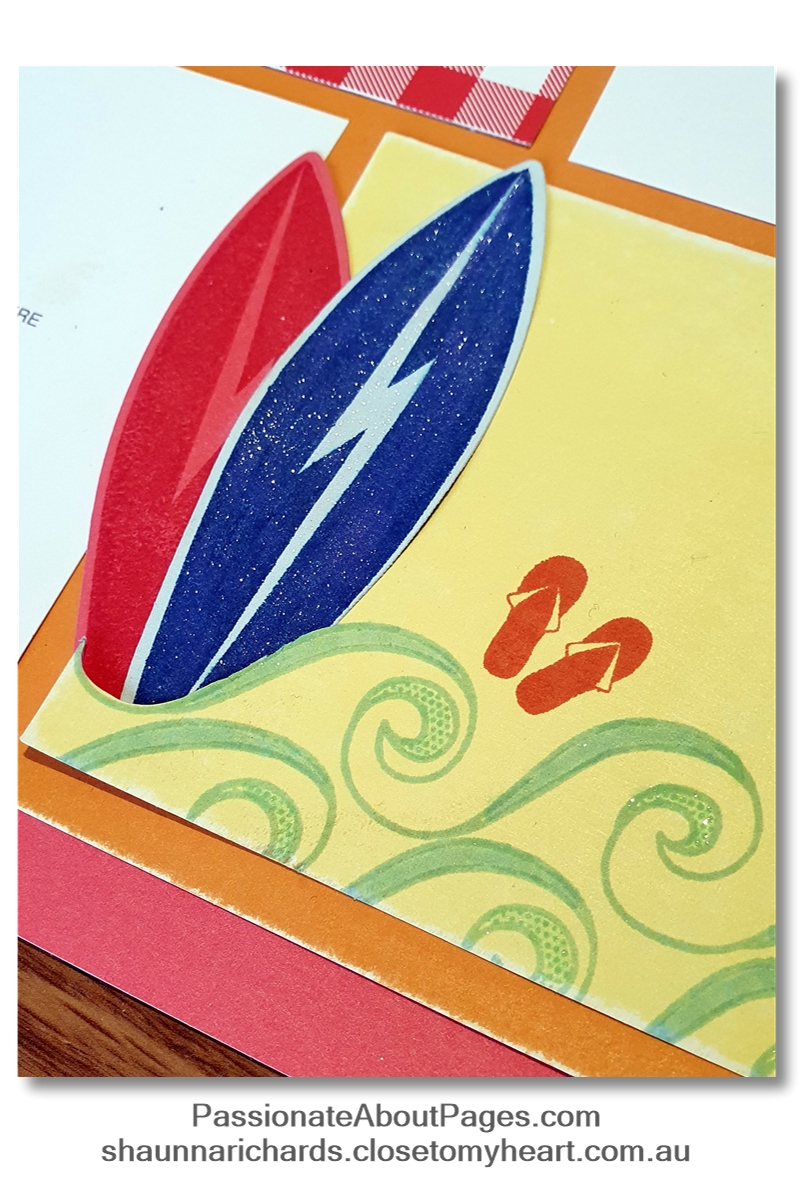 Stamp the waves and then cut a small section to slip your surfboards behind so it looks like they are standing upright in the sand. Add shimmer brush to the stamped images.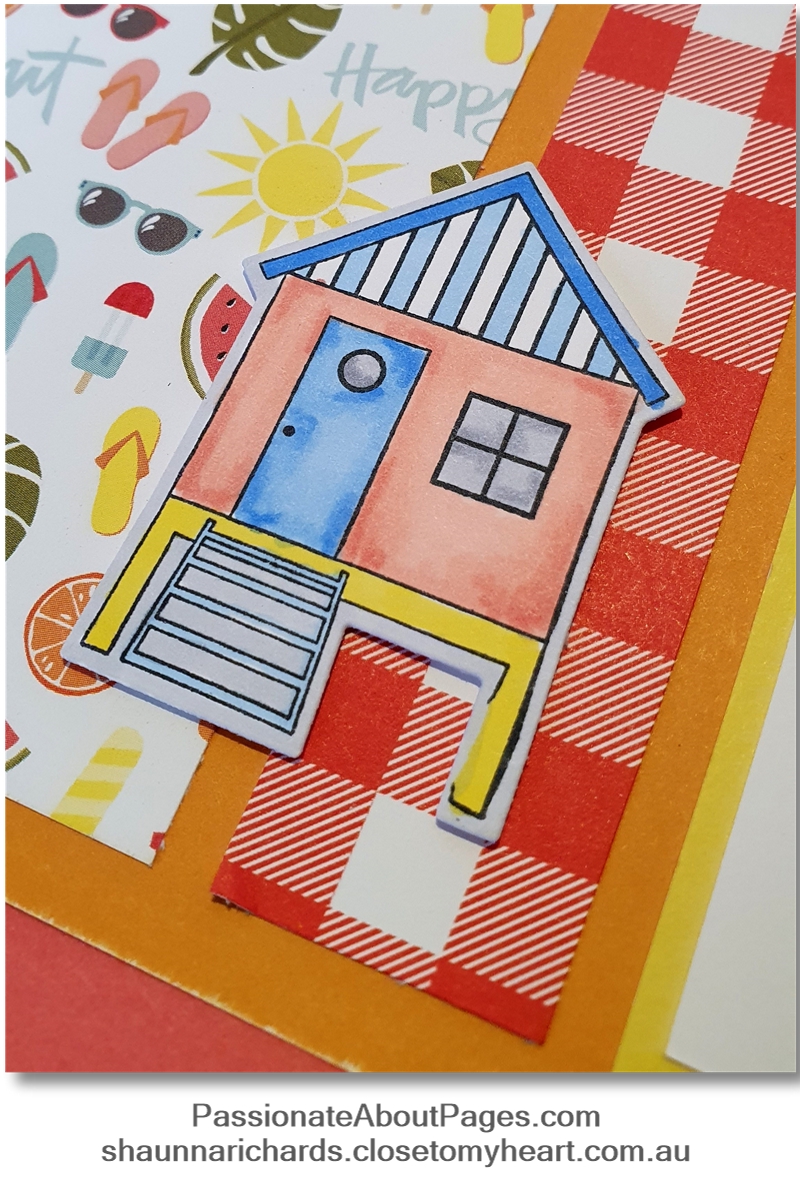 Colour the bathing box with Tri-Blend markers. Tri-Blends make shading so easy.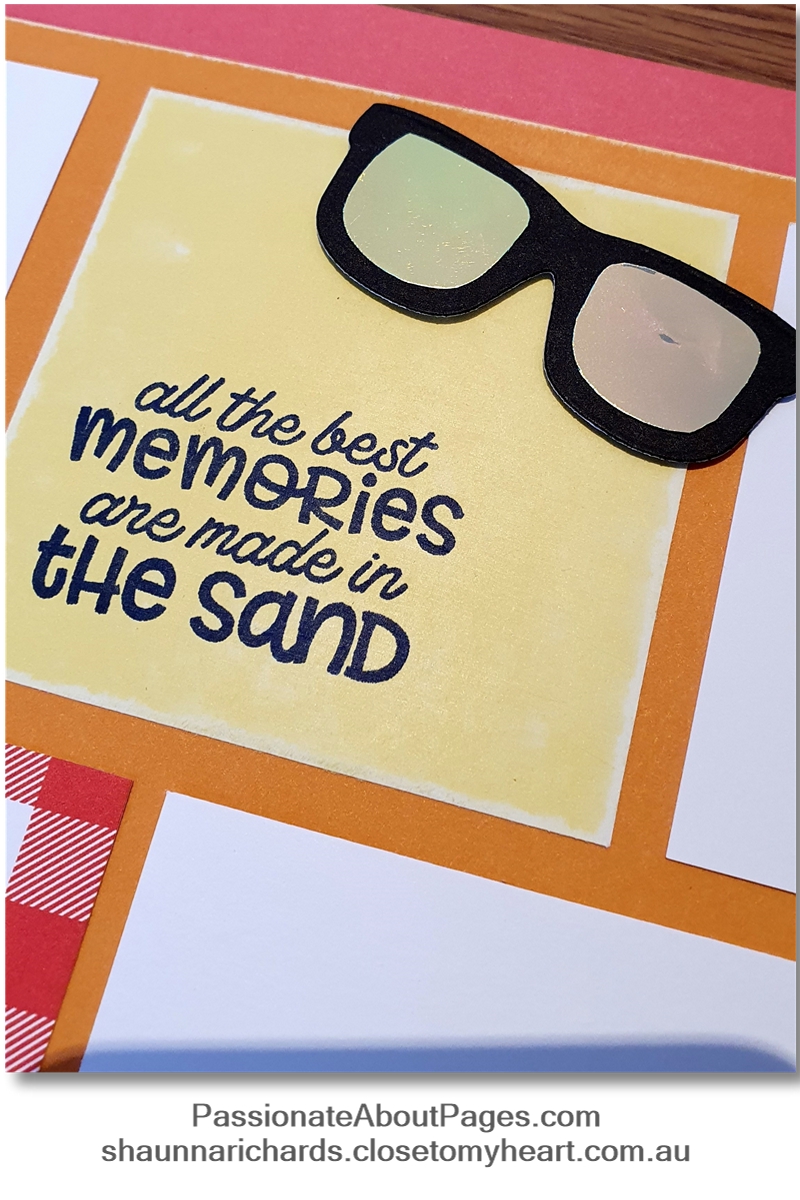 Sand the edges of cardstock elements before sticking in place. The white core showing through softens the look giving a beachy feel to the layout.

Cut the glasses from black cardstock using the thin cut. Stamp glasses onto scrap paper and cut the lenses out. Use these pieces as a pattern to cut lenses from holographic paper so they look reflective.

Order your supplies this month

The Summer Vibes collection is available, while stocks last,  until the end of August, 2020.   You can order papers, co-ordinating cardstock, PML Cards and 2 stamp/ thin cut sets individually.  There is also a gorgeous card workshop kit with the cutest ice cream stamps ever and a scrapbooking workshop kit for those who enjoy more decorative layouts. Check your consultant's website.  If you're an Aussie without a consultant, come shop with me by clicking here.

Please help me grow my blog following by liking or commenting on this post.  Then click on the underlined link and move on to Doris' blog, Creative Inspirations to see the projects she has designed for you.

Happy Scrapping,
Shaunna

Products used in this project

X7258 Summer Vibes Paper Pack

X7258C Summer Vibes Co-ordinating Cardstock

Z3745 Summer Vibes Scrapbooking Stamps & Thin Cuts

Z3636 Oasis Holographic Paper

X6047 Black Cardstock

1385 White Daisy Cardstock

Z3293 Clear Shimmer Brush

Z2848 Sapphire Exclusive Inks Stamp Pad

Z6509 Candy Apple Exclusive Inks Stamp Pad

Z2841 Glacier Exclusive Inks Stamp Pad

Z2896 Smoothie Exclusive Inks Stamp Pad

Z4189 Intense Black Ink

Z2491 True Blue Tri-blend Marker

Z2481 Coral Tri-blend Marker

Z2482 Citrus Tri-blend Marker

Z2474 Ice Grey Tri-blend Marker