Brushed Australasian Blog Hop
Welcome to the CTMH Australasian Brushed Blog Hop.  This hop features the artwork of some talented women from across Australia and New Zealand.

If you arrived from  Maz's Blog, ArtyMaz  you are in the right place.  If this is your first time on a blog hop, simply read on and enjoy my creations.  If you like what I show today, please subscribe to my blog, leave a comment on this post or share it on social media. Then you click on the link at the end of this post and it will take you to the next blog and so on and so on. Easy and fun! Best part- you can see several different projects you can create with Close To My Heart's Brushed collection!   When you land back here, you are done and it's time to hit the scrapbook room for some crafting fun.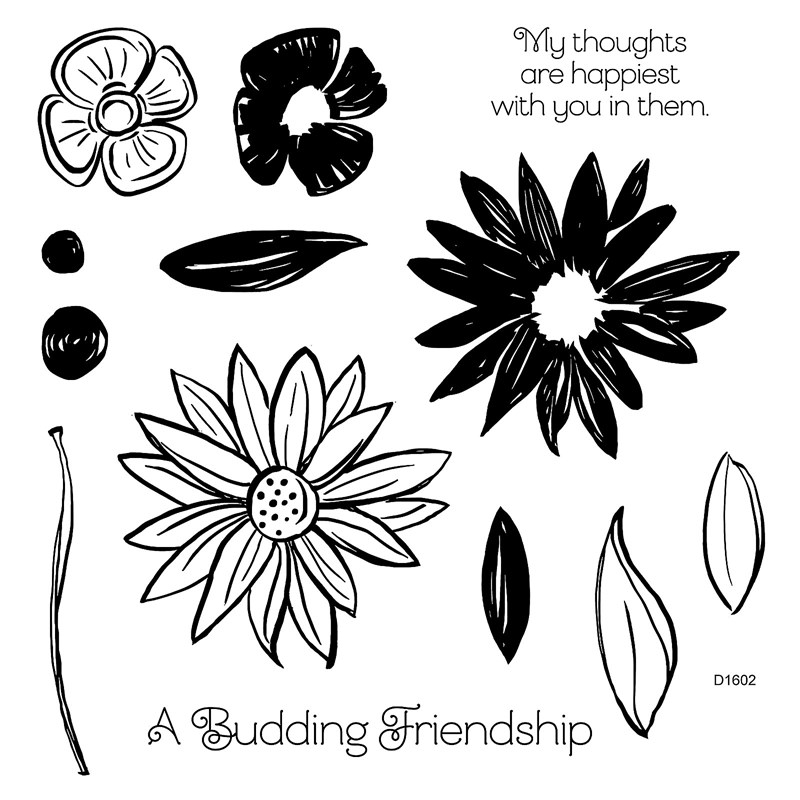 Brushed – Bring Back My Pack

This gorgeous collection is one of my all time favourites and I am so thrilled to have it back in our range until the end of July.  I had both stamp sets from the first time around (Nov 2014) but had used every last scrap of the papers. I happily ordered  more at the beginning of June.  Sadly, delayed transportation links meant my paper didn't arrive in time to make my layout.

Not to be put off, I made my own paper using the stamp sets.  I used a heat embossing masking technique on the flowers and butterflies and then sponged around them to create the glacier background.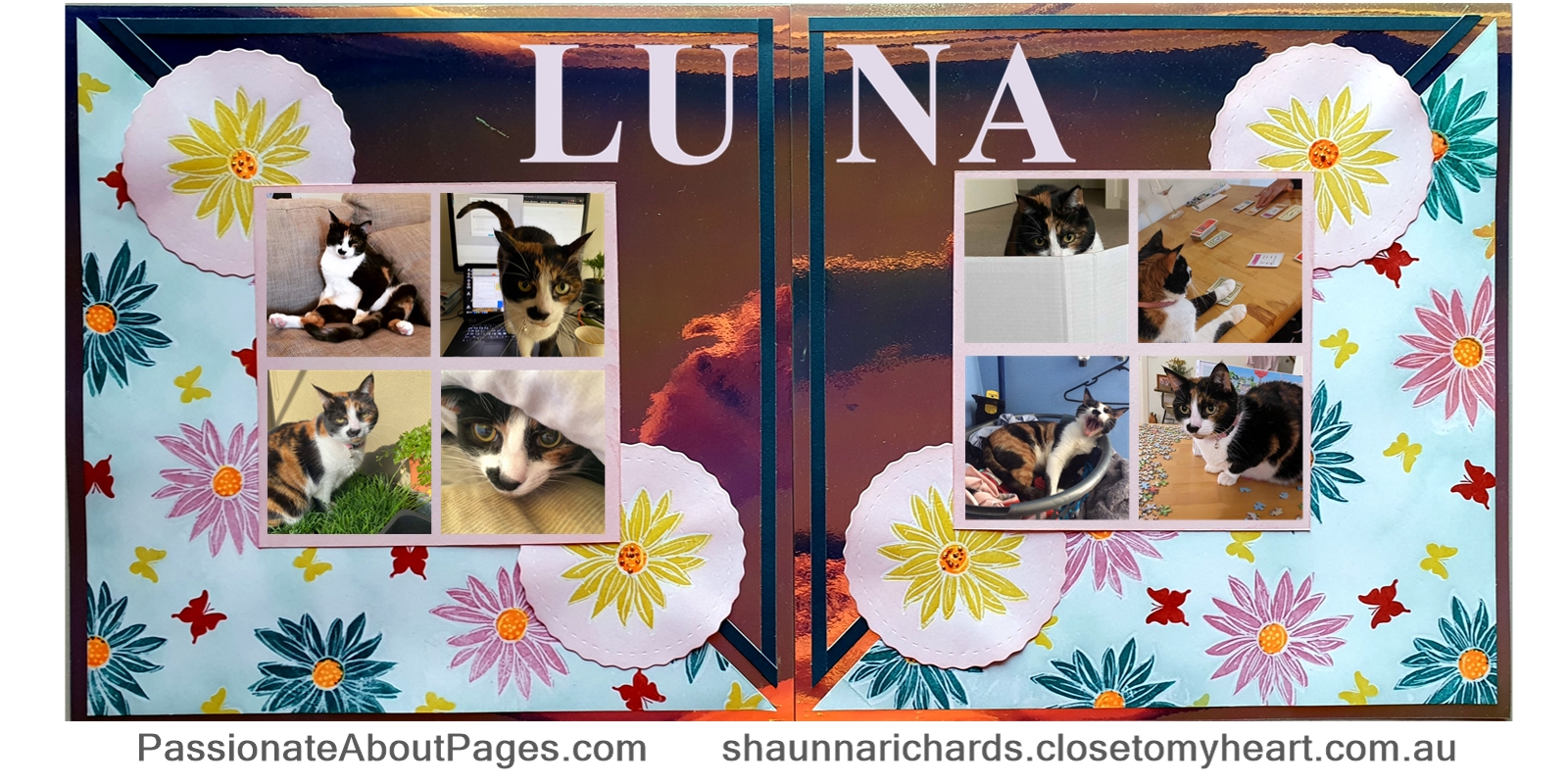 Large Triangles make a dramatic statement  

This half triangle layout is very popular at the moment.  I love it and found it was a great way to showcase the large flowers on my hand made printed paper.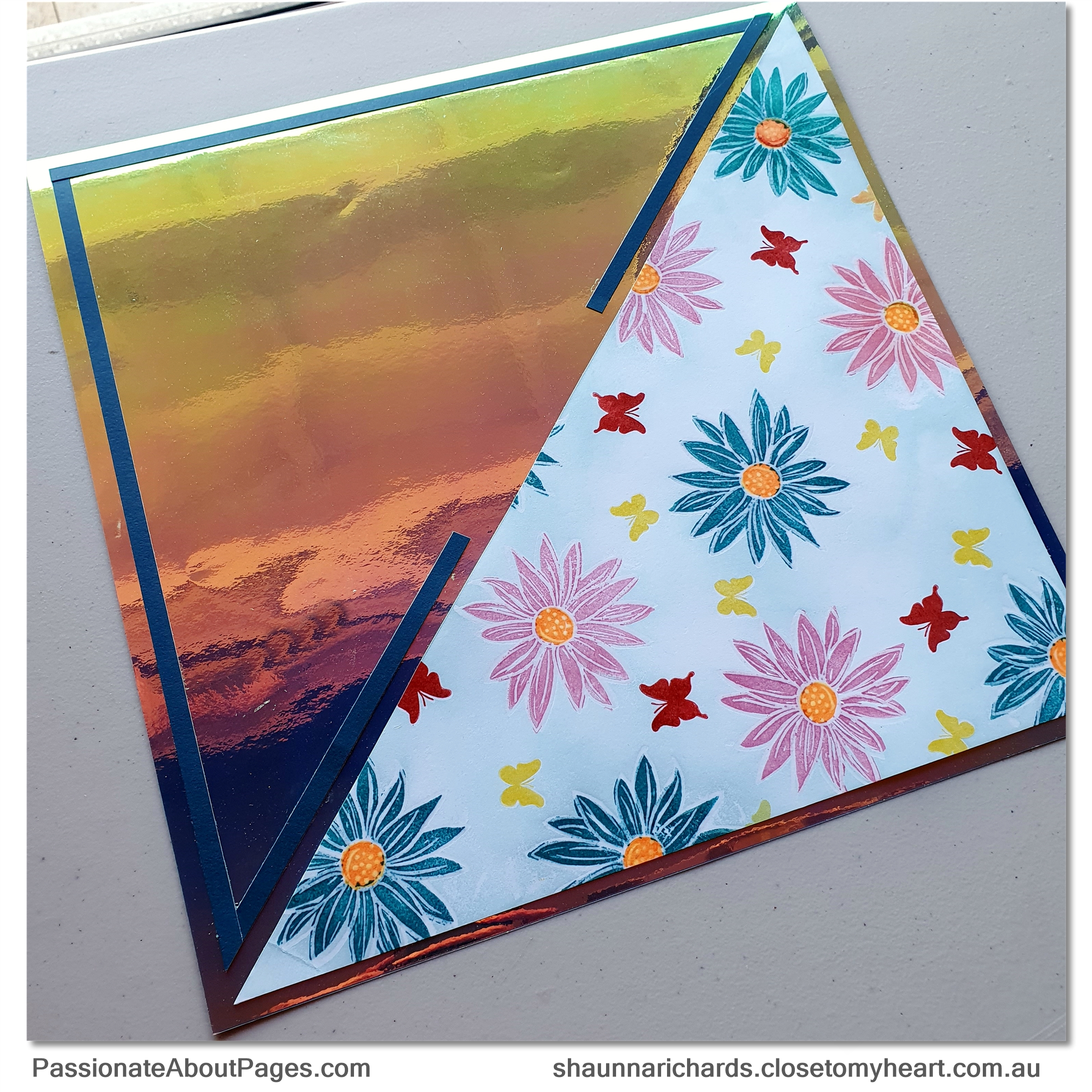 Oasis Holographic paper provided a fun base for the design but boy is it hard to photograph because it acts like a mirror!  ¼" strips of peacock cardstock frame the Holographic triangle segments.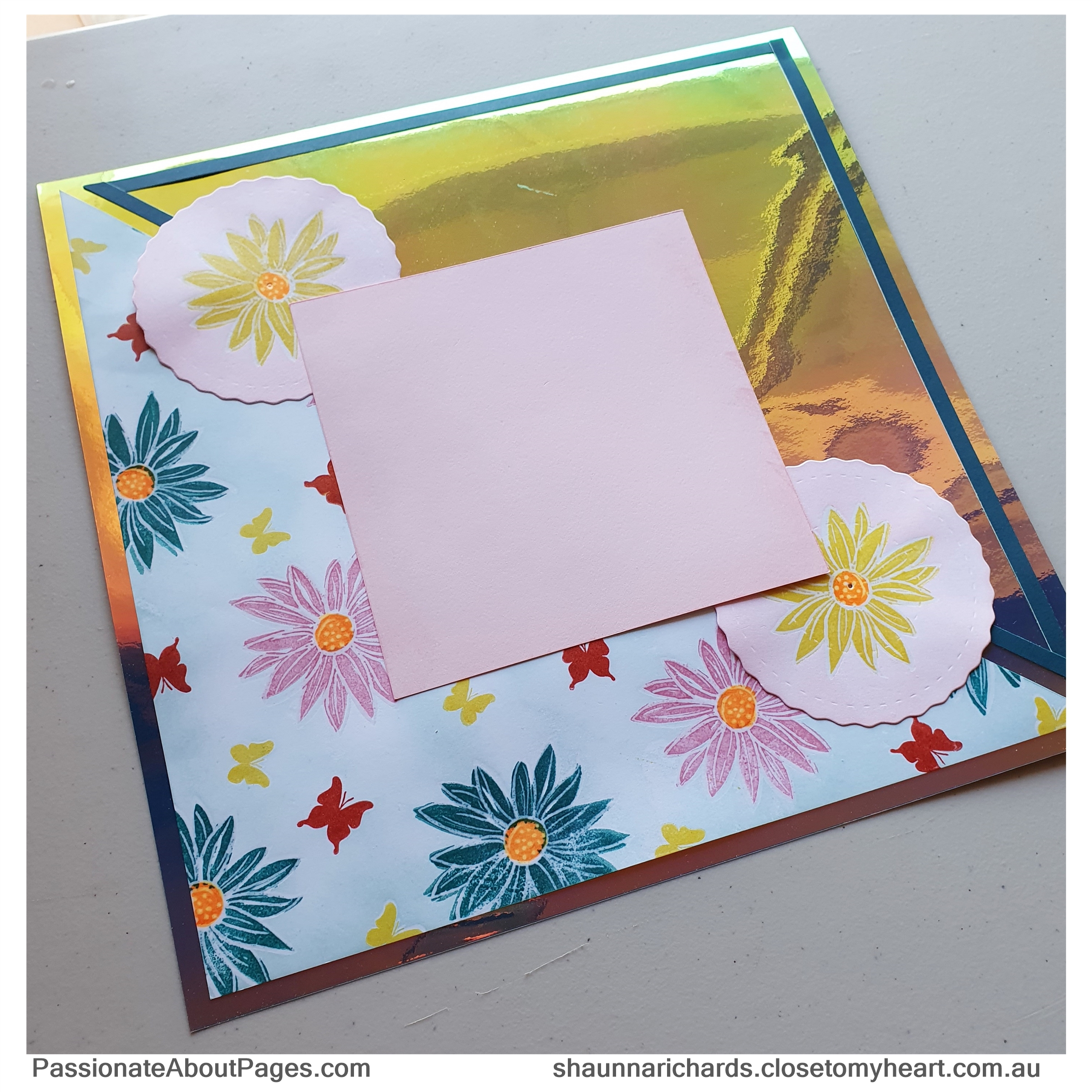 Numerous photo layouts are possible with this design.  Adding circles breaks up some of  the lines.  These frilly circles are cut using the Spinner Card Thin Cuts.  They are just under 4" in diameter.  The square in the middle is 6".  The sizes of both can be adjusted up or down to suit your supplies and photos.

Heat Embossed Masking Technique

Using this technique allows the white of the base page and the colours of stamped images to show through after you have sponged over them.  The heat embossing acts as a resist and ink doesn't stick to it.

In a nutshell, it's a 4 step process

Use your anti-static pouch to wipe over cardstock before stamping
Stamp outline of flower in Versamark ink and heat emboss with clear powder
Stamp petals and butterflies in coloured ink and then again in Versamark.  Heat emboss with clear powder
Sponge background paper in a contrast colour.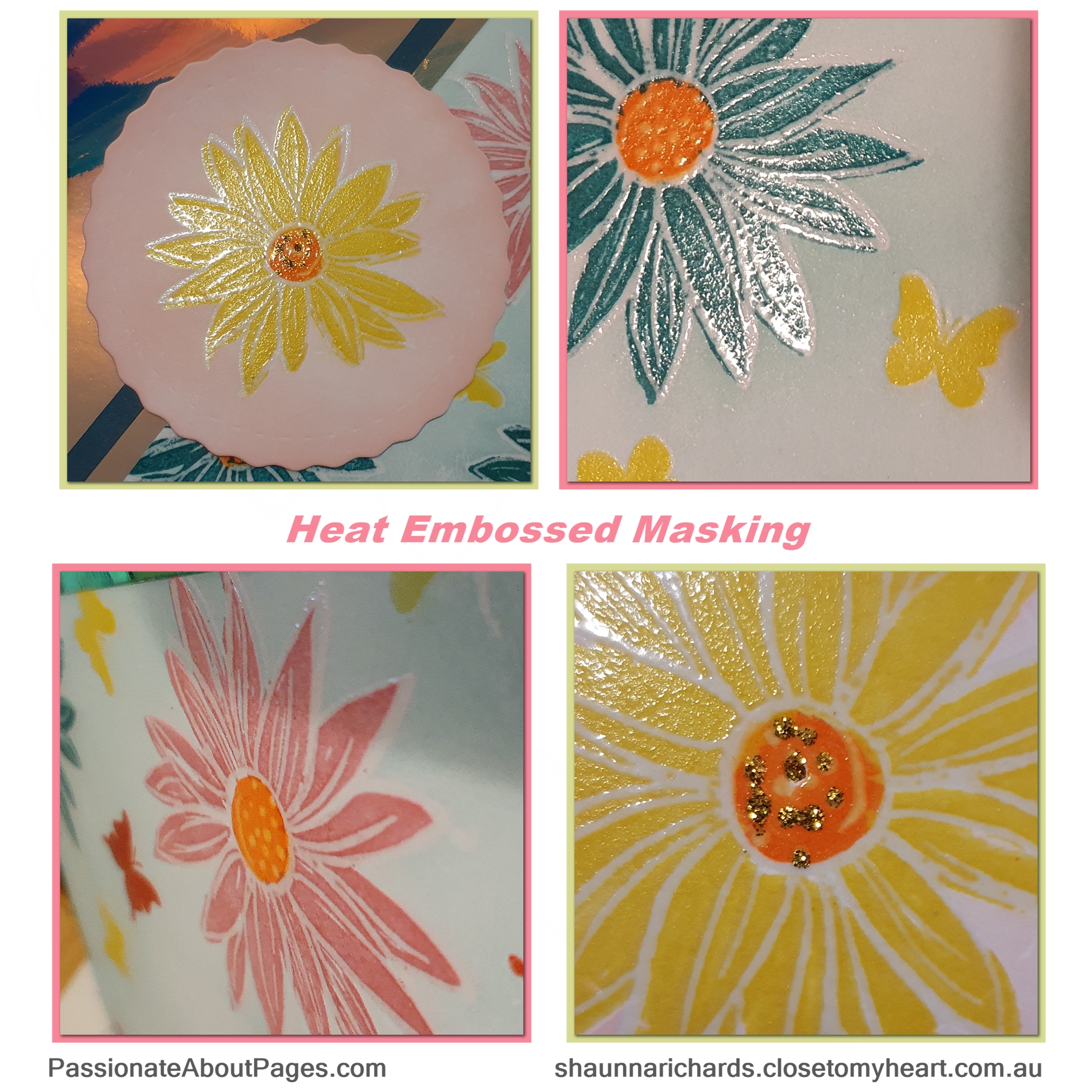 The heat embossing intensifies the coloured ink and also 'locks in' the white background paper.

Order your supplies this month

The Brushed collection is available, while stocks last,  until the end of July 2020.   You can order papers, co-ordinating cardstock and the 2 stamp sets individually or as a discounted bundle.  Check the Promotions tab on your consultant's website.  If you're an Aussie without a consultant, come shop with me by clicking here.

Please help me grow my blog following by liking or commenting on this post.  Then click on the underlined link and move on to Dannii's blog, Scrappy Chicks, to see the project she has designed for you.

Happy Scrapping,
Shaunna

Products used in this project

D1627 Your Own Kind of Wonderful Stamp Set

D1602 A Budding Friendship Stamp Set

Z3636 Oasis Holographic Paper

Z3626 Card Front Spinner Thin Cuts

1385 White Daisy Cardstock

X6036 Ballerina Cardstock

X5958 Peacock Cardstock

Z2088 Clear Embossing Powder

Z4220 Anti-static Pouch

Z697 Round Sponge

Z2895 Lagoon Exclusive Inks Stamp Pad

Z2844 Pixie Exclusive Inks Stamp Pad

Zz6517 Lemonade Exclusive Inks Stamp Pad

X2896 Smoothie Exclusive Inks Stamp Pad

Z6501 Ballerina Exclusive Inks Stamp Pad

X2841 Glacier Exclusive Inks Stamp Pad

Z2480 Orange Tri-blend Marker (centres of flowers)

Z3560 Golden Rod Stickles (centres of flowers)