Blues Skies, National Stamping Month Australasian Blog Hop
Welcome to the CTMH Australasian Blue Skies Blog Hop.  This hop features the artwork of some talented women from across Australia and New Zealand.


If you arrived from  Dannii's Blog, Scrappy Chicks, you are in the right place.  If this is your first time on a blog hop, simply read on and enjoy my creations.  If you like what I show today, please subscribe to my blog, leave a comment on this post or share it on social media. Then you click on the link at the end of this post and it will take you to the next blog and so on and so on. Easy and fun! Best part- you can see several different projects you can create with Close To My Heart's Blue Skies collection!   When you land back here, you are done and it's time to hit the scrapbook room for some crafting fun.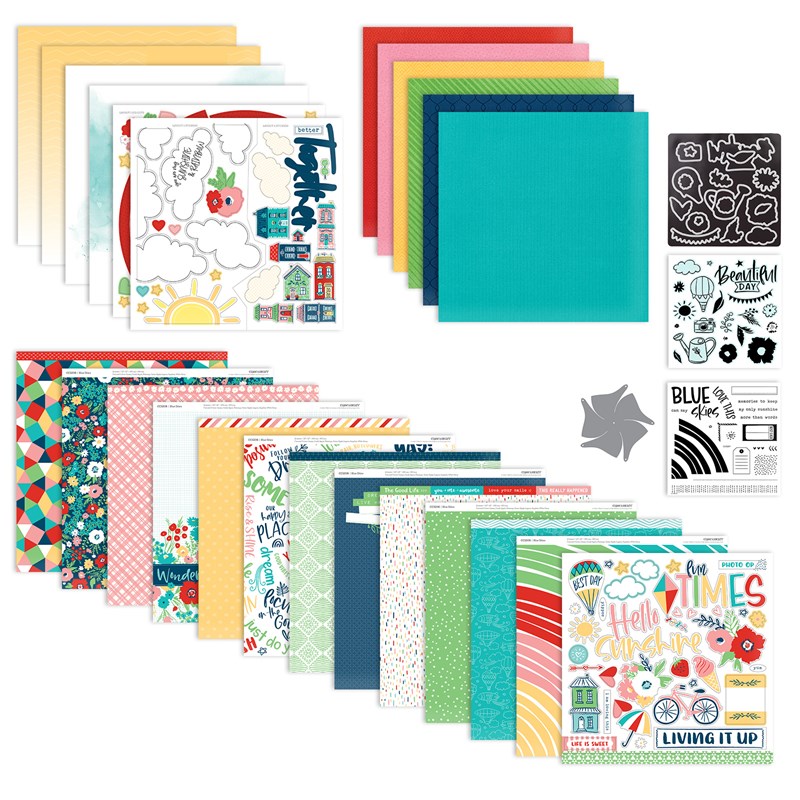 Blues Skies – Celebrating National Scrapbook Month

May is all about sharing and celebrating our love of scrapbooking.  This year, Close To My Heart has released a vibrant and upbeat collection which is sure to make your heart happy.  It's called Blue Skies. There are papers, stickers, stamps and a Cut Above kit that all co-ordinated perfectly.  You can choose individual products or grab a bargain by selecting a product bundle.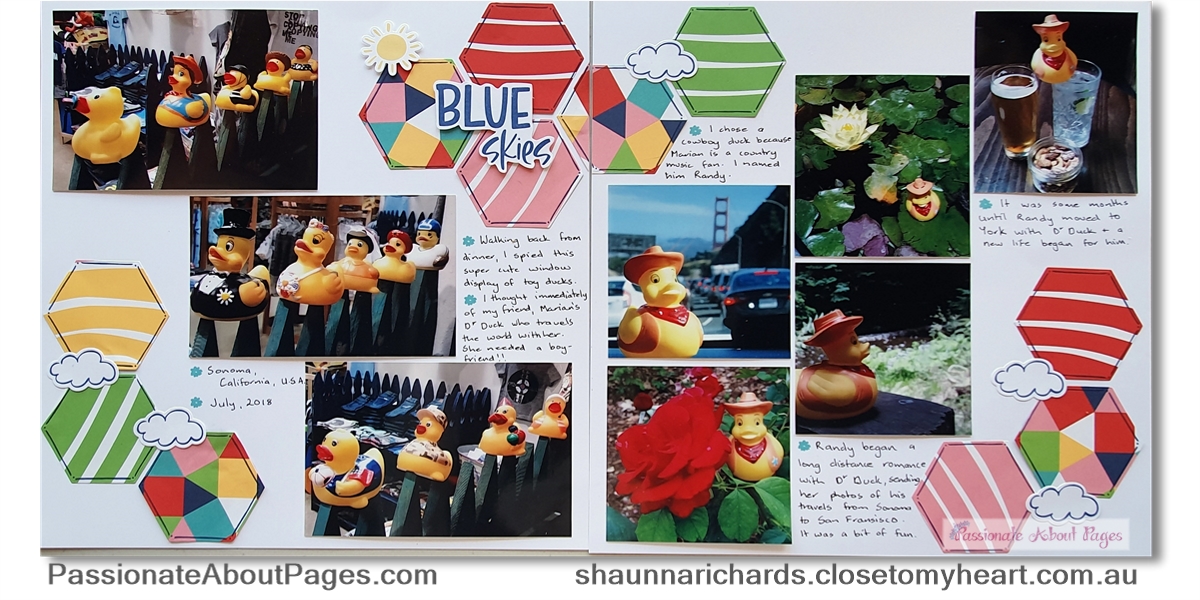 Make a quick scrapbook layout using bold patterns

I have chosen to work with two of the most dramatic prints in the paper pack.   I've used the opposite side of both these quite a bit but struggled each time I tried to add the full rainbow and the tile pattern to my pages.

After some thought, I realised it was because I was trying to add too much of the paper and I felt it overwhelmed my photos.  For me, bold patterns need clean and simple designs and a little goes a long way!

Keep it simple, Scrapbooker

My top tips when working with bold prints

Balance the bold print with plenty of neutral background.  This layout is built on White Daisy cardstock to help the patterns stand out but also to rest the eye as it views the entire layout
Use small pieces of a bold print on your layout.  Cutting the paper into a hexagon shape creates interest but also breaks up the very strong design elements of a bold print.
Remember the triangle rule to balance your design.  Adding 3 clusters across your layout helps frame it and draw the eye into the pages.
The details

The hexagons were cut with a thin cut that is part of the Aurora Scrapbooking set (X3711).  It has a variety of different shapes to choose from.  The co-ordinating stamps feature outdoor, woodsy kind of sentiments which didn't suit this layout so I performed a little stamp surgery and cut out the centre part of the hexagon stamp, leaving just the border.  It's amazing how that very simple, narrow outline enhances the design.

The title comes from the Blue Skies stamp set (CC5201).  The sun and clouds are from the Beautiful Day stamp and thin cuts set (CC5202). These sets have so many great elements on them– perfect for many different scrapbook themes.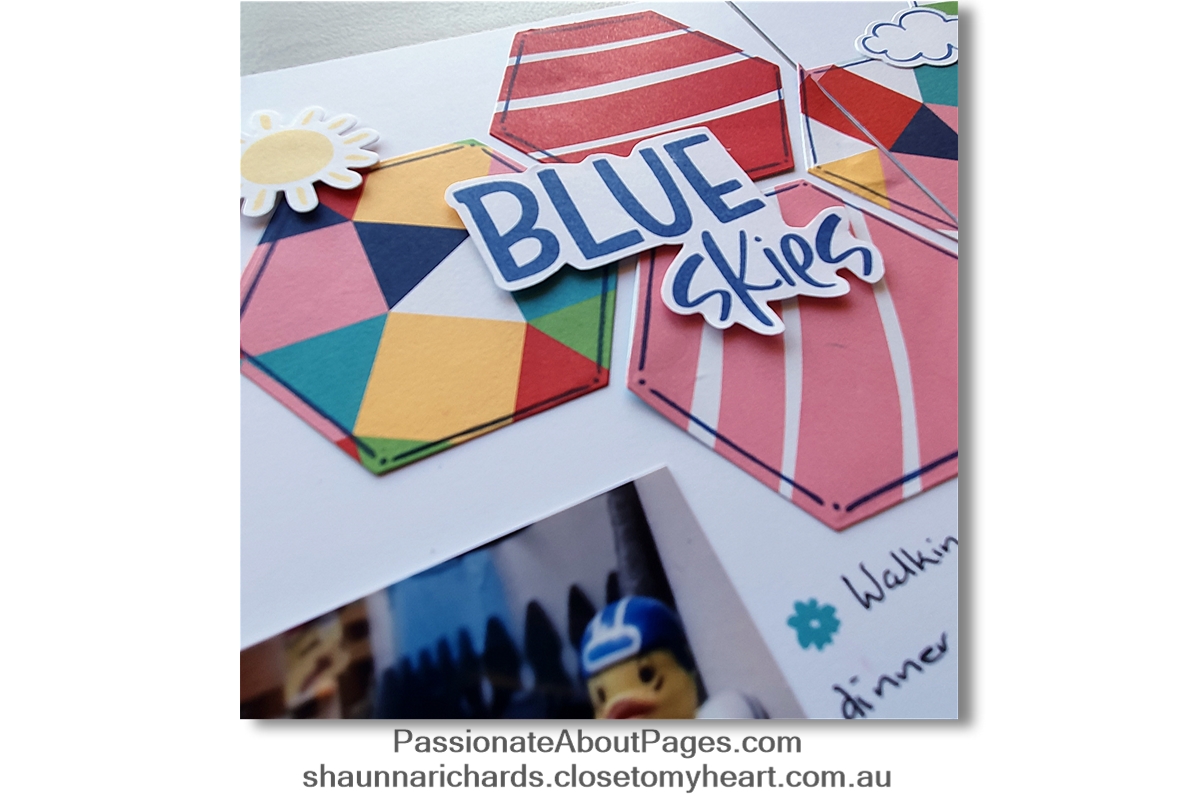 This photo shows what the layout looked like in the planning stages – see the difference a few accents can make? Notice I changed the direction of the stripes a couple of times too.

Order your supplies

The Blue Skies collection is available, while stocks last,  until the end of June 2020.   Be sure to take a look at all the products and purchasing options available to you on your consultant's website.  Simply click on the promotions tab and choose National Scrapbooking Month.

Is this something you could see yourself doing in your scrapbook? Let me know by liking or commenting on this post.  Then click on the underlined link and move on to Doreen's blog, Scrapping and More with Doreen, to see the project she has designed for you.

Happy Scrapping,
Shaunna