These Are My People Blog Hop
Welcome to the CTMH Australasian These Are My People Blog Hop.  This hop features the artwork of some talented women from across Australia and New Zealand.
If you arrived from  Doris's Blog, Creative Inspirations, you are in the right place.  If this is your first time on a blog hop simply read on and enjoy my creations.  If you like what I show today, please subscribe to my blog, leave a comment on this post or share it on social media. Then you click on the link at the end of this post and it will take you to the next blog and so on and so on. Easy and fun! Best part- you can see several different projects you can create with Close To My Heart's These Are My People collection!   When you land back here, you are done and it's time to hit the scrapbook room for some crafting fun.
The These Are My People collection includes a 12x12 Cut Above Kit, a paper pack, stickers, co-ordinating cardstock and a stamp set.  You can purchase items individually or as a bundle.  There is also a downloadable instruction handout filled with inspiration for 2 layouts, 2 single pages and 13 cards.  Be sure to save this handout so you can replicate the patterns over and over in different paper packs.  When you switch the papers, they will suit different people in your life. The handout is available until March 31, 2020 on the Promotions Tab of your consultant's website.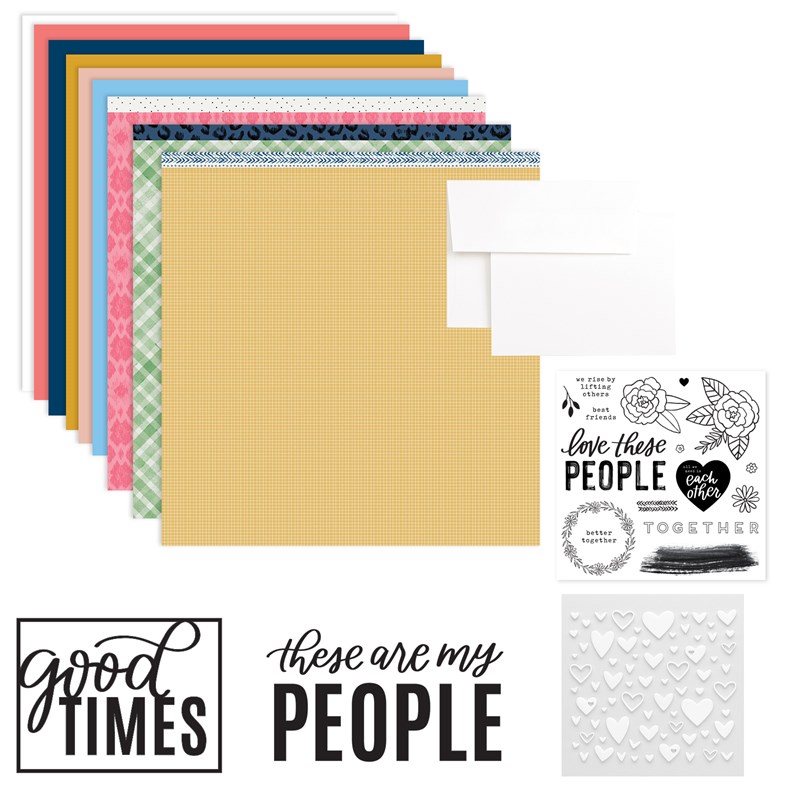 Who are your people?
This collection is all about honouring the important people in your life. Who is missing from your scrapbooks? For me, it is my aunts and uncles that I wish to focus on for the layouts I'm making this month. I have very few layouts that include them as we live on opposite sides of the country.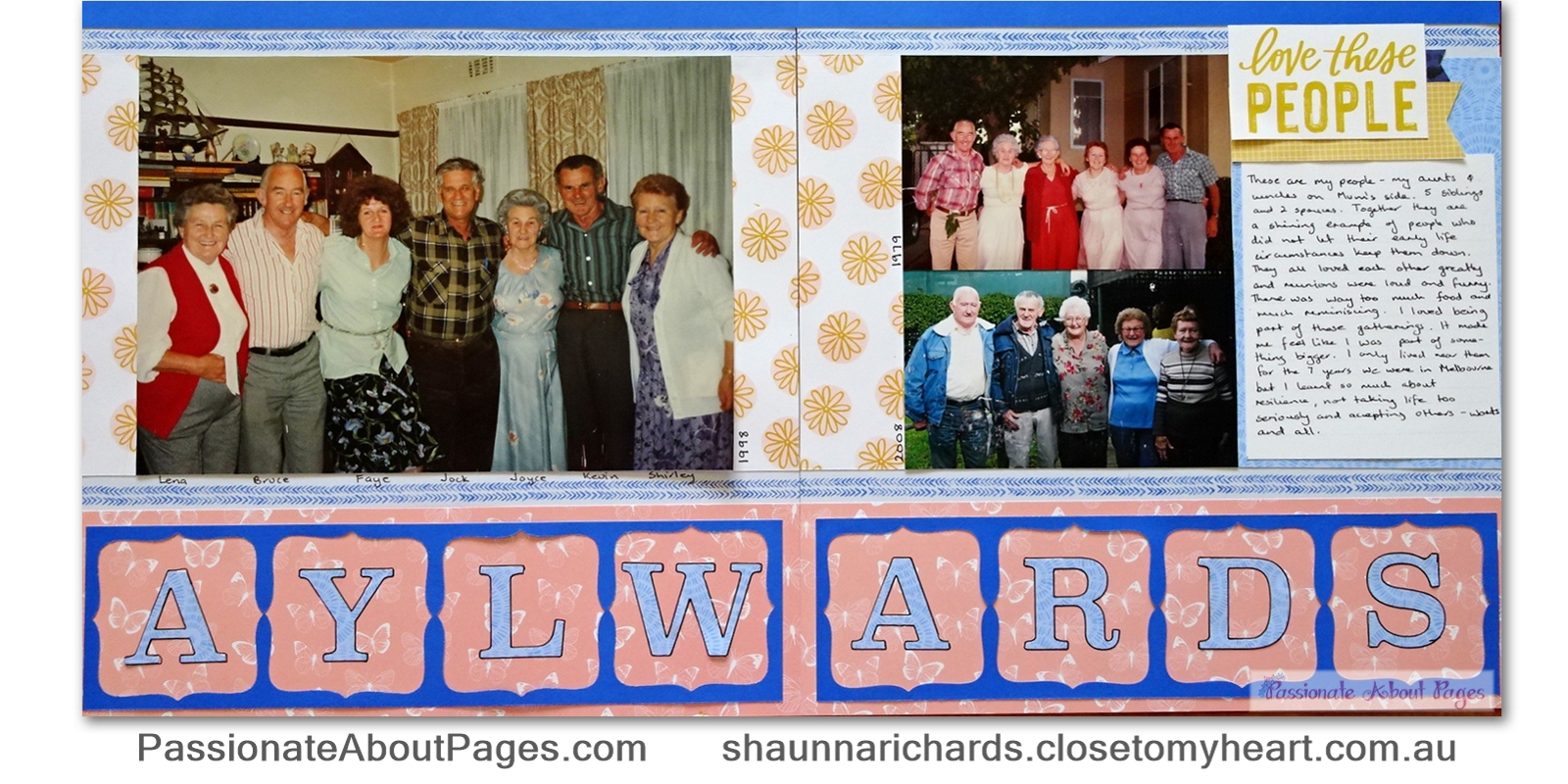 These gorgeous people are my mum's siblings. Together, they are a shining example of people who did not let their early life circumstances keep them down. They were funny, caring, loving and always supportive of each other. The three photos were taken over a 30 year period.
I plan for this to be the opening layout in a chapter all about them. Following layouts will focus on individuals and what they taught me about life in general and family in particular.
The journalling on this layout is an example of Story by Stacy Short Story. Following pages will use the Stories I love journalling style.
Create a bold page title
The title was created using Thin Cuts. I love the shape of the Stitched Bracket Thin cuts. The actual shapes were used in a kit project for my customers but the leftover strip was a perfect place to frame the letters created with Close To My Heart's newest ABC/123 dies - Classic Alphabet Thin Cuts.
Cut the letters from scraps and stick to the layout. Then outline each letter with a black journalling pen. Work slowly and you will find it easy to follow the shape of the letter.
Add stamping to your printed paper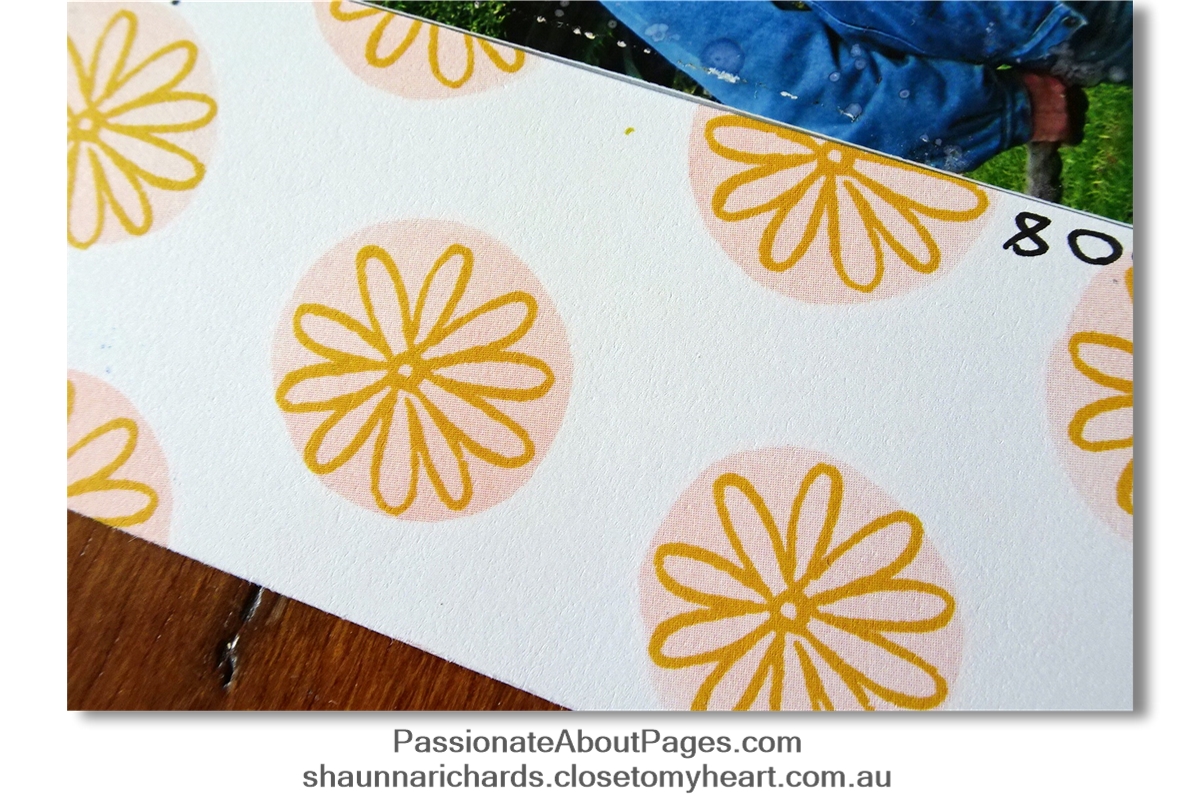 The soft peach spots on this print are lovely but did not provide enough contrast on the page. By adding a stamped flower to each spot a bolder look was created.
Stamped embellishments complete the layout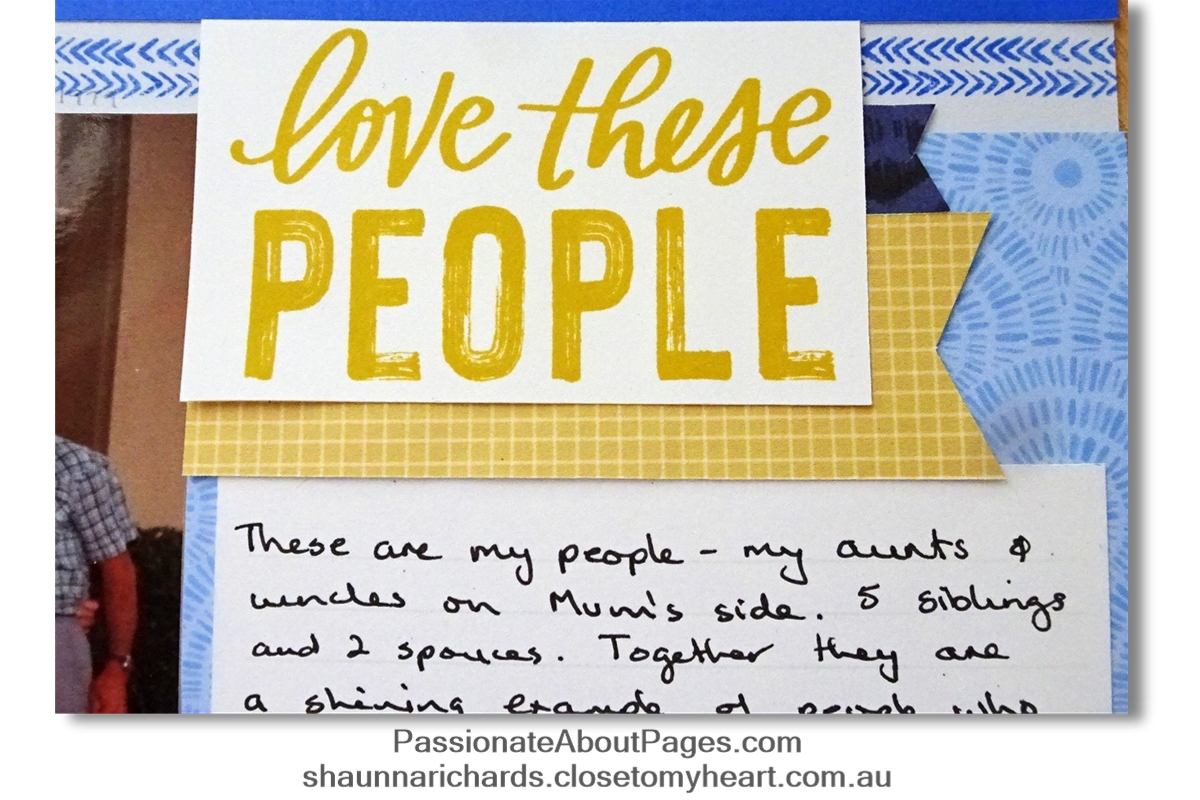 The bluebird chevron pattern is created by repeatedly stamping this small stamp. This creates a border to frame the photos on the layout. 'Love these people' is the perfect phrase to use as a title and can also be found on the stamp set with this collection
Order your supplies this month
The These Are My People collection is only available to purchase for a limited time.  Order yours on your consultant's website before April 30.  If you do not have a consultant, please visit my website for full details. A list of products used on my layout appears at the end of this post. 
I'd love you to like this post or leave a comment for me before you head over to Doreen's blog to enjoy her creative inspiration..  
Happy Scrapping,
Shaunna
Close To My Heart products used in this project
CC3203 These Are My People Paper Pack
CC3205 These Are My People Stamp Set
X9013 Mix In Paper Pack
Z3655 Classic Alphabet Thin Cuts
Z3631 Stitched Bracket Thin Cuts
X5947 Mink Cardstock
X6037 Bluebird Cardstock
Z2851 Saffron Stamp Pad
Z6508 Bluebird Stamp Pad
Z3517 Black Journalling Pen
Z3372 CTMH Adhesive Runner