Celebrate Today Australasian Blog Hop
Welcome to the CTMH Australasian Celebrate Today Blog Hop.  This hop features the artwork of some talented women from across Australia and New Zealand.
If you arrived from  Megan's Blog, Crop Craft Create,  you are in the right place.  If this is your first time on a blog hop simply read on and enjoy my creations.  If you like what I show today, please subscribe to my blog, leave a comment on this post or share it on social media. Then you click on the link at the end of this post and it will take you to the next blog and so on and so on. Easy and fun! Best part- you can see several different projects you can create with Close To My Heart's Celebrate Today collection!   When you land back here, you are done and it's time to hit the scrapbook room for some crafting fun.
We have so much to Celebrate Today!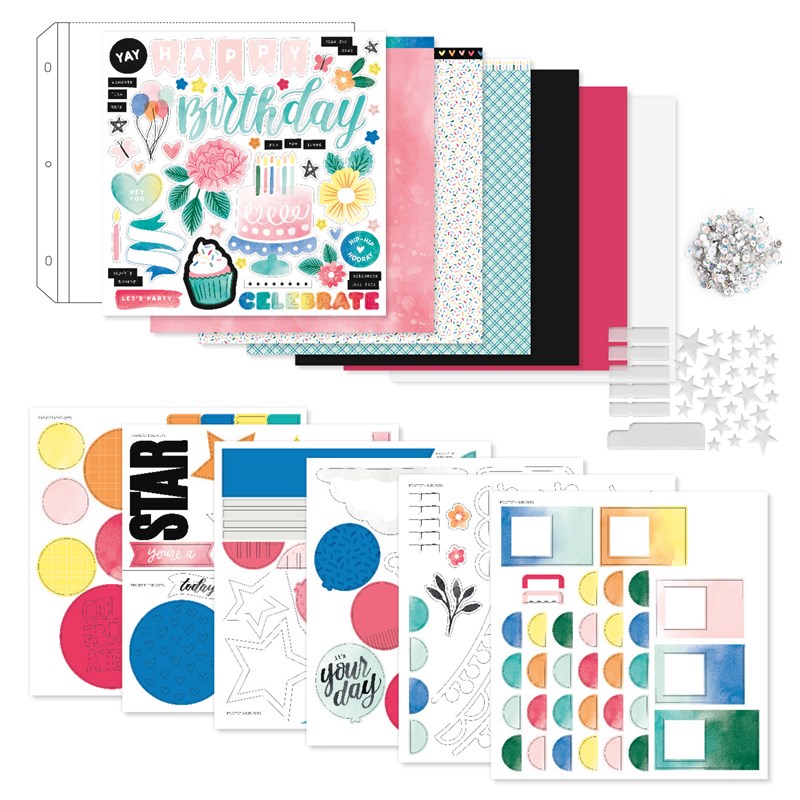 This bright collection is a party in a bag, ready to burst forth and make your scrapbook pages dazzle.  You have kit options for scrapbooking and card making plus the option to purchase papers, co-ordinating cardstock, Pocket scrapbook cards and Vellum Die-cuts as individual items.  Everything works together so you can focus on the fun of reliving life's magical moments and telling the stories in your albums.
Two ways to use the Celebrate Today scrapbooking workshop kit
Today's layouts are all made from the Celebrate Today scrapbook workshop kit, pictured above.  There are so many really different and interesting die-cuts in this kit that few of us would take the time to make from scratch.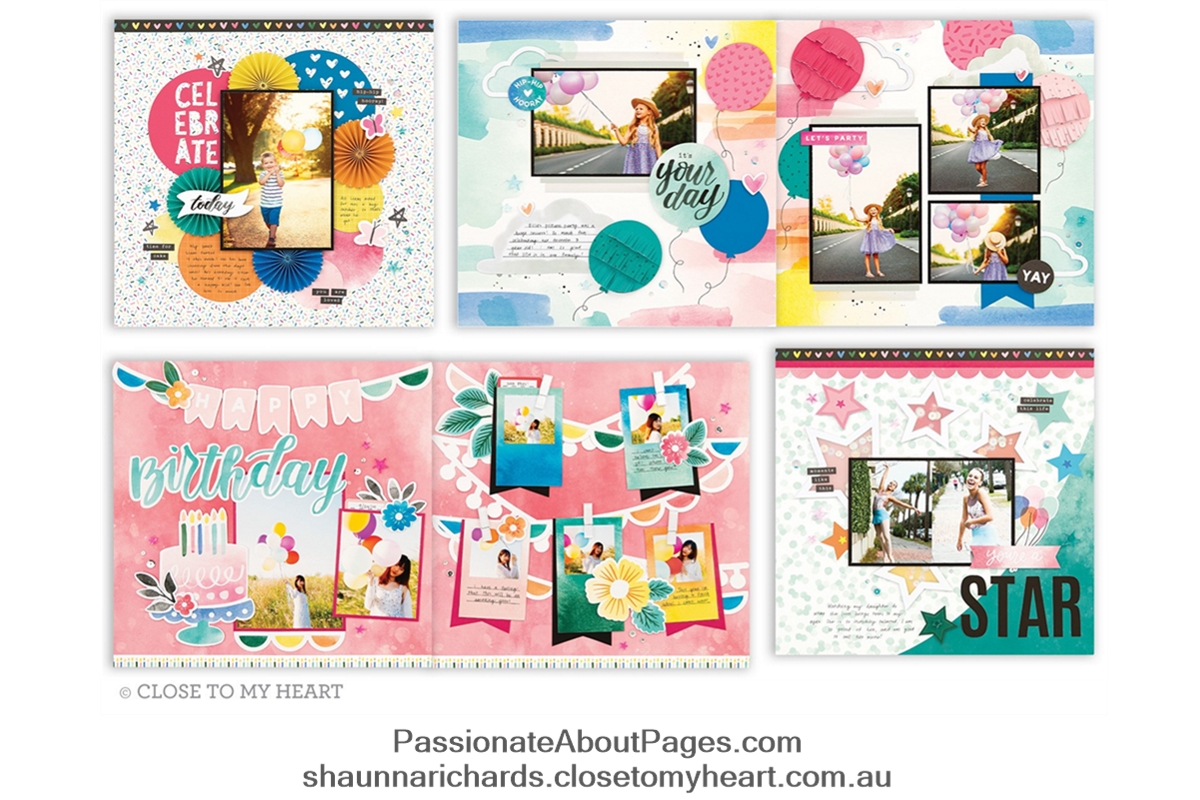 When you purchase a Close To My Heart scrapbook kit, you receive all the supplies needed to make 6 pages following the printed instructions that come in the kit.  At times, when you are short on time or creative inspiration, following the cutting diagrams and assembly instructions exactly will be a perfect fit.
For those feeling creative, the other option is to pull out ALL the pieces in the kit, use the sample layouts as inspiration and just play!  That's how today's sample layouts came to be.
Turn a single layout into a double
When you have lots of photos to scrapbook, one page just isn't enough.  Fortunately there are plenty of decorative elements on the single pages in this kit that can easily expand to cover two pages.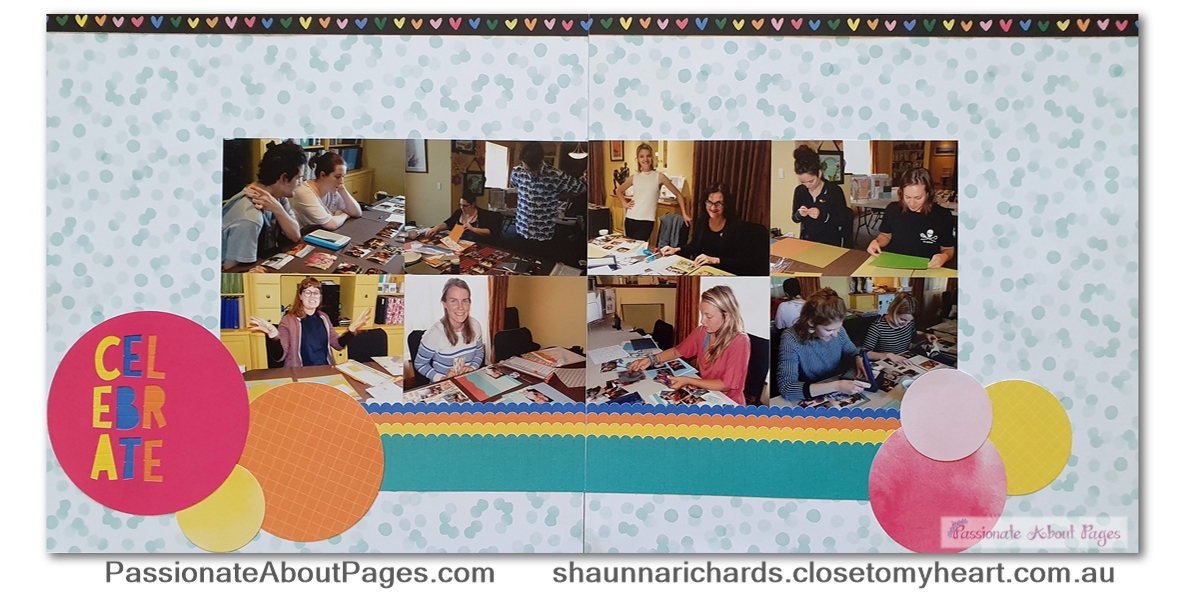 The first double page uses all those lovely die-cut circles and the yo-yo strips.  Rather than make the 3D yo-yo elements, place the strips flat on your pages.  Quick and easy!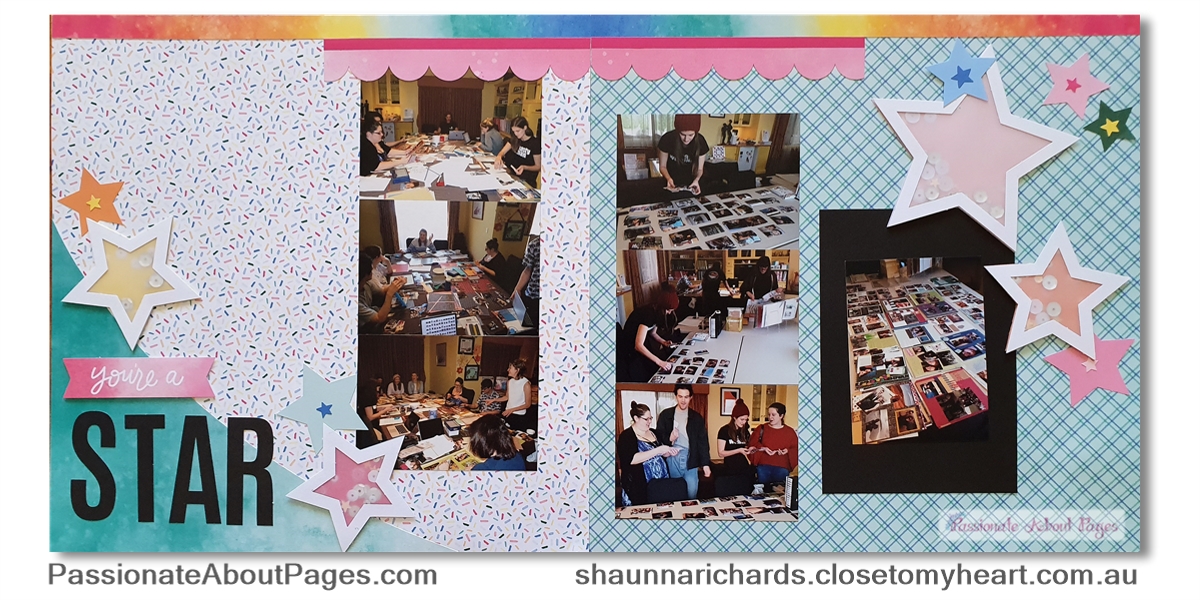 When you get to the second single page transformation you will realise the background paper is the reverse of the first layout and there isn't an extra sheet in the kit.  Fear not, you can work on the back of the first layout for the LH page and add a different background sheet for the RH page. 
Using matching zip strips across both pages and sharing the scallop border piece and stars between the two pages ties everything together nicely.
Both these layouts lend themselves to the addition of Pocket Plus protectors to fit even more photos in.  The co-ordinating Picture My Life cards will fill any empty slots and provide room for journalling.
Tone down a 'busy' layout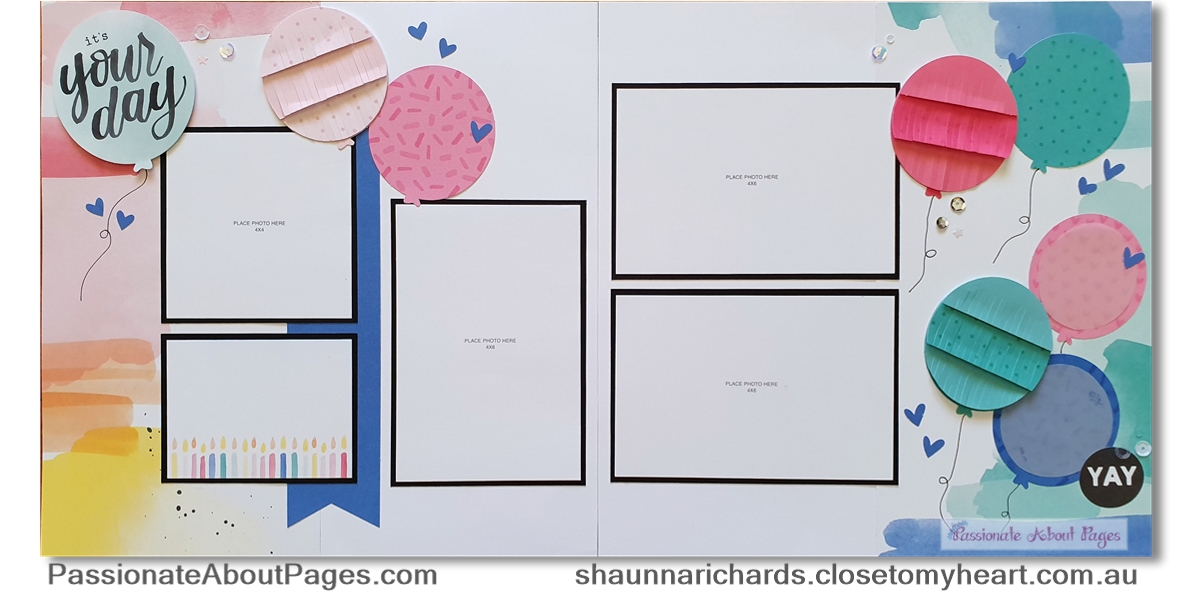 The layered balloon die-cuts in this kit are adorable but the page design may be too busy for your style.  By cutting one background sheet and spreading it over two base pages you introduce white space to calm the look a little.  The clouds were also omitted from this layout and used later.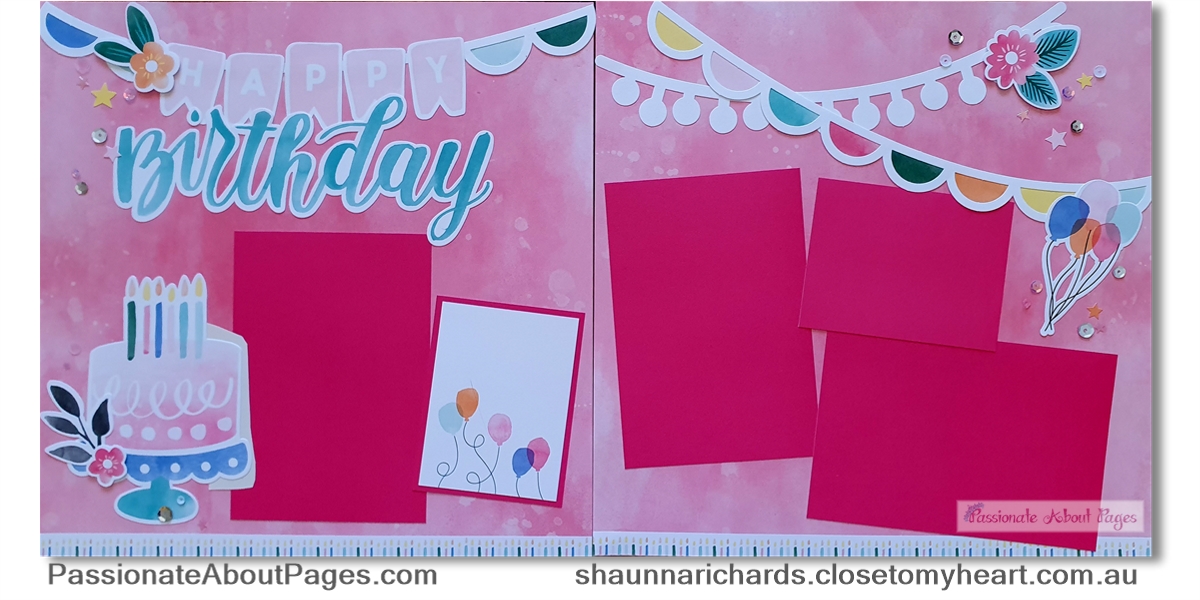 3 of the streamers and the photo flags were left off the layout above and repurposed later.  Once again, this gives a more open look to your design.
Make a layout from the kit left overs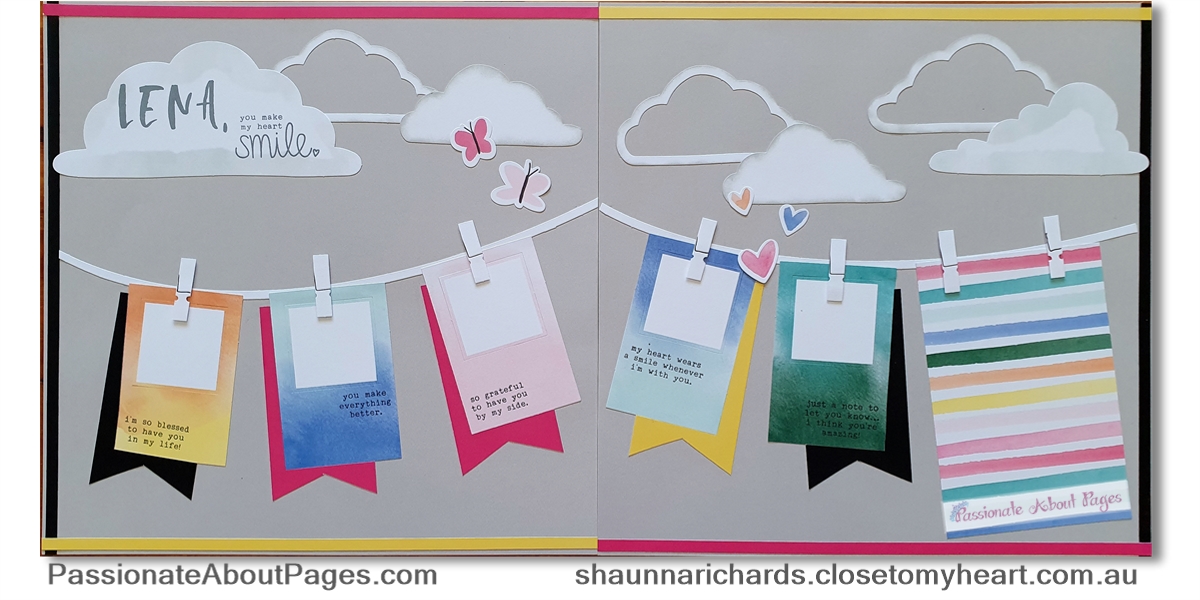 A little trimming of the streamers, a few extra pegs made up from spare photo mats and this very simple layout was completed quickly on mink cardstock.  February's Stamp of the Month, Cherish Her, worked perfectly on the small photo frames and the title.
10 pages from one Celebrate Today Workshop Kit
Everything comes together easily when you start with a co-ordinated kit.  There are still enough die-cuts left to make one more layout!  What do you think?  Is this something you could see yourself doing. Why not order a kit and see how far you can take it.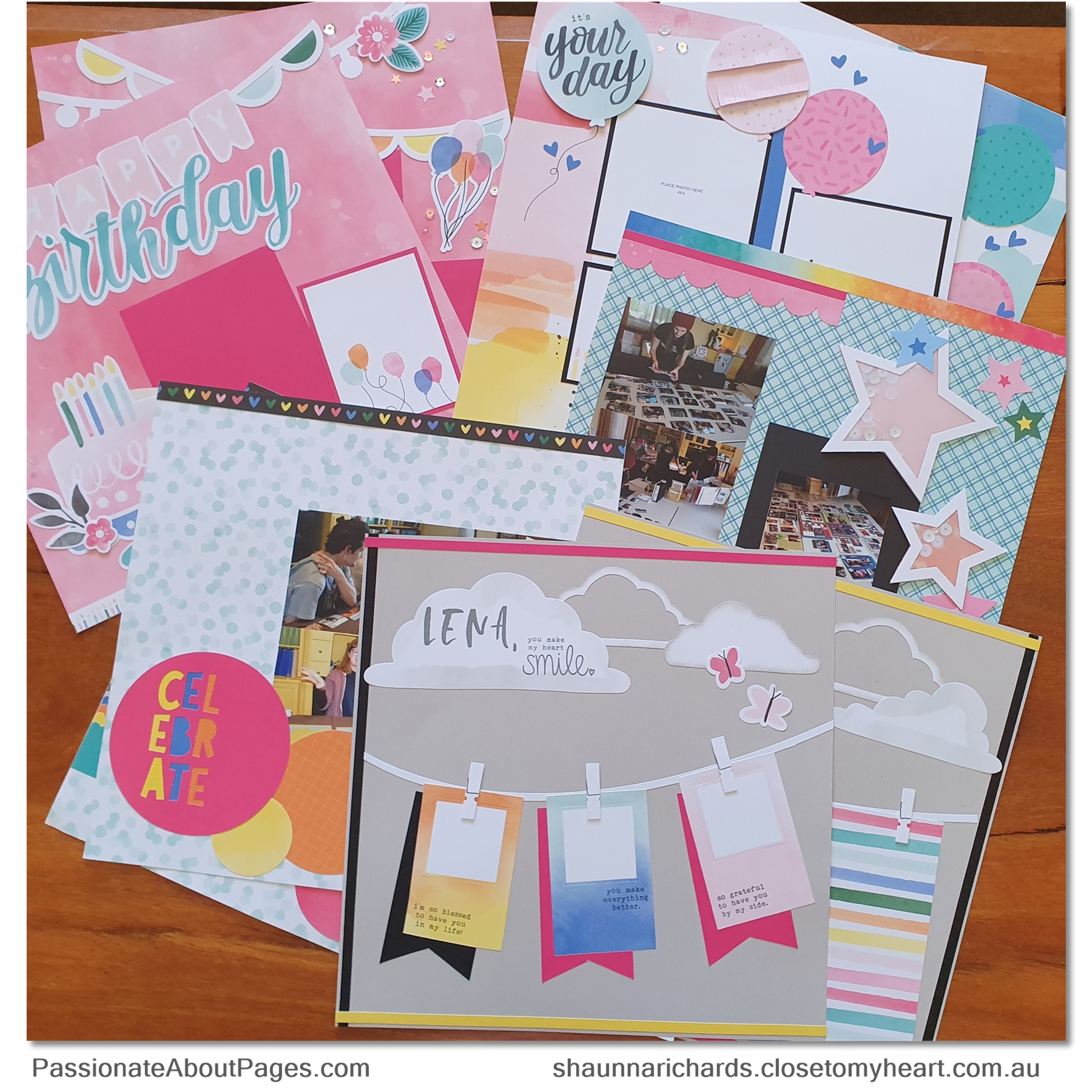 Order your supplies this month
The Celebrate Today collection is available to purchase from your Close To My Heart consultant while stocks last. A list of products used on my layout appears at the end of this post.  Place your order on my website or with your Close To My Heart Consultant.
I'd love you to like this post or leave a comment for me before you go.  Then click on the underlined link and move on to Dannii's blog, Scrappy Chicks, to see the project she has designed for you.
Happy Scrapping,
Shaunna
Close To My Heart products used in this project
G1193 Celebrate Today Scrapbooking Workshop Kit
X7252D Celebrate Today Picture My Life Cards
S2002 Cherish Her (Stamp of the Month)
X5947 Mink Cardstock
1385 White Daisy Cardstock
Z280 Black Exclusive Ink
Z2835 New England Ivy Exclusive Ink
Z3441 Dual Tip Multi Bond Glue Pen
Z1836 Non-stick Micro-tip Scissors
Z3341 Thin Foam Dots
Z3326 Permanent Adhesive Tape