Holographic Papers - they are magical!
This post comes with a warning: Holographic papers are completely addictive! Once you start using them in your paper craft projects you will begin thinking of an endless array of applications.
What is Holographic Paper?
Holographic paper has been coated with a metallic-like finish that reflects light, creating a range of colours depending on the angle it is held to the light. Once added to a card or scrapbook page, the colours will vary as the project is handled and as it is viewed in different light conditions.
How do you use Holographic Paper?
This paper is perfect for any cards or layouts that need a little pizzazz.
Use large pieces to back a card design or scrapbook border
Mount special photos
Add narrow strips in place of shimmer trim, ribbon or twine
Cut it with Thin Cuts
Emboss it with textured folders
Stamp on it
Heat emboss on it
Add Stickles to it
Colour with alcohol markers
Stamping on Holographic Paper
Today I'm sharing some tips to stamp on Holographic paper.  The mermaid's tails were made this way. Aren't they adorable?  They will find a home on a layout I'm creating featuring photos of mermaids on stand up paddle boards – of course mermaids can't stand so they were passengers on the boards.
The shiny surface of this paper will not accept dye-based inks.  They will just sit on the surface and smudge or wipe off.  The best ink for the job with Holographic papers is StazOn. This ink is specially formulated to work on any shiny surface.
Close To My Heart offer StazOn in Brown and Black.  Simply ink your stamp as you would normally and stamp on the paper gently.  Don't add too much pressure to the block as it may slip and cause a blurred image.  I suggest stamping first, setting it aside to dry completely while you make the rest of the project.
It's important to note that you require StazOn cleaning fluid to remove excess ink from your stamps.  Simply follow the instructions on the bottle.  Use an old cleaning cloth to wipe off the excess cleaner as it can leach colour from your stamp shammy.
Choose from two colours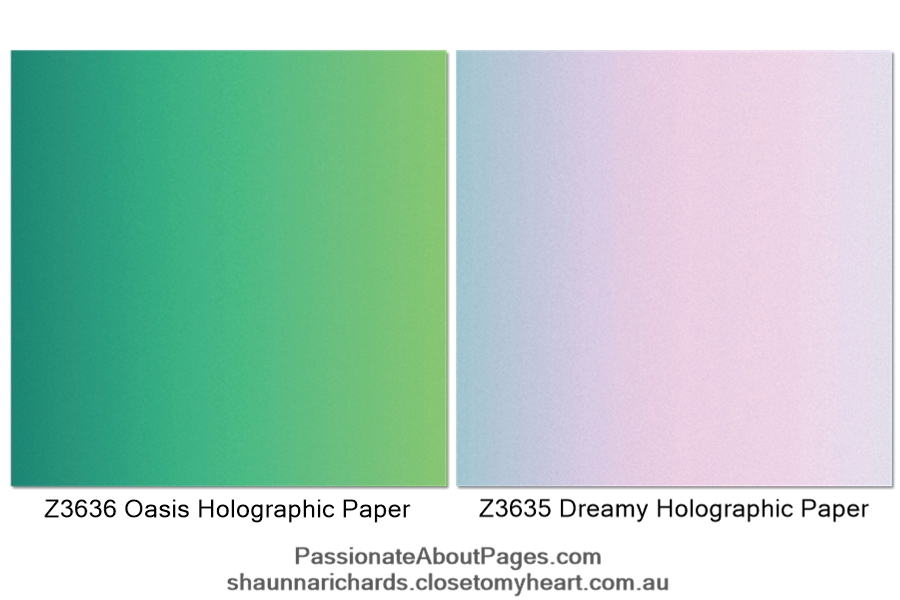 Close To My Heart currently offers Dreamy and Oasis Holographic papers.  You will find 3 sheets of 12" x 12" paper in each pack, offering you many opportunities to create some irridescent magic on your cards and layouts.  Check all the details on my website.
Happy Scrapping
Shaunna
PS Did you enjoy this post?  Why not subscribe to this blog to have more informative ideas delivered directly to your email.