Bring Back My Pack - Urban Australasian CTMH Blog Hop
Welcome to the CTMH Australasian Bring Back My Pack - Urban Blog Hop.  This hop features the artwork of some talented women from across Australia and New Zealand.
If you arrived from Dannii's Blog you are in the right place.  If this is your first time on a blog hop simply read on and enjoy my creations.  If you like what I show today, please subscribe to my blog, leave a comment on this post or share it on social media. Then you click on the link at the end of this post and it will take you to the next blog and so on and so on. Easy and fun! Best part- you can see several different projects you can create with Close To My Heart's Urban collection!   When you land back here, you are done and it's time to hit the scrapbook room for some crafting fun.
Urban is back for a short time  
You will love the very different prints in this paper pack – all representative of buildings and construction.  The colours are earthy and the prints textural. 
The Urban collection is available until the end of January 2020.  Buy it as a full kit or purchase individual items.  Ask your Close To My Heart Consultant for details.
Show off ALL the patterns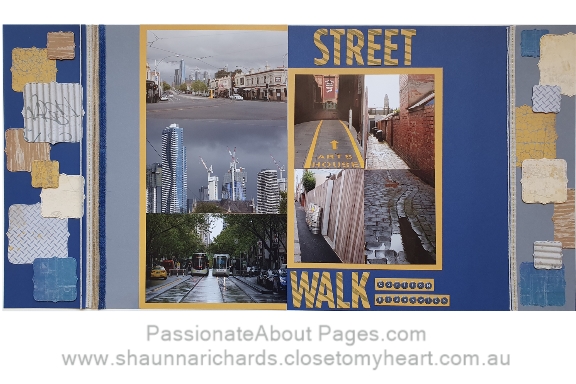 What do you do when ALL the prints in a paper pack are fabulous? Show them off of course!  I've been hanging out to play with the NEW Stitched Bracket Thin Cuts.  One 3" x 12" strip of each paper is enough to cut 2 of each Bracket shape, giving you many options for how you arrange them.
Use Make It From Your Heart patterns
I knew I wanted to create a border to display the paper shapes and that I had lots of photos to include on this layout, so I'd need a Pocket Plus Protector.  The last 6 patterns In Make It From Your Heart, Vol 3 are designed to accommodate these pocket protectors.  Pattern 33 was ideal for my layout.
Mix new with old for stash busting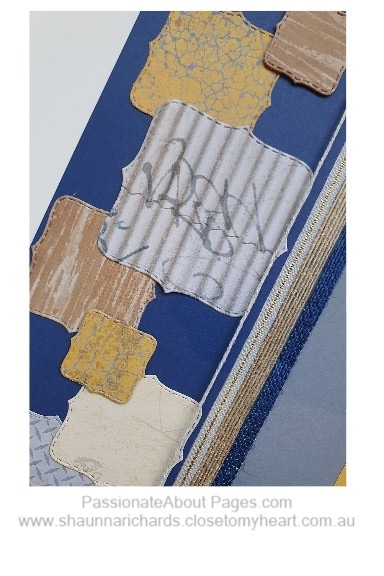 I'm running a Mission Possible Challenge the first 6 weeks of the year and our focus is on using up embellishments in our stash.  I had a look through my ribbons and trims and found 4 that co-ordinated with the colours of the Urban papers.  Grouping several ribbons alongside each other creates a wider focal point in the design.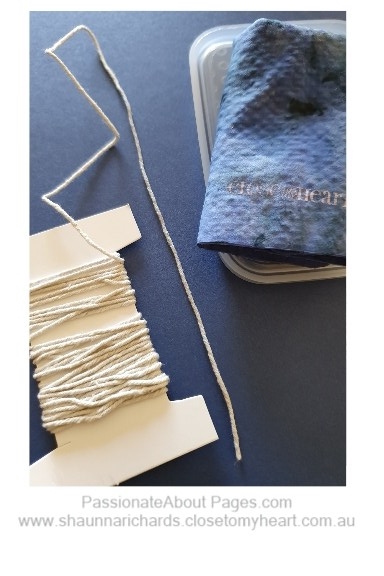 Have you ever been frustrated that twine stored on a card has kinks in it? Just run you damp stamp shammy along the twine and it will straighten out.
A title and journalling always complete the layout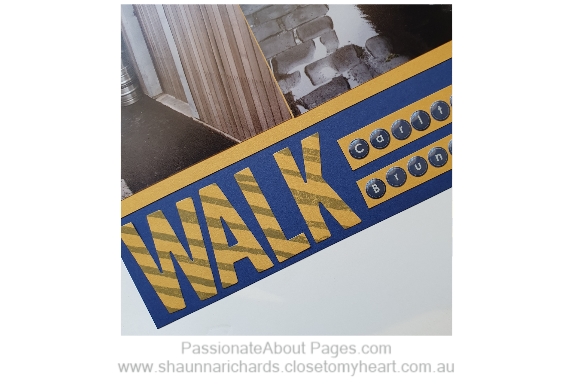 It's interesting how a title and a story transform the look of a layout, inviting the reader in to learn more about the photos.  My title used the Block Alphabet thin cuts, stamped with a background stamp and with some very long-retired alphabet stickers.
The journal boxes in the pockets were decorated with left over bracket shapes from the border teamed with a ribbon.  Simple and fast to make.
Order your supplies this month
The Urban Collection is available to purchase from your Close To My Heart consultant until the end of January when they return to the vault. A list of products used on my layout appears at the end of this post.  Place your order on my website or with your Close To My Heart Consultant.
I'd love you to leave a comment for me before you go.  Then click on the underlined link and move on to Doris's blog, Creative Inspirations, to see the projects she has designed for you.
Happy Scrapping,
Shaunna
Close To My Heart products used in this project
CC12191 Urban Papers & Stickers
CC12193 Urban Co-ordinating Cardstock
Z4221 Mink Twine
 Z3631 Stitched Bracket Thin Cuts
Z3386 Block Alphabet Thin Cuts
Z2848 Sapphire Exclusive Stamp Pad
Z3579 Stamp Shammy
Z534 Micro-tip Scissors
Z341 Mini Dots
Z2060 Thin 3D Foam Tape
Z3326 Permanent Adhesive Tape