Spooktacular Australasian CTMH Blog Hop
Welcome to the CTMH Australasian Spooktacular Blog Hop.  This hop features the artwork of some talented women from across Australia and New Zealand.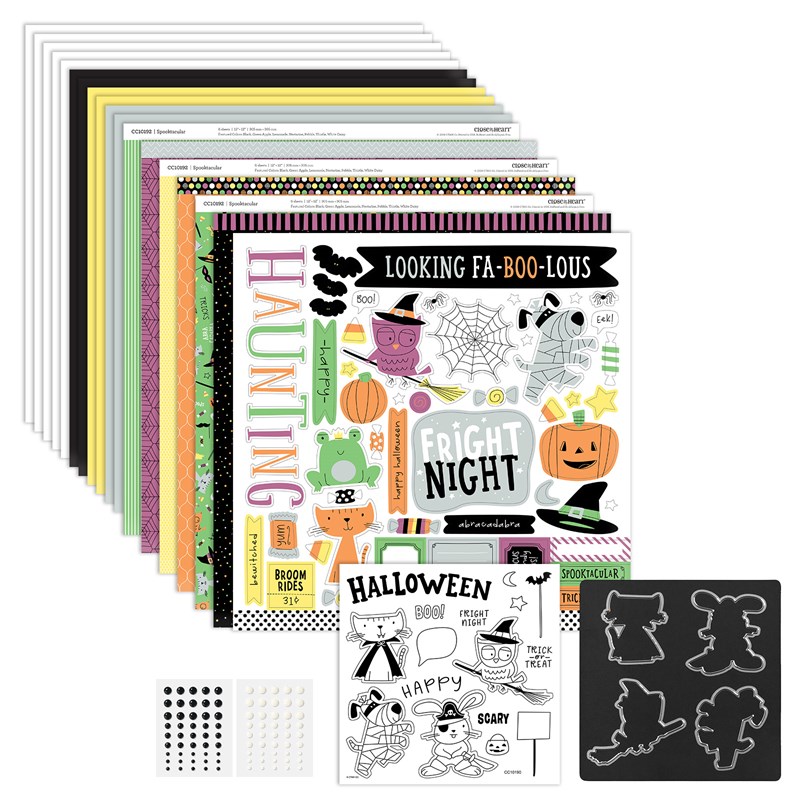 If you arrived from  Dannii's Scrappychicks blog you are in the right place.  If this is your first time on a blog hop simply read on, enjoy my creations and maybe share your response in the comments. Then you click on the link at the end of this post and it will take you to the next blog and so on and so on. Easy and fun! Best part- you can see several different projects you can create with Close To My Heart's Spooktacular collection!   When you land back here, you are done and it's time to hit the scrapbook room for some crafting fun.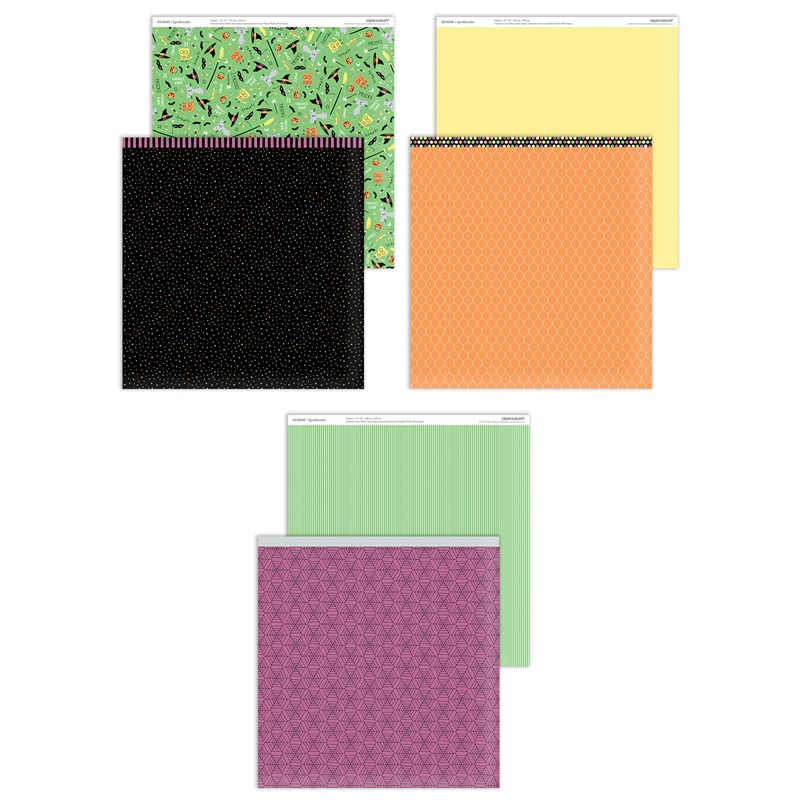 It's not all Halloween with the Spooktacular Collection
As the name suggests, this collection is perfect for photos of your spooky themes like Halloween and ghost tours BUT, it is so much more than that!  The vibrant colours work with so many other photo themes.  When you look closely at the paper pack, only one print is dedicated to the theme – the rest are just great colours and generic patterns.
The Spooktacular collection is available until the end of October 2019.  Buy it as a full kit or purchase individual items.  Ask your Close To My Heart Consultant for details.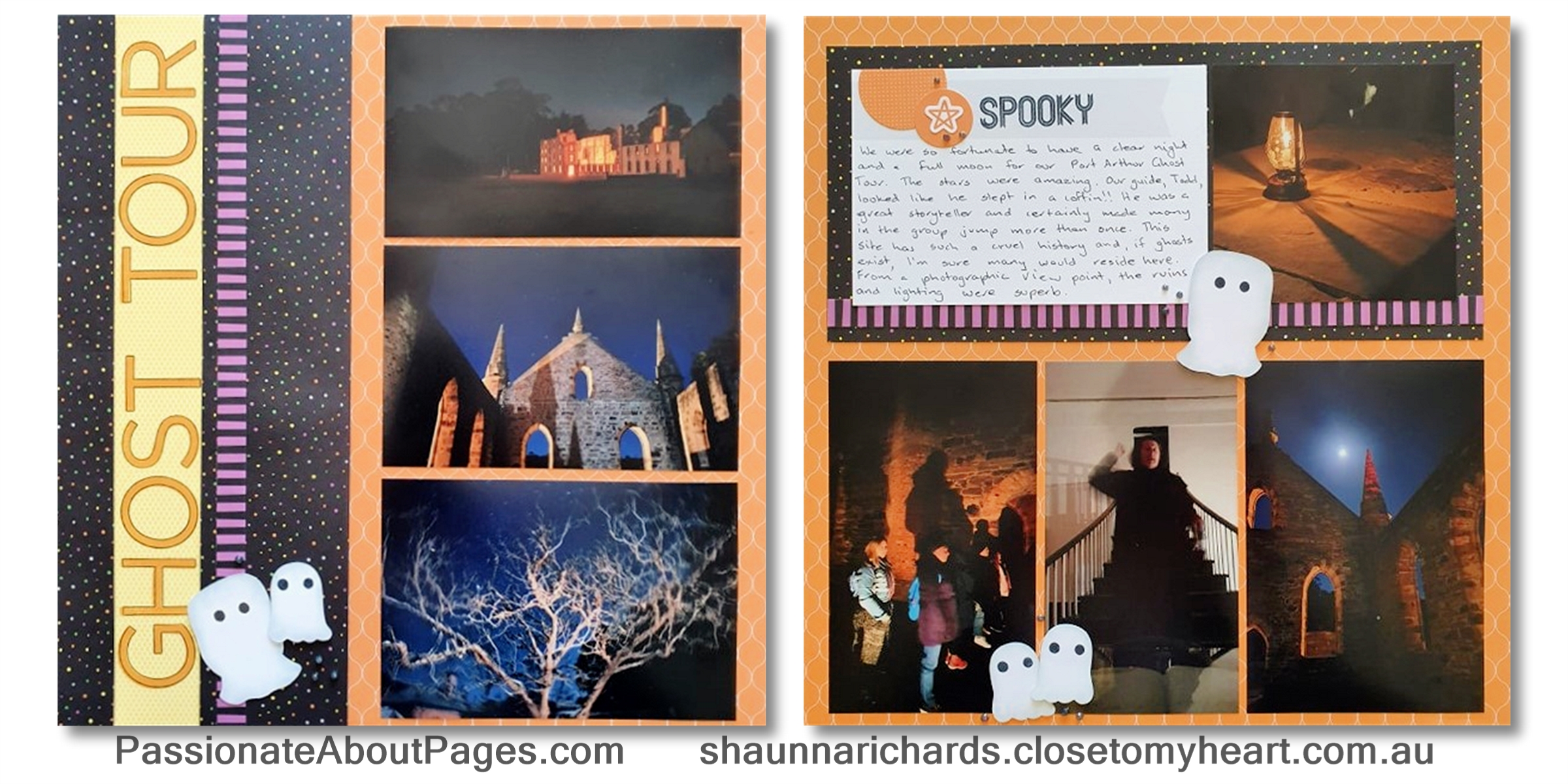 Port Arthur Ghost Tour Layout
I attended Close To My Heart's Australasian Business Builders conference in Hobart a couple of weeks ago.  Our final night was spent at Port Arthur where we enjoyed a meal and then took a ghost tour.  The spooktacular papers were perfect for my photos.  The Nectarine print highlighted the orange glow on the buildings and the black spot provided a nice contrast.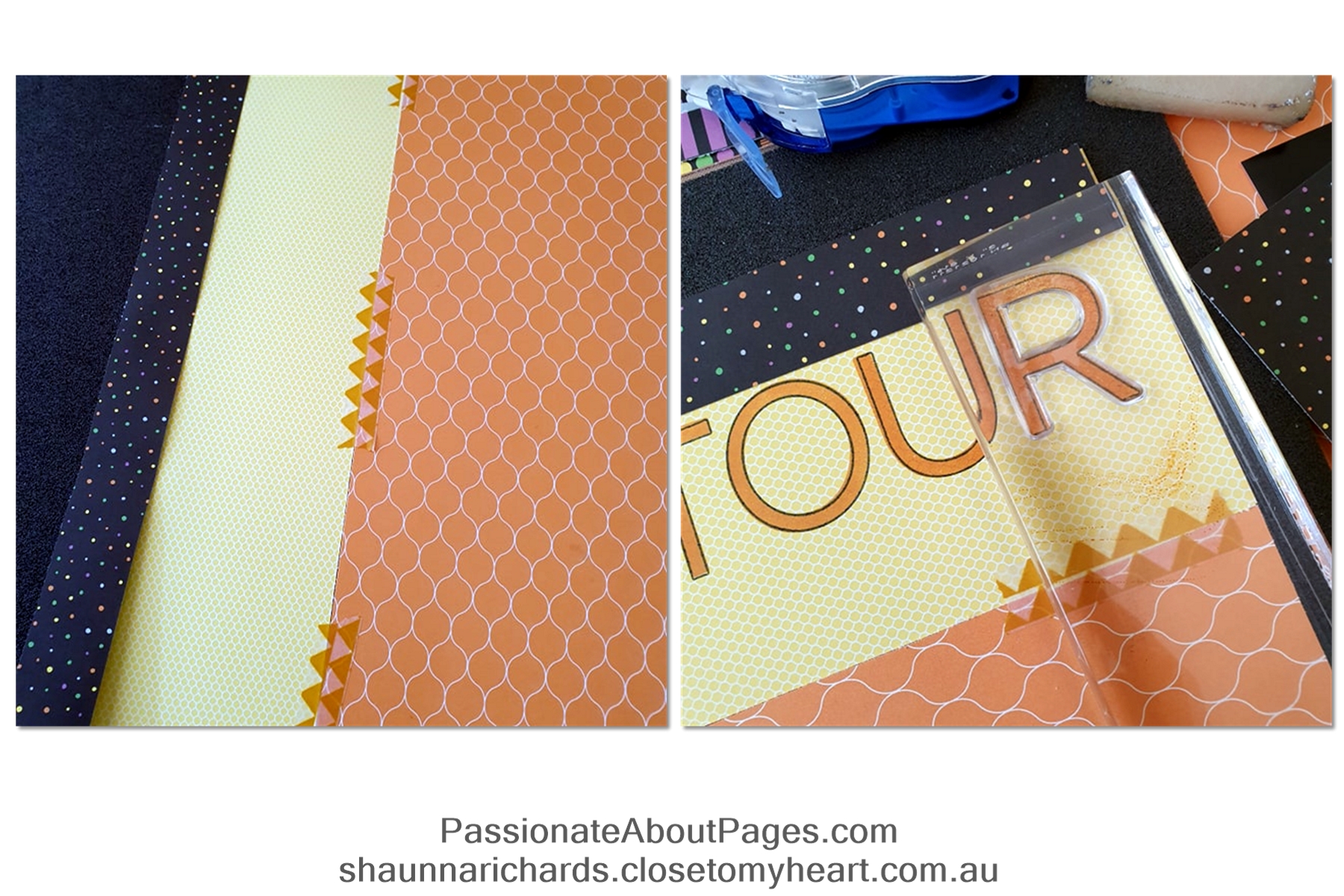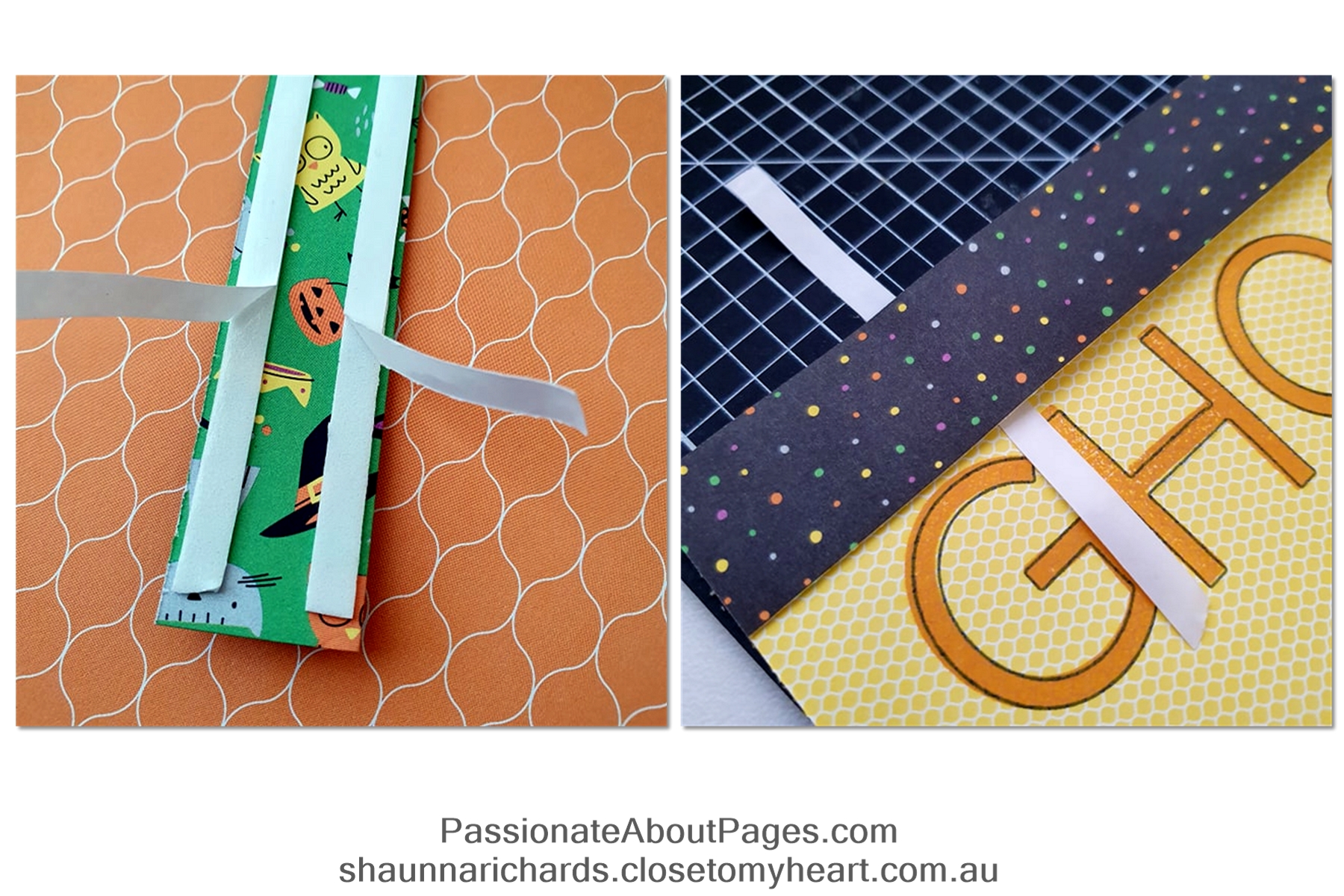 Make your title a focal point of the layout
Cut and flip the background paper to create a contrast background for your title. Join the two pieces with some washi tape. This join is covered when you add the black panel.
Use a large Alphabet font to stamp your title and run it vertically on the page.  To frame your title use the black print paper and raise the panels on thin 3D foam tape.  This makes the text look recessed on the page. When sticking down panels with long strips of foam tape, just pull the paper off a small section. Then flip and align the panel. Pull gently on the paper ends. The panel will stay in place and fit perfectly on your layout.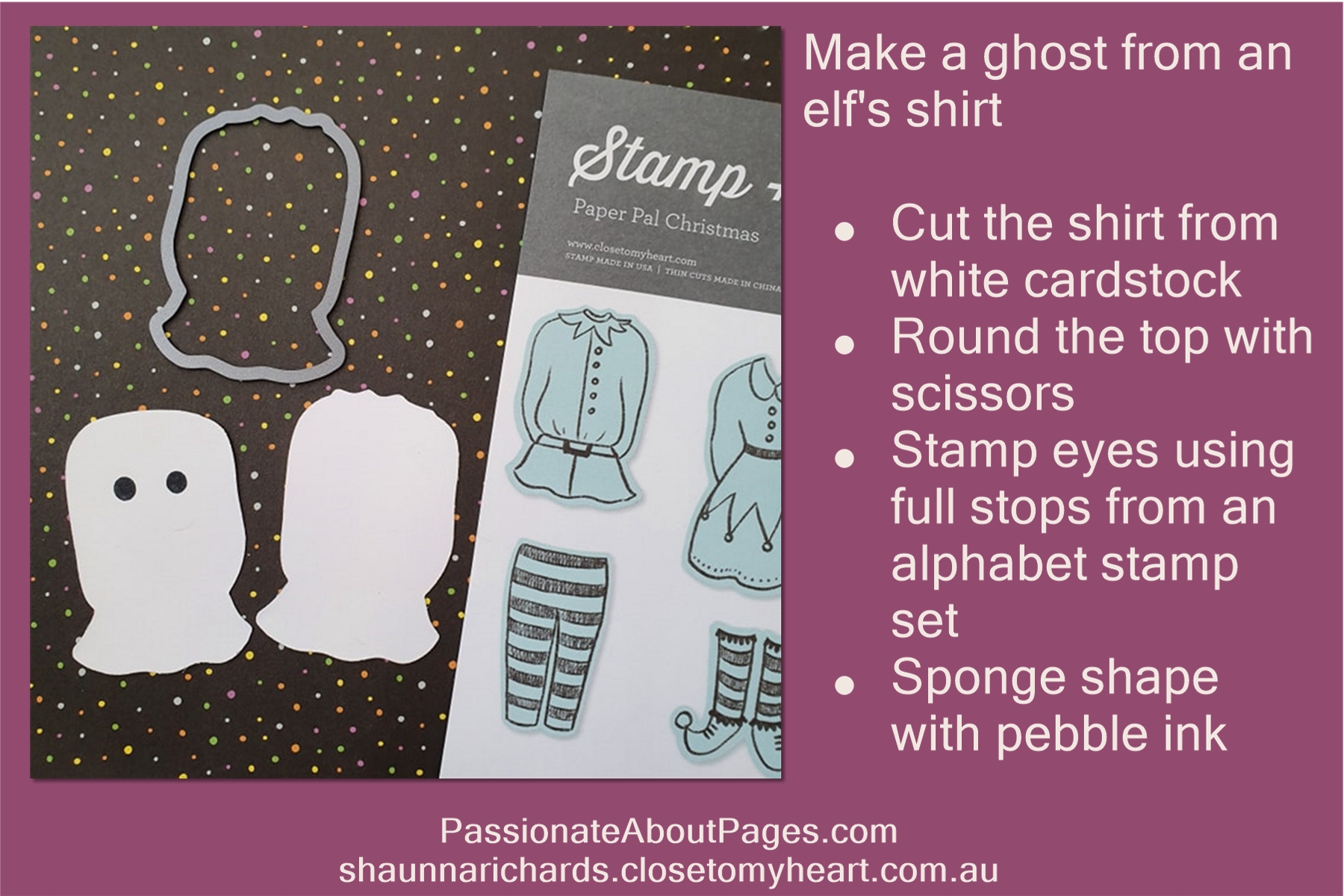 Turn an elf's shirt into a ghost
I don't have many scary themed stamp sets so needed to be a bit creative.  The thin cut for the Paper Pals Christmas Elf adapts nicely to a ghostly outline.  The little ghost is from a retired set of monster thin cuts.  These white, ghostly shapes were softened by daubing pebble ink around the edges.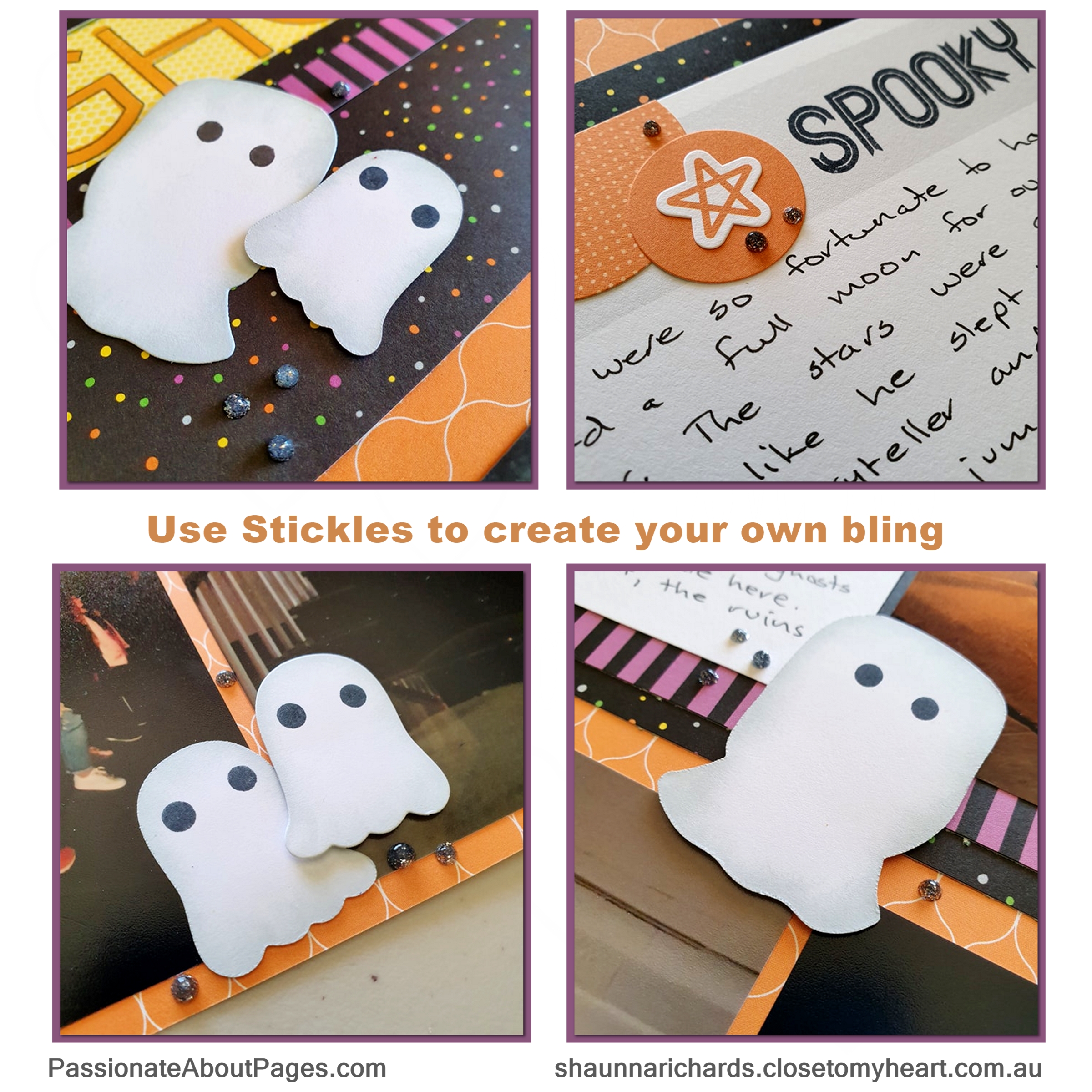 Create your own bling with Stickles
Adding drops of stickles to the layout once it is finished gives the illusion of gems.  Be sure to do this last and leave your layout to dry for a few hours so you don't smudge the dots.
Order your supplies this month
The Spooktcular collection is available to purchase from your Close To My Heart consultant until the end of this month when it retires. A list of products used on my layout appears at the end of this post.  Place your order on my website or with your Close To My Heart Consultant.
I'd love you to leave a comment for me before you go.  Then click on the underlined link and move on to Lauren's blog, CTMH Craftings, to see the project she has designed for you.
Happy Scrapping,
Shaunna
Close To My Heart products used in this projects
CC10192 Spooktacular Paper Pack
1385 Daisy White Cardstock
Z3541 Paper Pals Christmas Thin Cuts
Z3562 Silber Stickles
Z2805 Black Exclusive Ink
Z6510 Nectarine Exclusive Ink
Z2833 Pebble Exclusive Ink
Z726 Sponge Daubers
Z2060 Thin 3-D Foam Tape
Z3326 Permanent Adhesive Tape