S1907 Bear Hugs CTMH Stamp of the Month Australasian Blog Hop
Welcome to the Stamp of the Month Australasian Blog Hop.  This is a circular hop.  If you arrived from Maz's Blog you are in the right place. Simply read through this post and click on the link to the next blog at the end of it.  Keep reading and 'hopping' until you find yourself back where you started from.  Each blog will showcase a project featuring the Bear Hugs (S1907) stamp set which is July's Stamp of the Month.
Themes to go with "Bear Hugs"
Babies
A Mother's Love
Cuddly Toys
Animals and their young
Miss You
Sending Hugs
Project 1: Mama Bear & the Love of her Toys Scrapbook Layout
My first project today is copied straight from the Story Starter chapter in our newest How To Book, Storyteller.  The bear and cub image in this stamp set reminded me of how much my daughter loved (still does love) hugging a soft toy.  I went back through some old photos and found a couple of her with early favourites.  Then I remembered a couple of bunnies who had retired hurt, were still in our garage.  I got them out and took a photo.  I will add more images and stories to this layout later to create what Stacy Julian calls a 'Connected Story'
Using the Bear Hugs stamp set on this layout
Stamp the bear in Charcoal ink.  Colour the cub with pink Shimmer Brush.  Fussy cut and mount with foam tape. 
Add small hearts in Charcoal ink, near bear image.
Use both flower images and Sweet Leaf ink to create the borders on pink paper.
Stamp butterflies onto black base page using Daisy White pigment ink
Create title using "Mama Bear" stamp and a mixture of alphabet stamps – Solid & Outline Classroom Alphabet, Stitched Alphabet and Modern Typewriter Alphabet.
Tell your story
Following Stacy Julian's tips in the Storyteller book, you can write more meaningful and fuller stories to go with your photos.  In the past a layout such as this would have had one brief comment added to it about my daughter's love of her toys.  Now, it is becoming a rich treasure chest of very individualised memories shared.
Project 2: Sending you a bear hug card
A lovely friend is recovery from major surgery - a Bear Hug was needed so I made this card for her.
I used Sweet Girl papers and the Share the Joy Thin cuts and stamps along with the Stamp of the Month.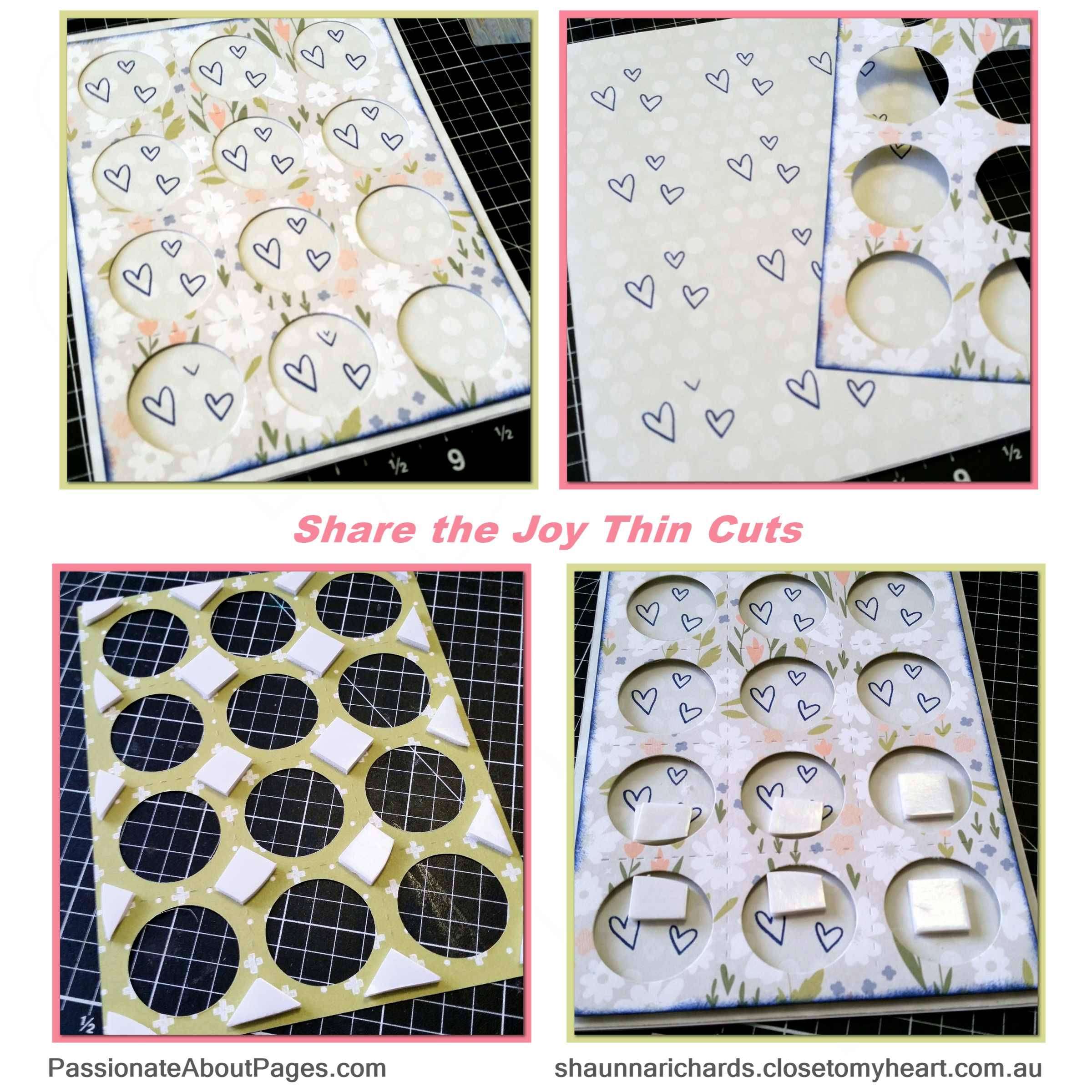 Cover the front of your card with a subtle print paper
Cut the Multi Circle Window using the Thin Cut from this month's Share the Joy Special promotion to make the raised panel. Sponge edges with Sapphire ink for contrast.
Stamp the hearts BEFORE gluing the panel in place.
Add foam tape to the back of the circle window panel. Left over pieces from shaker card kits are perfect.
Once the panel is in place remember to add foam inside the circles that will be covered by the bear and the banner.
Cut the Banner Thin cut that comes in the Share the Joy bundle and stamp with "Sending you a"
Stamp inside the card to complete the sentence.
Stamp and fussy cut the Mama Bear. Colour the cub with clear shimmer brush. Glue to front of card, sliding banner underneath the bear image.
Add white pearls at intersections of stitched lines between the circles.
Pieces of thin twine wrapped around the fold of the card and tied together, complete it. I had no pink twine so coloured grey twine with a Shin Han marker.
Order your Stamp of the Month & Share the Joy Bundle
Bear Hugs (S1907) is only available during July 2019.  Full retail price is $29.50 but you can have this gorgeous set for just $8.25 when accompanied by an $82.50 order.
Share the Joy thin cuts and co-ordinating stamps are available until July 31. Order yours early just in case they sell out :) Place your order with your Close To My Heart Consultant.
Did you like these projects? Which one can you see yourself creating? I'd love you to leave a comment for me before you click on the underlined link and move on to Danielle's Blog , Scrappy Chicks, to see the lovely project she has designed for you.
A list of the products used for these projects follows.  All items are available to purchase from your Close To My Heart Consultant. If you don't have a consultant, this link will take you to my website.
Happy Scrappin'
Shaunna
Products used in the Scrapbook Layout
S1907 Bear Hugs Stamp Set
E1043 Solid Classroom Alphabet
E1042 Outline Classroom Alphabet
C1738 Stitched Alphabet
B1638 Modern Typewriter Alphabet
Z4241 Decorative Borders Thin Cut (Scallop)
Z4305 Fancy Tags Thin Cuts (Scallop Circle)
X6028 Black Cardstock
X6027 Daisy White Cardstock
X9005 Mix In Paper Pack
Z2831 Charcoal Ink
Z2863 Daisy White Pigment Ink
Z2853 Sweet Leaf Ink
Z2844 Pixie Ink
9043 Make It From Your Hear Vol 3 (Pattern 2)
Z4079 Story by Stacy Storyteller (Story Starter)
Z1979 Mary Uchida LePen Journalling Pen
Products used in the Sending Bear Hugs Card
S1907 Bear Hugs Stamp Set
X254 White Cards & Envelopes
CC61912 Share the Joy Thin Cuts
X7246B Sweet Girl Paper Pack
Z4221 Mink Twine
Z4255 Light Orange Shin Han Marker
Z3370 White Pearls
Z2831 Charcoal Ink
Z2858 Sapphire Ink