True Love Australasian Blog Hop
Welcome to the CTMH Australasian True Love Blog Hop.  This hop features the artwork of some talented women from across Australia and New Zealand.
If you arrived from  Lauren's blog you are in the right place.  If this is your first time on a blog hop simply read on, enjoy my creations and maybe share your response in the comments. Then you click on the link at the end of this post and it will take you to the next blog and so on and so on. Easy and fun! Best part- you can see lots of different projects you can create with Close To My Heart's True Love collection!   When you land back here, you are done and it's time to hit the scrapbook room for some crafting fun.
True Love scrapbooking kit
The True Love collection is available until the end of August 2019.  Buy it as a full kit or purchase individual items.
Historical buildings scrapbook layout
As the name implies, this collection is perfect for weddings and love themed photos.  BUT, it is so much more than that!  The rich colours of the plainer prints work with so many other photo themes.  As usual, I try to show how you can step a collection out of its box and use it with any photos.
Today I am sharing a layout featuring photos of historic buildings in the Perth CBD.  We took a mini break in our own town for our anniversary this year.  Walking the streets near our hotel and looking at things as a tourist would reminded us of the rich history we have right on our doorstep.
This is a very simple layout made up of 6 strips of paper, each measuring 11 ¾" x 3 7/8".  I cut these from the left over supplies once I had made up the True Love Standard and Deluxe Workshop Your Way kits.
This cute wreath and camera from the True Love Complements provide a focal point for the layout in lieu of a fancy title.  It was so quick and easy!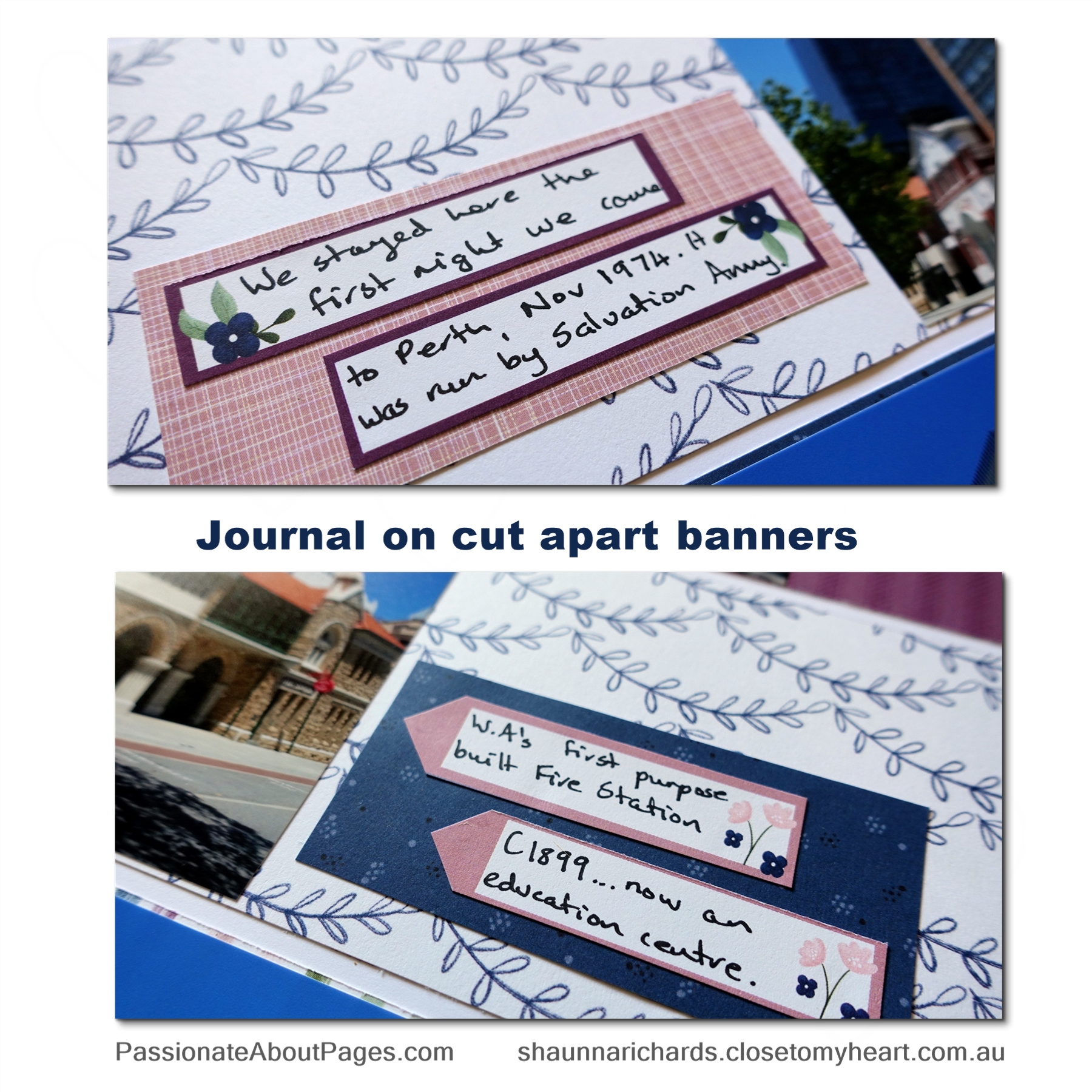 You will notice all the embellishments feature journaling! These cut apart sheet banners were perfect to tell a little about each building. Mounting them on a scrap of contrasting paper helps draw the eye to the story.
Order True Love today
The True Love collection is available to purchase from your Close To My Heart consultant. A list of products used in my layout appears at the end of this post.  Place your order on my website or with your Consultant.
I'd love you to leave a comment for me before you go.  Then click on the underlined link and move on to Doris's blog to see the project she has designed for you. She always creates something beautiful that I just have to copy.
Happy Scrapping,
Shaunna
Close To My Heart products used in this projects
X7244B True Love Paper Pack
X7244C True Love Complements
X6027 Daisy White Cardstock
Z3341 Thin Foam Dots
Z1979 LePen Journaling Pen