S1903 This Happened CTMH Stamp of the Month Australasian Blog Hop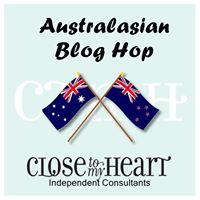 Welcome to the Stamp of the Month Australasian Blog Hop.  This is a circular hop.  If you arrived from Doreen's Blog,  you are in the right place. Simply read through this post and click on the link to the next blog at the end of it.  Keep reading and 'hopping' until you find yourself back where you started from.  Each blog will showcase a project featuring the This Happened (S1903) stamp set which is March's Stamp of the Month.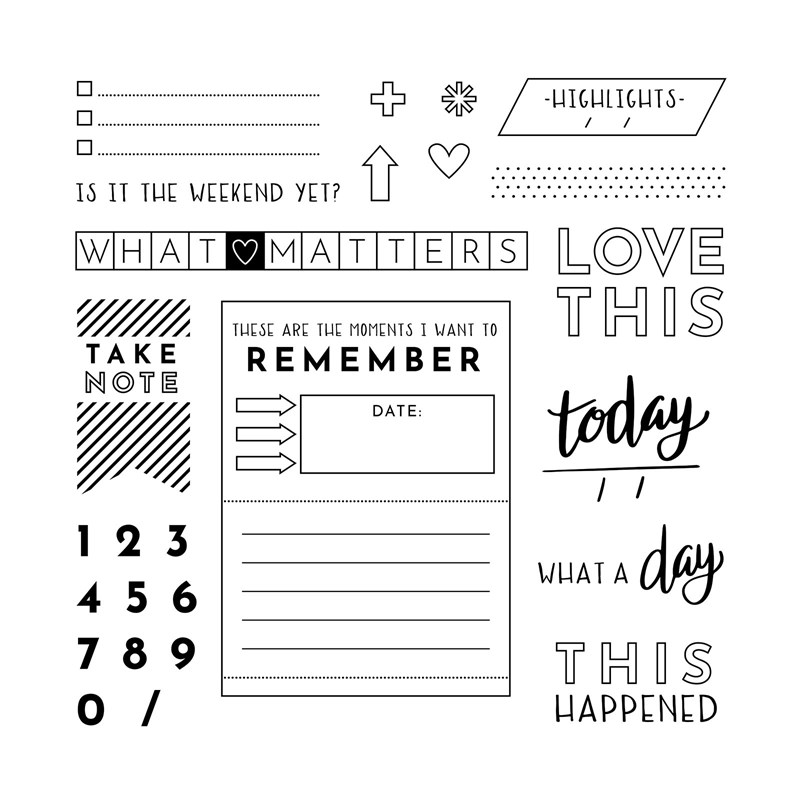 This stamp set will make every scrapbookers heart happy!  So many cool phrases and images in this set will help make your journaling pop on the page.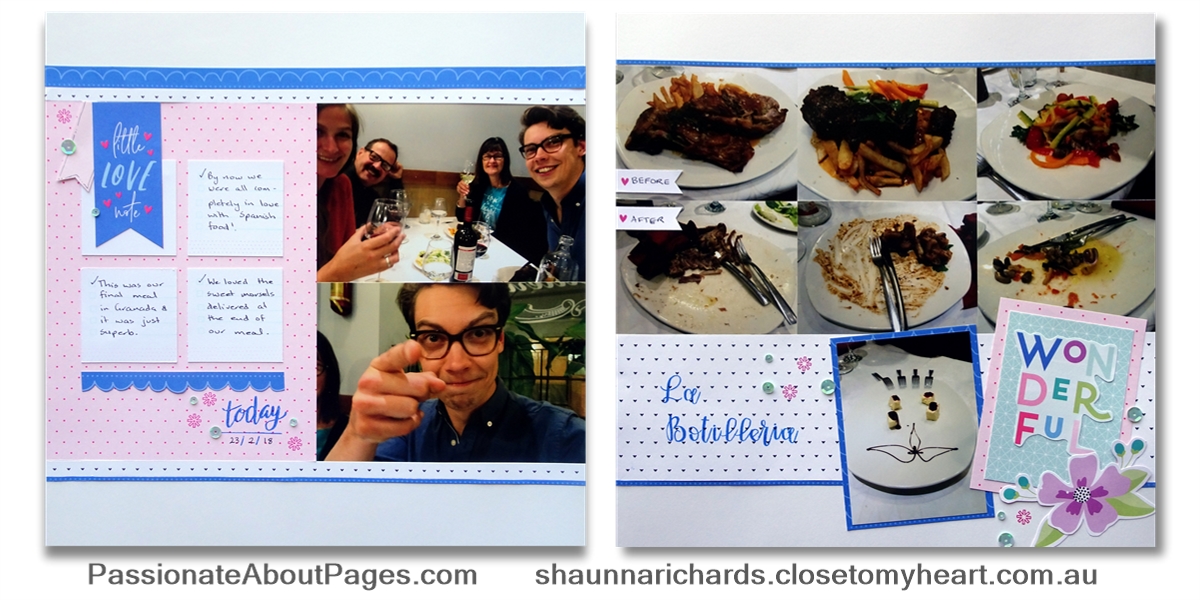 First up, let's look at how you can integrate the journaling into an existing layout design.  This layout began with one of the 8" x 6" pages shown in the I Heart Us Deluxe Workshops Your Way kit.  Adding the page and photos to a 12 x 12 base is easy.
The small squares were originally meant for photos but adding stamped journal lines inside the squares, turn them into an interesting place to tell your story.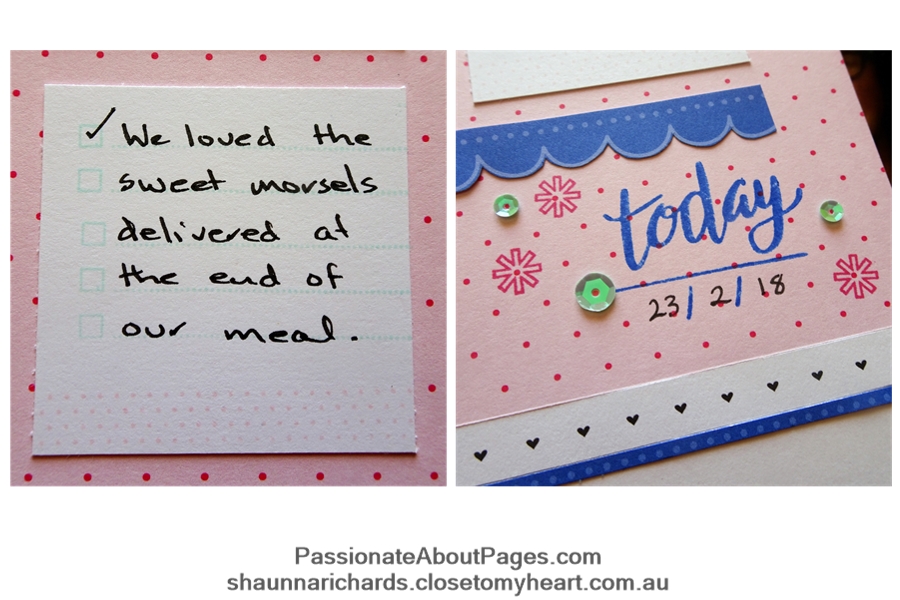 The gorgeous little starburst stamp buddies nicely with the sequins to complete the title and embellishment clusters on the layout.  Adding the date to a layout is super helpful when you are ready to file it into an album.
The following photos show 5 ways you can use this stamp set to make your own PML journaling cards – either 6" x 4" or 3" x 4".  The papers used are from So Much Happy, which is March's featured collection with Close To My Heart.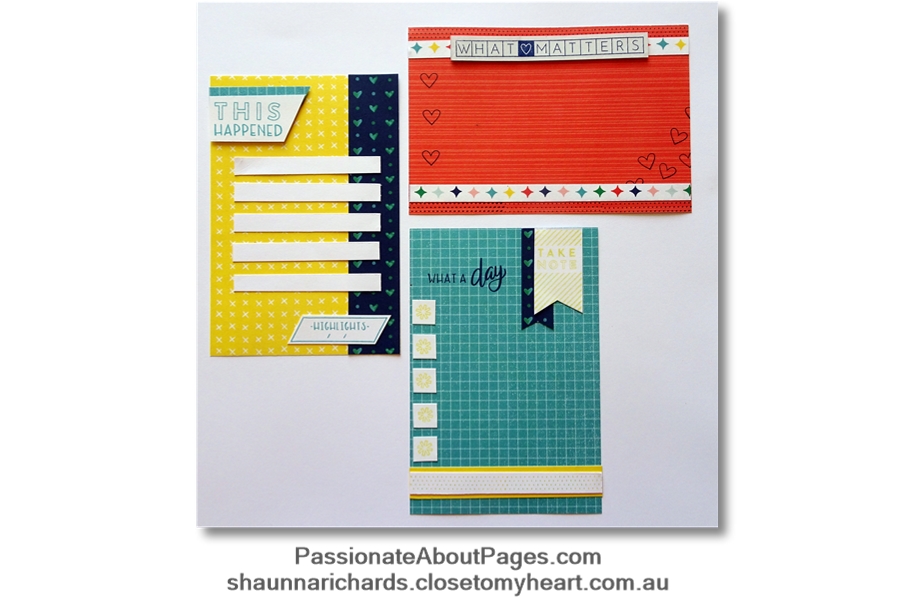 Stamp this image in several colours.  Fussy cut text and arrows to swap out segments or colour in the arrows with Mint Shimmer Brush.
Making your own journal boxes is a great way to use up small off cuts once you have made the layouts from a scrapbooking kit.
This Happened  (S1903) is only available during March, 2019.  Full retail price is $29.50 but you can have this gorgeous set for just $8.25 when accompanied by an $82.50 order. Place your order with your Close To My Heart Consultant.
Can you see yourself using some of these ideas? I'd love you to leave a comment for me before you click on the underlined link and move on to
Doris's Blog ,  to see the lovely project she has designed for you. 
A list of the products used for this project follows.  All items are available to purchase from your Close To My Heart Consultant. If you don't have a consultant, the link will take you to my website.
Happy Scrappin'
Shaunna
Products used in the Project
S1903 This Happened Stamp Set
Z4508 I Heart Us Deluxe Scrapbooking Workshop
Z7241B So Much Happy Paper Pack
Z4225  Mint Shimmer Brush
Z2848 Sapphire Exclusive Ink
Z6508 Bluebird Exclusive Ink
Z6509 Candy Apple Exclusive Ink
Z2895 Lagoon Exclusive Ink
Z2812 Raspberry Exclusive Ink
Z6503 Mint Exclusive Ink
Z65081 Ballerina Exclusive Ink
Z2808 Lemon Exclusive Ink
Z3341 Thin 3-D Foam Dots
Z1979 Le Pen Journaling Pen