S1902 Heartfelt Sentiments CTMH Stamp of the Month Australasian Blog Hop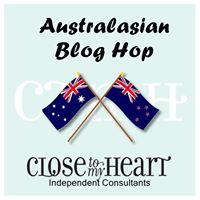 Welcome to the Stamp of the Month Australasian Blog Hop.  This is a circular hop.  If you arrived from Kara's Blog, you are in the right place. Simply read through this post and click on the link to the next blog at the end of it.  Keep reading and 'hopping' until you find yourself back where you started from.  Each blog will showcase a project featuring the Heartfelt Sentiments (S1902) stamp set which is February's Stamp of the Month.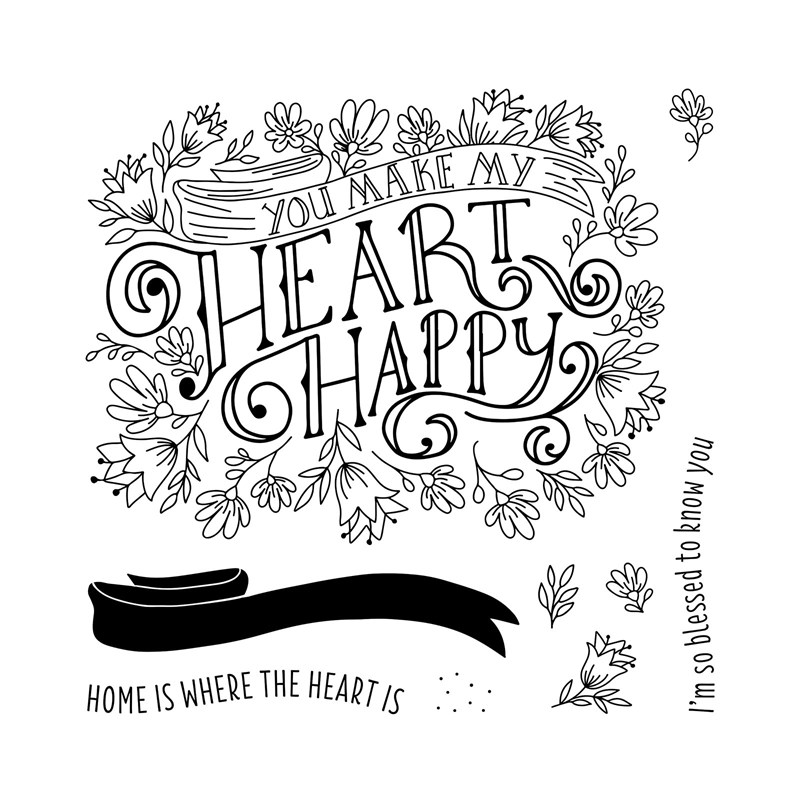 This big bold stamp is perfect for scrapbookers like me. There are so many things that make my heart happy which I record in my albums.
Every summer a number of outdoor cinemas open in and around Perth, Western Australia.  The evenings here are balmy, perfect for a picnic dinner and a movie.  Our favourite movies are the ones shown as part of the International Film Festival.  Most are a little quirky, frequently in another language and always give insight into the way others live.  Each year we try to introduce new people to the pleasures of this pastime.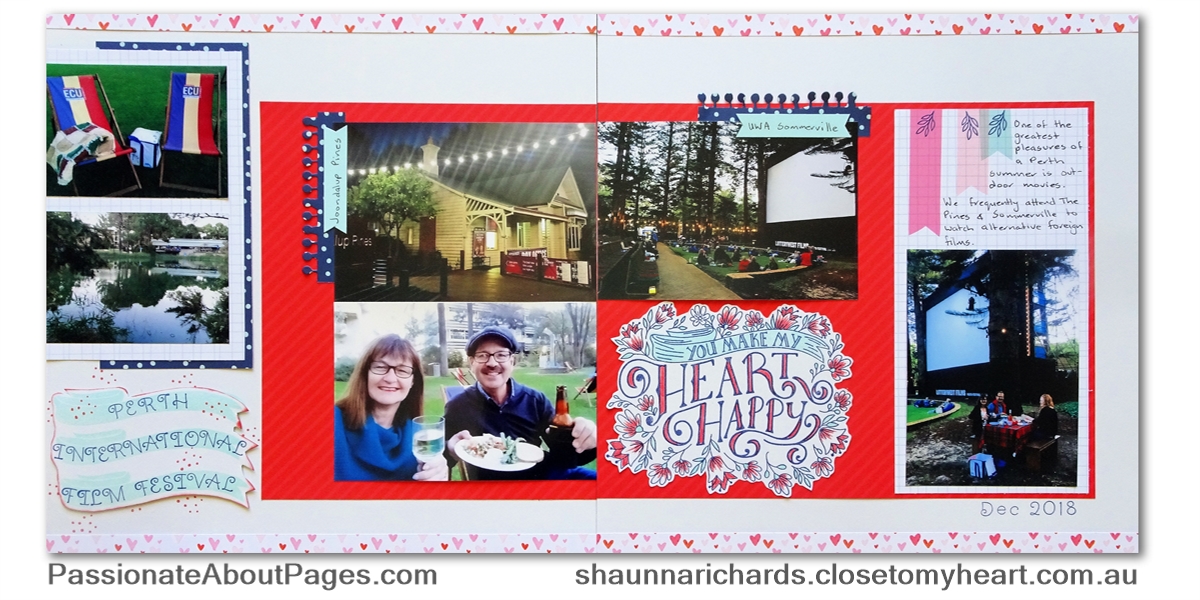 I drew inspiration for this layout from Pattern 5 of Make It From Your Heart Vol 2.  The papers come from the gorgeous Heart Happy collection which is only available until the end of this month.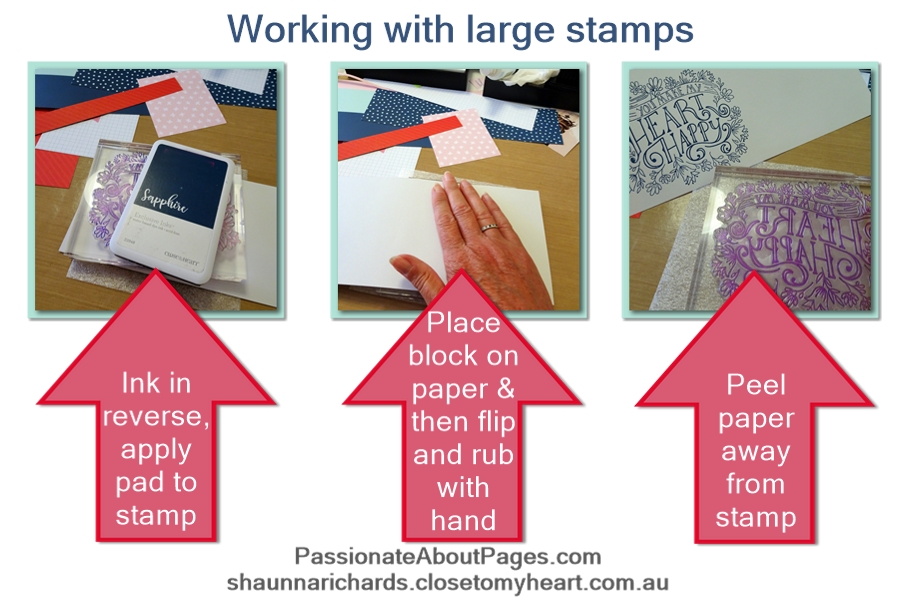 When stamping with large stamps (this one is about 6" x 4") I prefer to dab ink onto the block then apply stamp as usual but flip the paper and block over to rub with my hand.  This helps ensure all the ink is applied to the paper.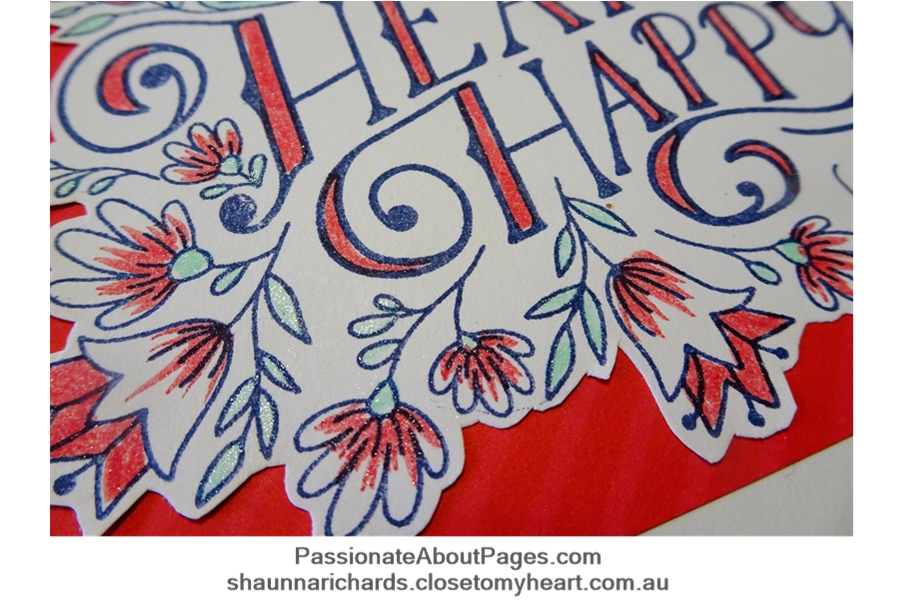 Once stamped in Sapphire ink, I added colour using the Mint and Red Shimmer brushes.  The fine point of the brush is great for detailed stroke work.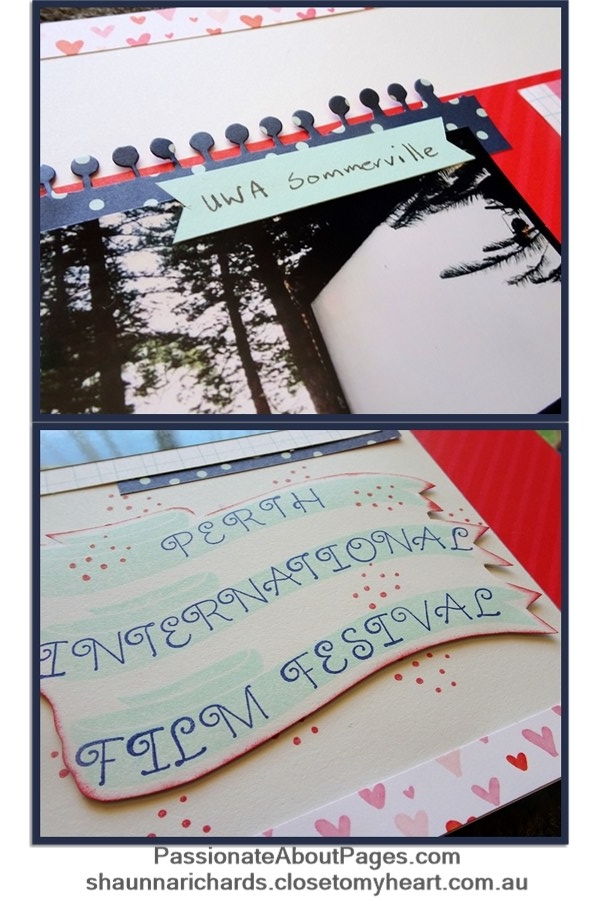 I was thrilled to discover the Curlicue alphabet stamp set in my stash – it compliments the font used in the Heartfelt Sentiments title and perfectly fits the banner from the Heartfelt Sentiments.  Stamp one letter at a time so you can follow the curve of the banner. Begin with the middle letter and work out. The Curlicue set was part of a Cricut collection.
Heartfelt Sentiments  (S1902) is only available during February, 2019.  Full retail price is $29.50 but you can have this gorgeous set for just $8.25 when accompanied by an $82.50 order. Place your order with your Close To My Heart Consultant.
Did you like this layout? I'd love you to leave a comment for me before you click on the underlined link and move on to Doris's Blog , Creative Inspirations , to see the lovely project she has designed for you.
A list of the products used for this project follows.  All current items are available to purchase from your Close To My Heart Consultant.  
Happy Scrappin'
Shaunna
Products used in the Project
S1902 Heartfelt Sentiments Stamp Set
CC2193 Heart Happy Paper Pack
Z4241 Decorative Borders Thin Cuts
D1630 Curlicue Alphabet Stamp (Retired)
Z2848 Sapphire Exclusive Ink
Z6503 Mint Exclusive Ink
Z6509 Candy Apple Exclusive Ink
Z4223 Red Shimmer Brush
Z4225 Mint Shimmer Brush
Z3341 Thin 3-D Foam Dots