Oh What Fun CTMH Australasian Blog Hop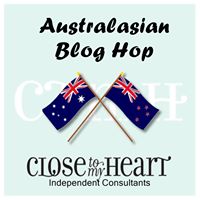 Welcome to the CTMH Australasian Oh What Fun Blog Hop.  This hop features the artwork of some talented women from across Australia and New Zealand.
If you arrived from  Vandra's blog you are in the right place.  If this is your first time on a blog hop simply read on, enjoy my creations and maybe share your response in the comments. Then you click on the link at the end of this post and it will take you to the next blog and so on and so on. Easy and fun! Best part- you can see lots of different projects you can create with Close To My Heart's Oh What Fun collection!  When you land back here, you are done and it's time to hit the scrapbook room for some crafting fun.
The Oh What Fun collection is available until the end of December 2018.  Buy it as a full kit or purchase individual items.
Today I'm using my December Craft with Heart Subscription Kit which features the Oh What Fun collection.  The backgrounds are all pre-printed so there is no cutting and gluing required until you add the smaller paper pieces (which are also pre-cut) and embellishments.  This makes a super-fast project.  The kit includes stickers and die-cuts too. The top photo is my layout and the lower one is the one shown in the printed instructions that come with the kit.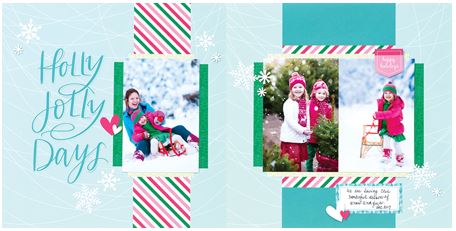 My photos had a different orientation for the RH page and I needed to fit a few more onto the layout so I tweaked it a bit by cutting the light green paper piece in half and added the pieces above and below the photos.  I also added a Flip Flap.
I do love a bit of bling and wanted to personalise the layout to my style. I added some Silver Glitter Gems and Silver Embellishing Thread around the title and journaling box.   The silver thread will stick to the back of the title sticker making it easier to form the swirls.  You will notice some pink sparkly gems too –they are silver ones coloured with the Cherry Pink Shin Han Marker.
The Oh What Fun collection and Craft with Heart subscription are available to purchase from your Close To My Heart consultant.  A list of products used in my project appears at the end of this post.  Place your order with your Close To My Heart Consultant. If you don't have a consultant, you can order online through my website.
I'd love you to leave a comment for me before you go.  Then click on the underlined link and move on to Doris' blog, Doris Taylor Creative Inspirations to see the project she has designed for you. I always love seeing what Doris has created - she is so darn clever!
Happy Scrapping,
Shaunna
Close To My Heart products used in this projects
Craft with Heart Subscription (visit your consultant's website and look for the Subscription tab)
Z2450 Cherry Pink Shin Han Marker
Z4191 Silver Glitter Gems
Z4213 Silver Embellishing Thread
Z1979 LePen Journaling Pen