S1805 Classic Summer Bash CTMH Stamp of the Month Blog Hop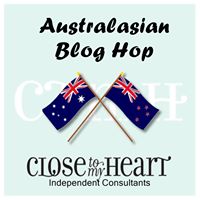 Welcome to the May 2018 Stamp of the Month Australasian Blog Hop. This is a circular hop. If you arrived from
Kara's Blog
, you are in the right place. Simply read through this post and click on the link to the next blog at the end of it. Keep reading and hopping until you find yourself back where you started from. Each blog will showcase a project featuring the
Classic Summer Bash
(S1805) stamp set which is May's Stamp of the Month.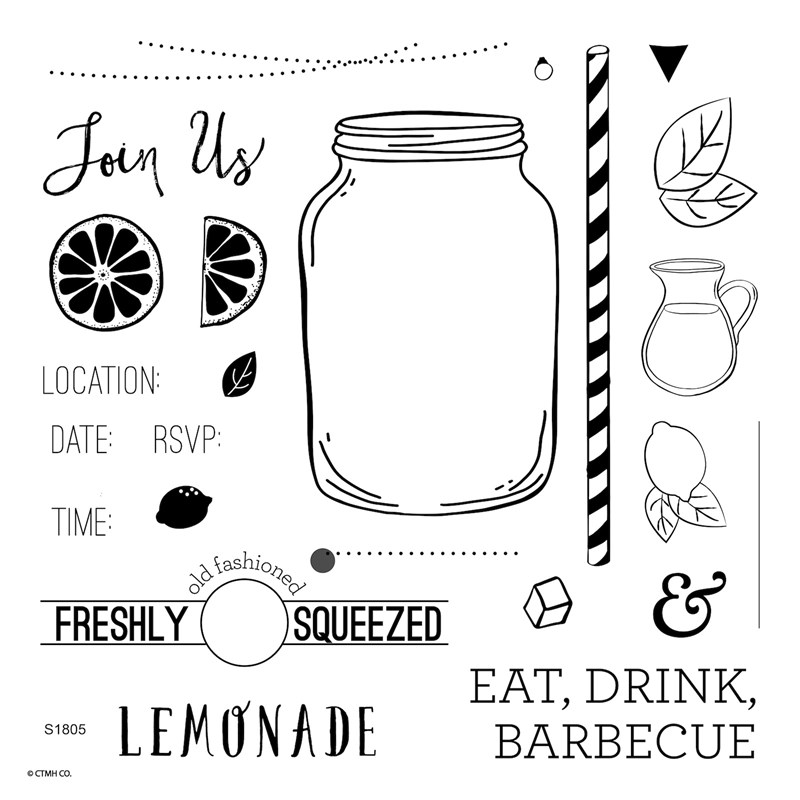 This stamp set reminds me of lazy summer days be the pool when we were young.  Lemon cordial and freshly cut fruit would be wolfed down by the hungry tribe gathered in our back yard.
When my children were 5 & 7 they travelled across Australia by themselves to visit my husband's parents.  When they arrived home, my son produced this carefully written recipe for Grampy's Lemon Cordial.  I found it recently when I was going through old documents.  I'm so happy it survived 20+ years!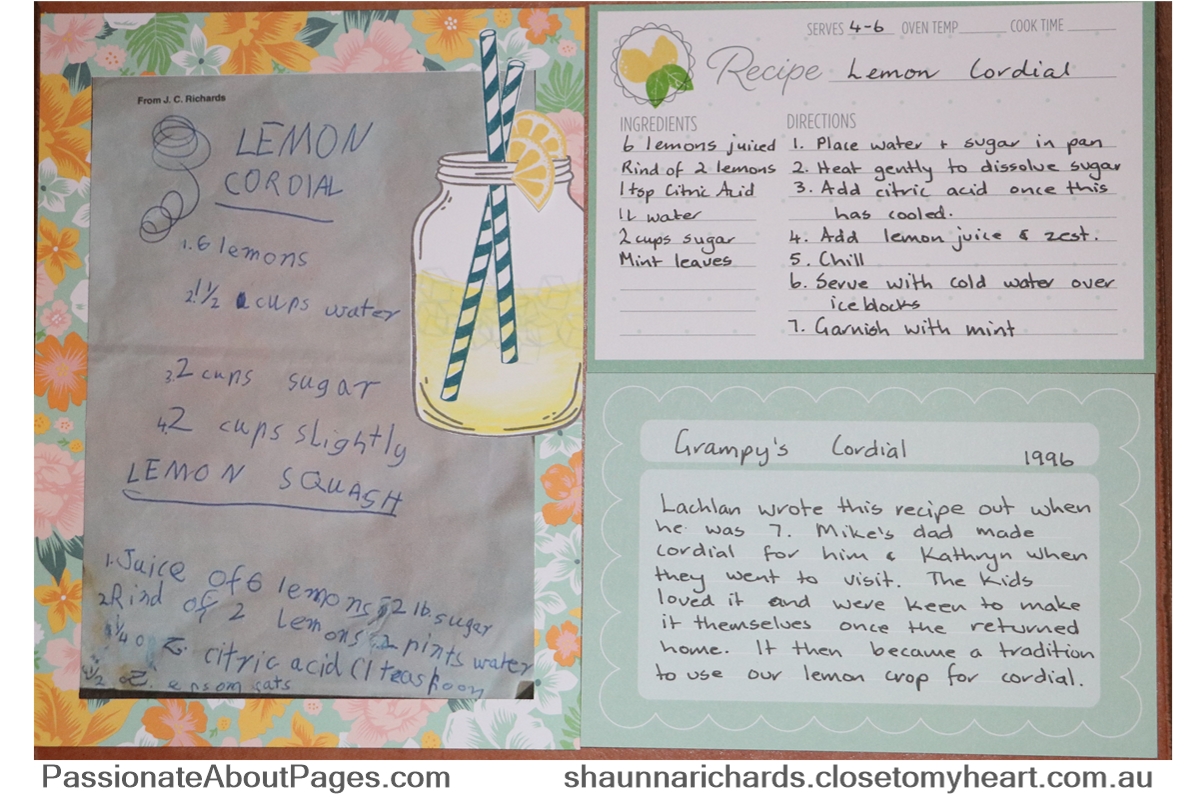 I decided to add this recipe to my
Kitchen Traditions
album.  I love that I can record the story behind the recipe too.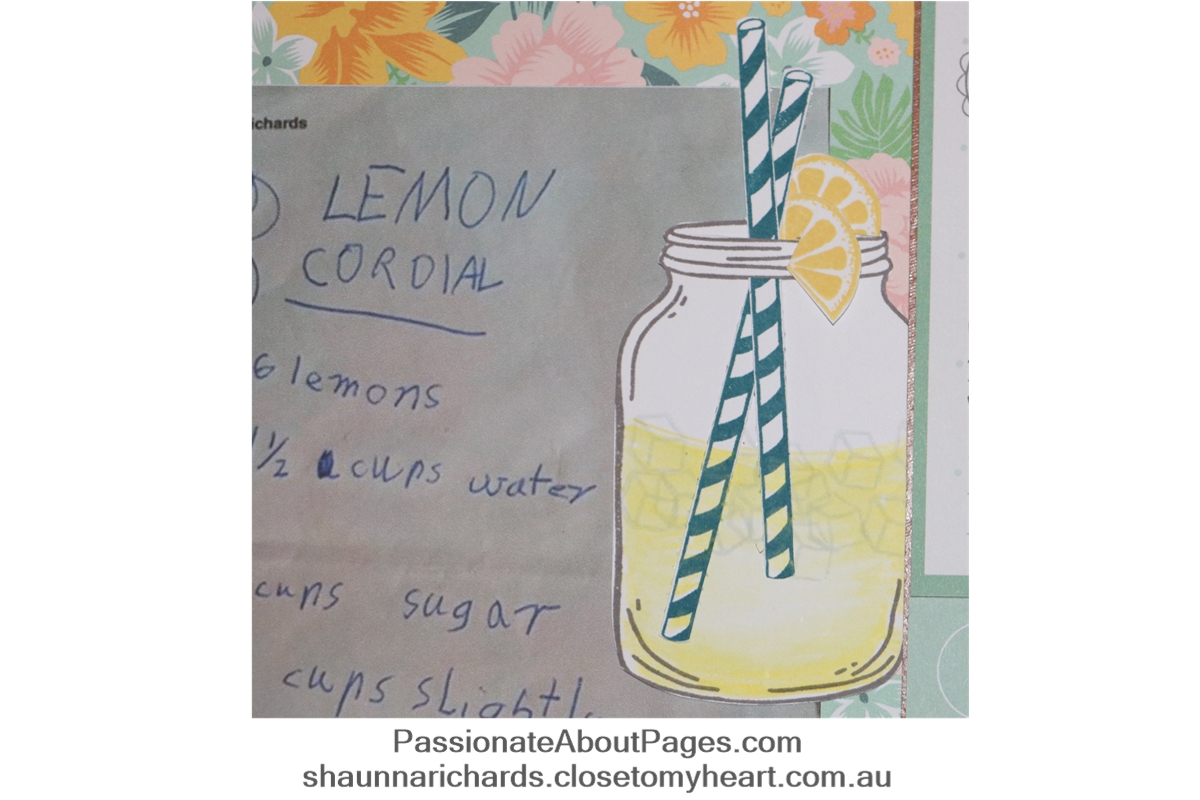 Here are some tips to help make you maison jar drink look more realistic:
Stamp the jar in Pewter ink on white cardstock.  Fussy cut.
Shade your liquid darker near the edges of the glass. (I used Watercolour pencils)
Stamp ice cubes in Mink ink.  Have a couple showing above the surface of the liquid.
Cut a slit in the rim of the glass
Stamp straws with Peacock ink.  Fussy cut.
Cut the straws into 2 parts.  Glue lower part level with bottom of the rim and upper part behind the slit.
Shade the submerged part of the straws same colour as liquid to make them look like they are in it.
Stamp and fussy cut the lemon slices.  Cut a slit in one and position it over the edge of the rim.
Classic Summer Bash (S1805) is available to purchase for just $7.50 when accompanied by a $75 order during May 2018. It can also be purchased for $27 as a single item. Place your order with your Close To My Heart consultant. If you don't have a consultant, you are welcome to visit my website and place an order for home delivery within Australia. www.shaunnarichards.closetomyheart.com.au
  Thanks for joining us today. A full list of products used in this project appears at the end of this post. I hope you have found some inspiration along the way in this hop. Leave a comment if you liked what you saw – it makes us feel so good to hear from our readers. Next stop on the hop is Doreen Watkins,
Scrapping and More with Doreen
. Click on the underlined link to see her lovely project. 
Happy Scrapping
Shaunna
Products used on this project:
S1805 Classic Summer Bash Stamp Set
Z4167 Recipe Traditions Bundle
Z1979 LePen Journaling Pen
Z2849 Peacock Ink
Z2825 Mink Ink
Z2832 Pewter Ink
Z2808 Lemon Ink
Watercolour Pencils
CC5181 Postcard perfect Papers