Gingerbread Friends Christmas Banner
How cute is this little Gingerbread banner? One of my sister consultants, Laura Beachum, gifted a kit to me at a recent retreat and I loved it so much I just have to share with all of you.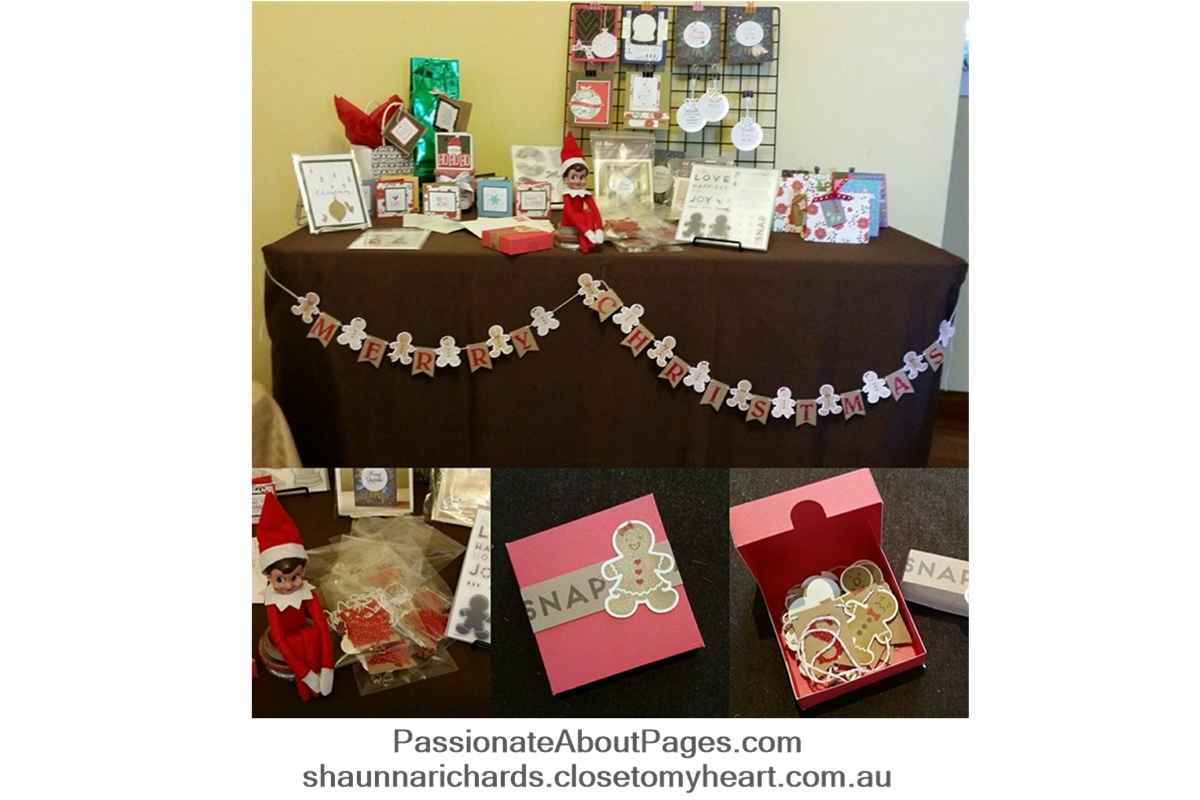 Instructions for making the banner follow.
Read right to the end to discover how you can receive a pre-cut kit FREE.
The banner can be made using all Close To My Heart stamps and Thin Cuts. A full list of all items used appears at the end of this post.
Here's how:
Cut 16 gingerbread people from the light side of Almond Cardstock
Cut 14 2" banners from the dark side of Toffee Cardstock using the Basic Banners Thin Cuts
Cut the letters for Merry Christmas from Red Glitter Paper using the Block Alphabet Thin Cuts (NB This is a different font to the one Laura cut on her Cricut for my banner)
Stamp and decorate your gingerbread people using Toffee, Cranberry and Espresso inks
Layer letters on banner shapes
Punch small holes in gingerbread hands and top corners of banner shapes.
Thread all shapes onto 6 feet of twine. Begin and end each word with a gingerbread person.
Do you love it?
Would you like a pre-cut kit for FREE?
Simply be one of the first 8 people to order the
Gingerbread Friends
Stamp Set (D1743) or the
Gingerbread Friends
Stamp and Thin Cuts Bundle (Z3378) from me and I will gift you a kit ready to stamp and assemble.
As an added bonus
, every person ordering the stamps or thin cut bundle will also receive instructions to make the cute little storage box. This is perfect if you are gifting the banner to a friend and will also keep it safe when Christmas is over. You have two ways to order:
Visit my website and place an order for home delivery
Email me at shaunnarichards@bigpond.com.au to have your stamps added to my next order. You can collect from me once they arrive.
Happy crafting,
Shaunna
Products used in this project
D1743 Gingerbread Friends Stamp + Thin Cuts Z3386 Block Alphabet Thin Cuts Z3345 Basic Banners Thin Cuts Z4014 White & Gold Twine X5950 Toffee Cardstock X5949 Almond Cardstock Z3241 Red Glitter Paper Z2828 Toffee Ink Z2829 Espresso Ink Z2816 Cranberry Ink