S1711 Through The Year CTMH Stamp of the Month Australasian Blog Hop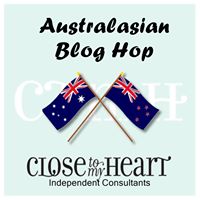 Welcome to the November, 2017 Stamp of the Month Australasian Blog Hop.  This is a circular hop.  If you arrived from
Tanya's blog
, you are in the right place. Simply read through this post and click on the link to the next blog at the end of it.  Keep reading and hopping until you find yourself back where you started from.  Each blog will showcase a project featuring the
Through the Year
(S1711) stamp set which is November's Stamp of the Month.
This is a must have stamp set for a few reasons:
There is a VERY cool calendar kit coming next month which uses it and you will kick yourself if you have to pay full price for the stamps in December.
Having the months of the year in a fun font makes it easy to add information to pages to help remember when the photos were taken.
The small illustrations are super cute.  You can add them to journaling, titles, borders and cards.
My first project today is a scrapbook layout using Cats & Bats papers.  The emerald dots paper is just divine!  We were travelling through Carnarvon in Western Australia and came across these gorgeous knitted tree scarves.  I love handcrafts being exhibited anywhere but in the street is so fabulous because everyone can enjoy it.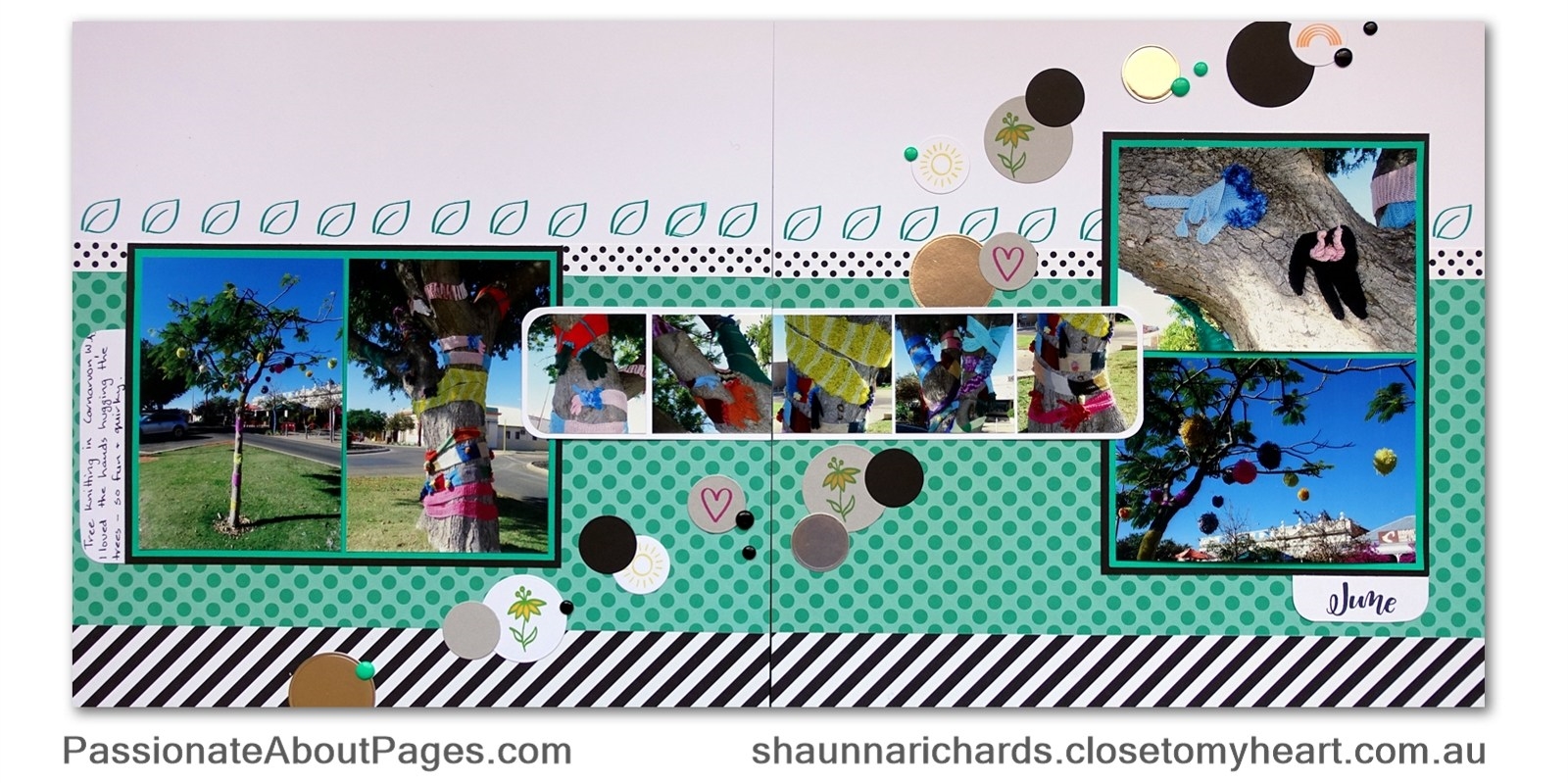 Once the papers were down I used the small leaf from the stamp set to create the top border.  Mount it on a 1" block and align the LH edge of the block with the inch marks on a ruler to make the spacing even.  I also used the horizontal line engraved on Close To My Heart Blocks to line up with the top of the spotted zip strip.  This helped keep my line of leaves level. (That's a tongue twister of a sentence for sure!)
Creating a tab with the month stamped on it is easy.  All you need is a scrap of paper and your corner rounder.
A flurry of circles sweeps across the layout.  These were cut with the Basic Circle Thin cuts and scraps of paper.  I used silver foil paper but it looks gold in this photo.  Stamp a few icons on the circles and add some colourful dots for fun.
My second project is to help you organise your printed photos.  Photos for the year I am scrapbooking are stored in a medium organiser (pull out one of the dividers) and I had all sorts of odd shaped scraps as dividers.  Now I have a professional looking system to separate the months and then divide the photos in bundles for layouts.
The month dividers are cut 6" x 4 1/2" with top two corners rounded.  I offset the stamping of the months to make them easier to see once they were in the organiser.  The numbers are cut 3" x 4 1/2" and could be used for the days of the month if you had an extremely busy month of photo taking.  I use mine to separate groups of photos for layouts.  This way I can easily pull out the next bundle and be scrapping quickly. 
[gallery ids="4887,4891" type="rectangular"]
Finally, here's a look at how gorgeous the stamps are on a calendar.  I love those little icons that I can match to my events.  I'm being optimistic that we will have a couple of days sunshine in Melbourne!!!
Your consultant will be sharing a fabulous calendar project with you for December- you are going to love it.
Through the Year
(S1711) is only available to purchase for just $7.50 when accompanied by a $75 order during November, 2017.  Place your order with your
Close To My Heart Consultant.
Can you see yourself trying one of these projects?  I'd love you to leave a comment for me before you click on the underlined link and move on to Doreen's Blog,
Scrapping and More with Doreen
, to see what she has designed for you.
Happy Scrappin'
Shaunna
Products used on these projects:
S1711 Through the Year Stamp of the Month
Page Layout
X7224B Cats & Bats Paper Pack
Z4028 Cats & Bats Dots
Z3366 Silver Foil Paper Pack
X5948 Heather cardstock
1385 White Daisy Cardstock
1386 Black Cardstock
Z1912 Corner Rounder
Z3318 Basic Circle Thin Cuts
Z899 Black Memento Ink
X5974 Raspberry Ink
X5970 Willow Ink
X5971 Lemon Ink
X5969 Emerald Ink
Photo Dividers
1385 White Daisy Cardstock
Z899 Black Memento Ink
Z3396 Aluminium Rail Cut Trimmer
Calendar Page
Z3184 My Creations Calendar
Z2825 Mink Ink
Z2895 Lagoon Ink
Z2812 Raspberry Ink
Z2808 Lemon Ink
Z2817 Crystal Blue Ink