Punny Pals CTMH Australasian Blog Hop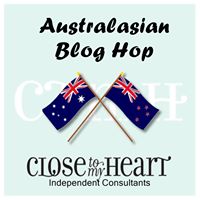 Welcome to the CTMH Australasian Punny Pals Blog Hop.  This hop features the artwork of some amazing and talented women from across Australia.  If you arrived from  Vandra's blog  you are in the right place.  If this is your first time on a blog hop simply read on, enjoy my creations and maybe share some love in the comments. Then you click on the link at the end of this post and it will take you to the next blog and so on and so on. Easy and fun! Best part- you can see lots of different projects you can create with Close To My Heart's Punny Pals stamps and thin cuts!   When you land back here, you are done and it's time to hit the scrapbook room for some crafting fun.
The Punny Pals stamp set is available until the end of July 2018 but the co-ordinating thin cuts are a special offer for October 2017 only.  Be sure to order yours today so you don't miss out. This month we also have a really cool card kit called Share A Smile, that comes with instructions for making 32 little cards you can use as 'Just because' cards to brighten someone's day! Today I am sharing a title page for one volume of my 2016 album.  When our extended family gather it can be loud and a little crazy... like a room full of excited critters!  So, the Punny Pals were perfect for this family photo.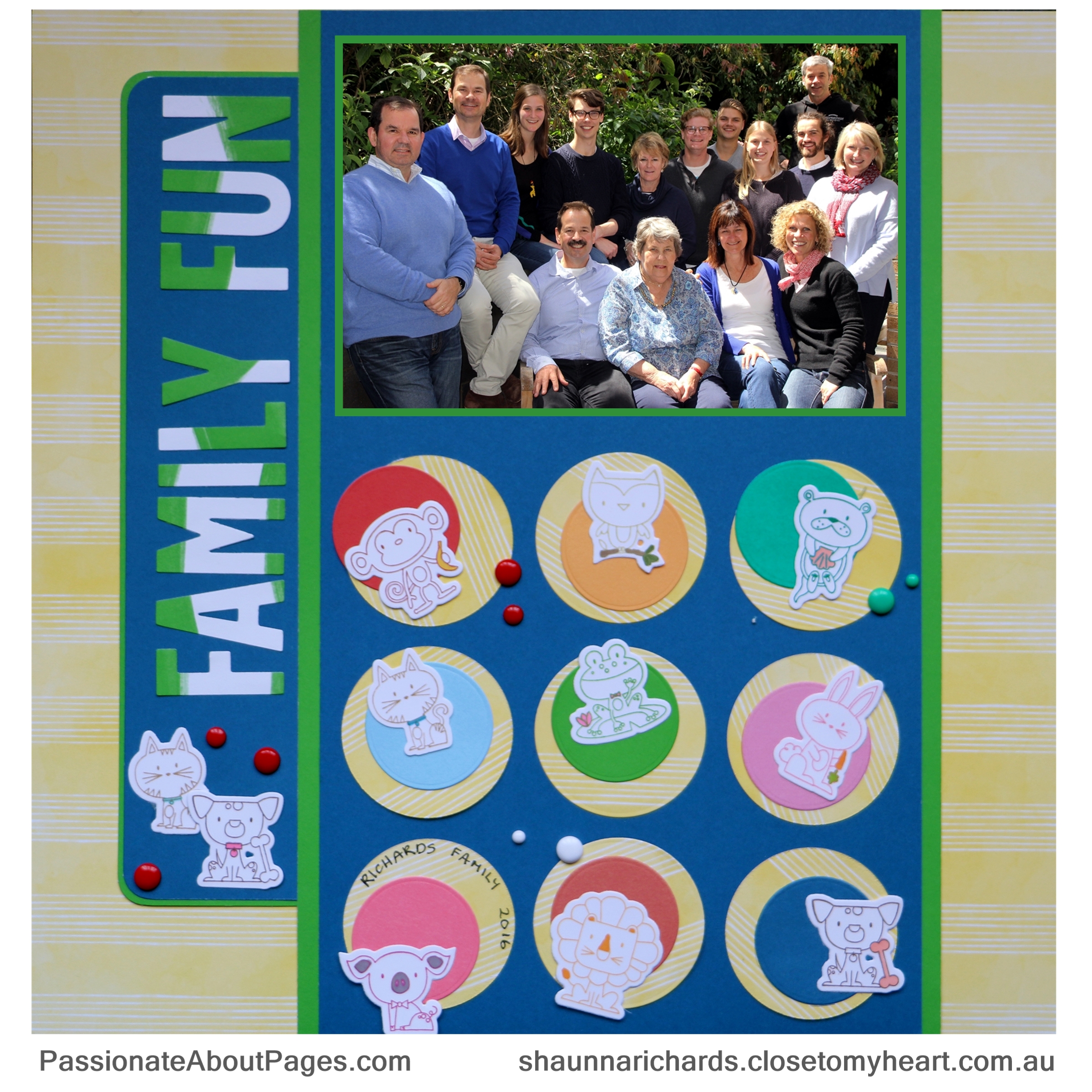 I went a little crazy with the Thin Cuts on this page - not just the Punny Pals but also circles and the Block Alphabet.  They really do make creating a layout so easy.    
I began by loading my cuttlebug with 2 layers of white daisy cardstock and all the Punny Pal thin cuts.  Next I stamped them in lots of different colours.  I was going for fun rather than realistic on this layout so Cranberry monkeys and Emerald otters were perfectly acceptable.  I didn't use all of these on my layout but now they are all ready for other pages or cards.  You will notice I haven't done a lot of colouring - just one tiny feature on each punny pal.  This is because the page is pretty busy and I felt too much colour could over do it.
Have you ever been in the situation where you spend a bit of time arranging all the pieces for your layout only to get confused when you start turning them over to apply adhesive?  My tip is to snap a photo like this one to use as a reference when you are gluing everything down.
I wanted some Willow green in my title but not a solid block of it.  This striped scrap from the Adventure Fundamentals was perfect.  I just squished all the letter thin cuts on randomly and hoped for the best!  It turned out pretty cool once stuck onto the page. The Punny Pals stamps, thin cuts and Share A Smile Kit are available to purchase from your Close To My Heart consultant.  A list of products used on my page appears at the end of this post.  Place your order with your Close To My Heart Consultant. If you don't have a consultant, you can order online through my website . I'd love you to leave a comment for me before you go.  Then click on the underlined link and move on to Scrapping and More with Doreen to see the gorgeous project she has designed for you. Doreen always has something gorgeous to show us. Happy Scrapping, Shaunna Products used in these projects D1751 Punny Pals Stamp Set CC1340 Punny Pals Thin Cuts Z3396 Block Alphabet Thin Cuts Z3318 Basic Circles Thin Cuts Z3351 Adventure Paper Packet X5944 Adventure Cardstock Combo Pack 1385 White Daisy Cardstock Adventure Palette Inks Shin Han Markers in several colours Z3314 lack & White Dots Z4028 Cats & Bats Dots Z4038 Beary Christmas Dots