Beary Christmas CTMH Australasian Blog Hop
Welcome to the CTMH Australasian
Beary Christmas
Blog Hop.  This hop features the artwork of some amazing and talented women from across Australia.  If you arrived from 
Vandra's Blog
  you are in the right place.  If this is your first time on a blog hop simply read on, enjoy my creations and maybe share some love in the comments. Then you click on the link at the end of this post and it will take you to the next blog and so on and so on. Easy and fun! Best part- you can see lots of different projects you can create with Close To My Heart's
Beary Christmas
collection!   When you land back here, you are done and it's time to hit the scrapbook room for some crafting fun.
The
Beary Christmas
collection is available until the end of December 2017.  Buy it as a  full kit or purchase individual items.  The scrapbooking stamp and thin cuts are too cute for words.
Today I am sharing a layout featuring some of my favourite Elf on the Shelf snaps.  I can't wait until Razzle makes an appearance again this year.
The 'Oh What Fun' title was too long for my available space so I cut the stamp to break it into 2 parts.  This doesn't affect the quality of your stamping and if you want a long title next time you can position the 2 pieces together on a block and no-one will know!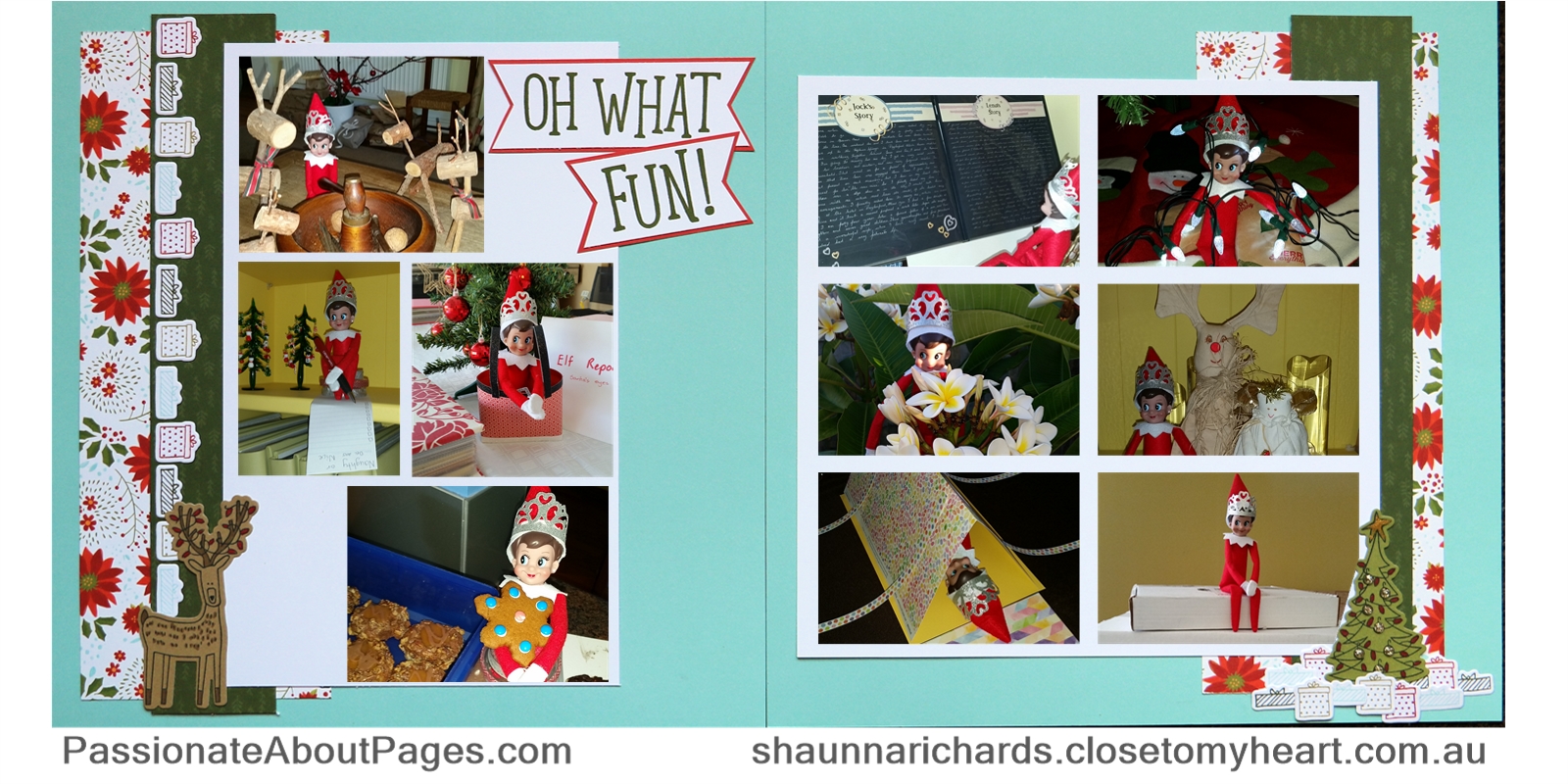 I do love using stamps with coordinating dies to create embellishments on my pages.  You can cut through 2 layers of cardstock at a time so it didn't take long to cut enough presents for the layout.  This also used up some of those pesky small scraps that clutter my paper organisers.
Close To My Heart's,
clear and gold shimmer brushes
were made for Christmas.  Add them to the lights and gifts for some extra sparkle.  It is so hard to photograph sparkle!  You can see it on the Christmas tree star.
The Beary Christmas collection is available to purchase from your Close To My Heart consultant.  A list of products used in my projects appears at the end of this post.  Place your order with your Close To My Heart Consultant. If you don't have a consultant, you can order online through my
website
. I'd love you to leave a comment for me before you go.  Then click on the underlined link and move on to
Nell's Blog , Nellie Bligh
to see the gorgeous project she has designed for you. Nell always uses the collections in really interesting ways.
Happy Scrapping,
Shaunna
Products used in these projects
G1137 Beary Christmas Scrapbooking Workshop Your Way
Z4047 Beary Christmas Scrapbooking Stamps & Thin Cuts
Z3293 Clear Shimmer Brush
Z3316 Gold Shimmer Brush
Z2448 Carmine Shin Han Marker
Z2463 Sap Green Shin Han Marker
Z3312 Gold Glitter Gems
Z2835 New England Ivy Ink
Z2850 Fern Ink
Z2816 Cranberry Ink
Z2841 Glacier Ink
X5978 Glacier Cardstock
1385 White Daisy Cardstock
X5960 Fern Cardstock
X5950 Toffee Cardstock