S1710 Christmas Tunes Australasian CTMH Blog Hop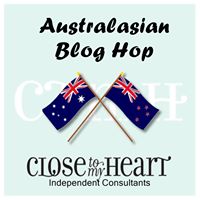 Welcome to the October, 2017 Stamp of the Month Australasian Blog Hop.  This is a circular hop.  If you arrived from Maz's blog, you are in the right place. Simply read through this post and click on the link to the next blog at the end of it.  Keep reading and hopping until you find yourself back where you started from.  Each blog will showcase a project featuring the Christmas Tunes(S1710) stamp set which is October's Stamp of the Month.
Like so many of you, I am a Christmas tragic.  I pin ideas for decorations and projects all year, I have made my own Christmas cards for decades and my collection of ornaments grow every year – I even bring them home from overseas travel!  A long held tradition in our family is watching the Melbourne Carols by Candlelight each Christmas Eve – mostly on TV but a few times we've been there in person.  This stamp set immediately puts me in that place – surrounded by smiling faces, candles glowing and amazing performers.
My offering today is inspiration for Christmas cards you can make in October so you are super organised
😊
I know we all have different amounts of crafting time and some of us like a clean and classic look while others like lots of bling – a bit like the frocks the performers wear at the Carols!
I have taken a classic card design for each stamp and made it twice – the first is quick and easy to make and the second is a little fancier.  You can choose the one that suits your style and available time the best.  Or you could give the fancy ones to friends who will appreciate your hard work and the simpler ones to those who may not.
😊
First up we have 'O Holy Night'.  Cranberry & New England Ivy inks team nicely with the Beary Christmas paper.
Quick and easy version - stamp all 3 components on the same piece of cardstock.  Trim an even-ish curve around the wreath. 
Fancy Version - Stamp each component separately and fussy cut to highlight all the details.  Pop elements up on foam tape.  Add Gold Shimmer Pen to bow and holly leaves.  Add Red Gems.  The extra layer of White Daisy cardstock helps the image pop.
Next we have 'White Christmas'.  Raspberry ink & cardstock create a fun contrast to  the Silver and Gold paper pack.
Quick and easy version - stamp image in Raspberry ink and add colour with Shin Han markers.
Fancy Version - Trim the background layer in to 3 pieces and use ribbon in place of cardstock for the horizontal strip.  Fussy cut the stamped image, add White & Gold Twine and use foam dots to pop it up.   Add Bashful Pearls to the image.
Let's look at 'Rockin' Around the Christmas Tree' next.
Fern ink complements the Beary Christmas paper.
Quick and easy version
- Colour stars with Shin Han marker.
Fancy Version
- Add Beary Christmas red dots and Bitty Sparkles to some of the stars.  Place a Gold Glitter Gem in the star at the top of the tree.  The extra layer of Cranberry cardstock helps the image and border to stand out.
Finally, Baby It's Cold Outside.
  Sapphire cardstock provides a strong contrast to the Gold & Silver Paper Pack.  Crystal Blue ink gives the look of a snow globe.
Quick and easy version
- Add Clear Shimmer brush to the inside of the globe and to the base.  Sorry the photos doesn't show this very well.
Fancy Version
- Add in Silver Glitter paper - stamp the snow globe onto scrap paper to create a template for cutting the base segment.  Add Bitty Sparkles and Clear Sparkles inside the globe.
What will you choose – classic or fancy cards?  Or will you try one of each?  I hope you enjoy creating them as much as I did
You will find a list of the products used on the layout at the end of this post.
Christmas Tunes
(S1710) is only available during October, 2017.  Full retail price is $27 but you can have this gorgeous set for just $7.50 when accompanied by a $75 order. Place your order with your
Close To My Heart Consultant.
Did you like these ideas? Can you think of a few friends who would love to receive a hand made Christmas card this year? I'd love you to leave a comment for me before you click on the underlined link and move on to Doris's Blog, Creative Inspirations, to see the project she has designed for you.
Happy Scrappin'
Shaunna
Products used on this layout:
S1710Christmas Tunes Stamp of the Month
X7225B Beary Christmas Paper Pack
X7226B Silver & Gold Paper Pack
Z3239 Silver Glitter Paper
1385 White Daisy Cardstock
X5975 Cranberry Cardstock
X5974 Raspberry Cardstock
X5960 Fern Cardstock
x5967 Sapphire Cardstock
Shin Han Markers - Turquoise Blue, Cherry Pink, Vivid Green & Golden Yellow
Z3293 Clear Shimmer Brush
Z3316 Gold Shimmer Brush
Z3369 Bashful Pearls
Z3274 Clear Sparkles
Z1263 Bitty Sparkles
Z3090 Red Gems
Z3312 Gold Glitter Gems
Z4014 White & Gold Twine
Z4038 Beary Christmas Dots
Z3362 Adventure Ribbon Pack
Z2850 Fern Ink
Z2835 New England Ivy Ink
Z2812 Raspberry Ink
Z2816 Cranberry  Ink
Z2817 Crystal Blue Ink