S1707 Storybook Alphabet Australasian Stamp of the Month Blog Hop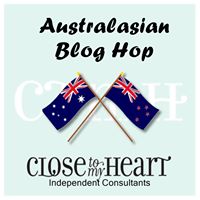 Welcome to the July Stamp of the Month Australasian Blog Hop.  This is a circular hop.  If you arrived from
Collen's Blog
, you are in the right place. Simply read through this post and click on the link to the next blog at the end of it.  Keep reading and hopping until you find yourself back where you started from.  Each blog will showcase a project featuring the
Storybook Alphabet
(S1707) stamp set which is July's Stamp of the Month.
How pretty are these letters?  Do you remember reading storybooks where the first letter in each chapter was all fancy like this?  That is known as historiated initials.  You could do that with your journaling in your albums.  Of course these letters will also be fabulous for creating titles.
When I looked at this stamp set the letters reminded me of embroidery samplers.  I happened to be talking to some customers about re-visiting some old techniques and running a patchwork pages class next month and that got me thinking about using these letters to create an alphabet quilt page.
This will be the title page for our recent trip to the Pilbara.  The Enchantment Fundamentals papers are great colours to go with the earthy reds and yellows and grey greens of the Pilbara landscape.
The 4 patch segments are made by cutting the solid stripe paper into 1 15/16" strips - I know it's a weird measurement but that is how wide the strips are on the paper. Mount the 4 patch blocks onto white cardstock, leaving a 1/2" gap between each block and mount this onto the centre of the word sleuth print paper.  Then add 1/2" borders in the diagonal stripe paper.
Stamp alphabet letters onto white squares using Memento Ink and colour with Shin Han Markers.  I kept it really simple and coloured each letter in just one colour but you could make it fancy and use different colours for the leaves, flowers, dots, etc. The central panel could also feature a photo.
You will find a list of the products used on the layout at the end of this post.
Storybook Alphabet
(S1707) is only available during July, 2017.  Full retail price is $27 but you can have this gorgeous set for just $7.50 when accompanied by a $75 order. Place your order with your
Close To My Heart Consultant.
Did you like this title page? I'd love you to leave a comment for me before you click on the underlined link and move on to Doris' Blog
Creative Inspirations
, to see the gorgeous project she has designed for you.
Happy Scrappin'
Shaunna
Products used on this layout:
S1707 Storybook Alphabet
Z899 Memento Ink
Shin Han Markers - Various colours
Z3254 Enchantment Fundamentals Paper Pack
Z1979 Journaling Pen