City Sidewalks CTMH Australasian Blog Hop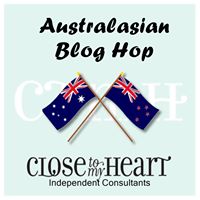 Welcome to the Australasian City Sidewalks Blog Hop.  This is a circular hop.  If you arrived from 
Vandra's blog
you are in the right place. Simply read through this post and click on the link to the next blog at the end of it.  Keep reading and 'hopping' until you find yourself back where you started from.  Each blog will showcase a project featuring the 
City Sidewalks Workshop Your Way Collection (G1114)
from Close To My Heart. 
I have a confession to make.  I spent quite a bit of time creating a lovely layout for today's blog and then wrote the post.  Doing a final check of the links the night before this post went live I discovered I had used the wrong collection!!!  The good news is, I'm all set for next month's hop.  The bad news is I didn't have time to make a layout, photograph it and write a post.   Check back later in the month and I'll make it up to you with a City Sidewalks layout.
I have a cute card to share with you though that uses one of the patterned papers in City Sidewalks!
This card has been extremely popular at my card buffets and I am happy to share the instructions with you today.  Just click the underlined link to download them.
surfin-santa-z-fold-card
The 
City Sidewalks Workshop Your Way
 (G1114) kit is only available until the end of December.  Place your order with your Close To My Heart Consultant. If you don't have a consultant, you can order online through my
website
.
Hope you make one of these cards - they are lots of fun and super easy.  I'd love you to leave a comment for me before you click on the underlined link and move on to Lauren Moore's Blog ,
CTMH Craftings
, to see the gorgeous project she has designed for you.
Happy Scrappin'
Shaunna