S1609 Blessed Beyond Measure Australasian Blog Hop
Welcome to the September Stamp of the Month Australasian Blog Hop.  This is a circular hop.  If you arrived from
Lauren's Blog
, you are in the right place. Simply read through this post and click on the link to the next blog at the end of it.  Keep reading and 'hopping' until you find yourself back where you started from.  Each blog will showcase a project featuring the 
Blessed Beyond Measure
(S1609) stamp set which is September's Stamp of the Month.
At first glance this stamp set appears limiting but once you start playing all sorts of fun stuff magically appears!  As an Aussie, I don't celebrate Thanksgiving but I am very thankful for many things in my life.  Today I've focused on the awesome women in Close To My Heart's Australasian Leadership team.  We share so much between us – supporting and encouraging one another.  Twice a year we spend a full day together learning and creating.  These days also include a beautiful lunch, recognition and the company of our Home Office staff.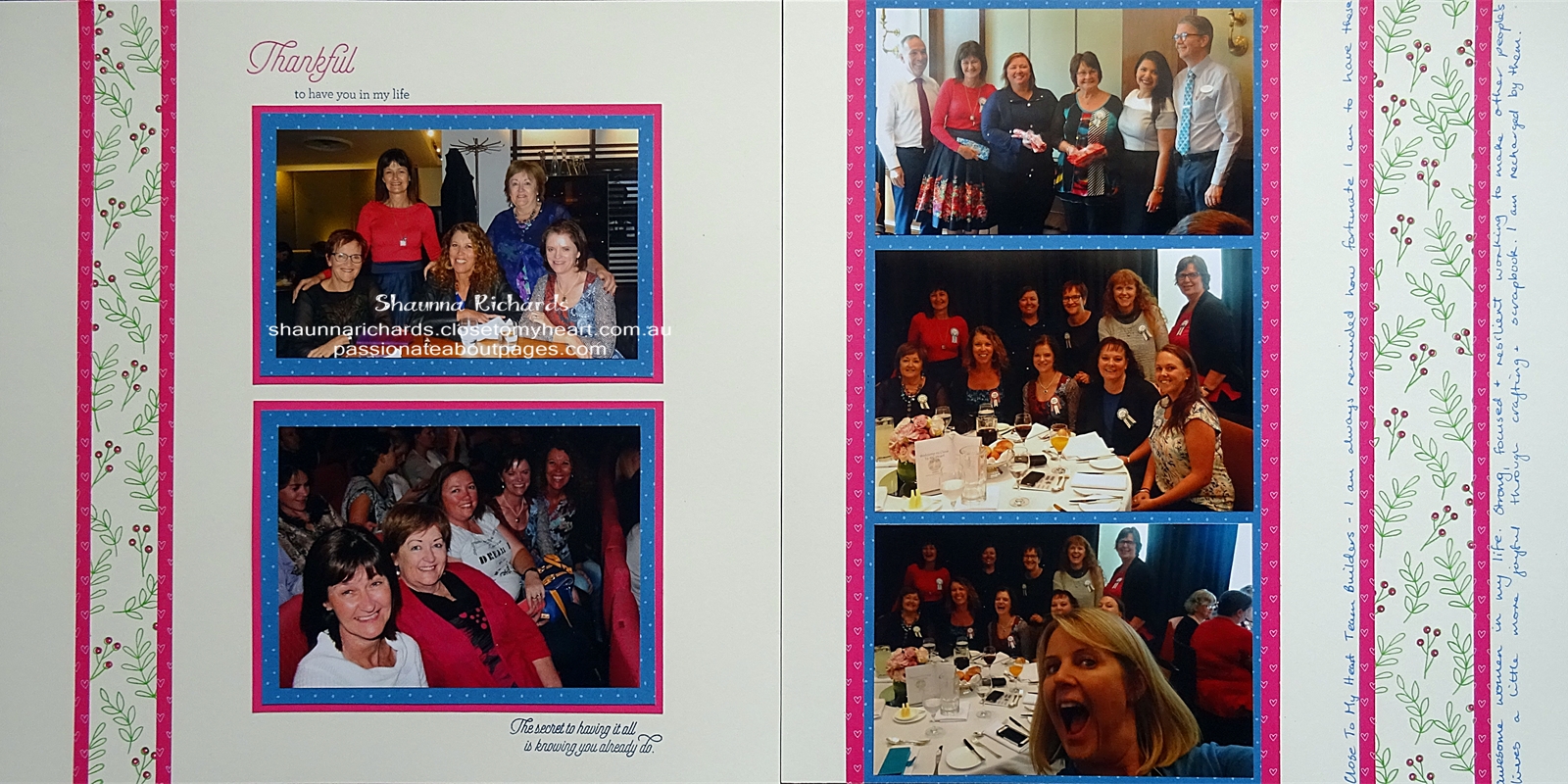 Today's page and card features a
Recessed Panel
.  This is a strip of card, the same colour as your background that you have stamped and adhered behind a gap in the design. It saves having to mask off areas and is super quick to do.
Left Hand Page:
To create the page trim a 1 1/2" strip from  one side of your base cardstock and random stamp on this.  I used the NEW Willow and Raspberry inks.  Oh my goodness!  These inkpads should come with a warning - you will want to replace all your existing ink pads once you've used them.
Next cut a 1 1/4" strip from one long side of the base cardstock (this cut should run in the same direction as your previous cut).  This piece is the one shown on far left of layout.
Cut 2 strips 1/2" x 12" from contrast paper.  Adhere these to the BACK of the base card pieces, either side of the gap that will be filled by the random stamped piece.  You want just 1/4" of each strip showing on the front.
Using your Versamat for sizing, glue the stamped strip behind the 2 base cardstock pieces so the finished layout measures 12" x 12"
Right Hand Page:
Repeat step 1  above but your strip will be 2"
Repeat step 2 above but you will cut off 2"
As above
As above
You can also use this technique on cards.  For the card, you stamp directly on the front of the card in the area that will be recessed and cut panels to cover left and right of the stamping.  Coloured strips are narrower and you can raise the panels on foam tape for a more recessed look.  I added extra little berries on the panels as they looked a bit plain.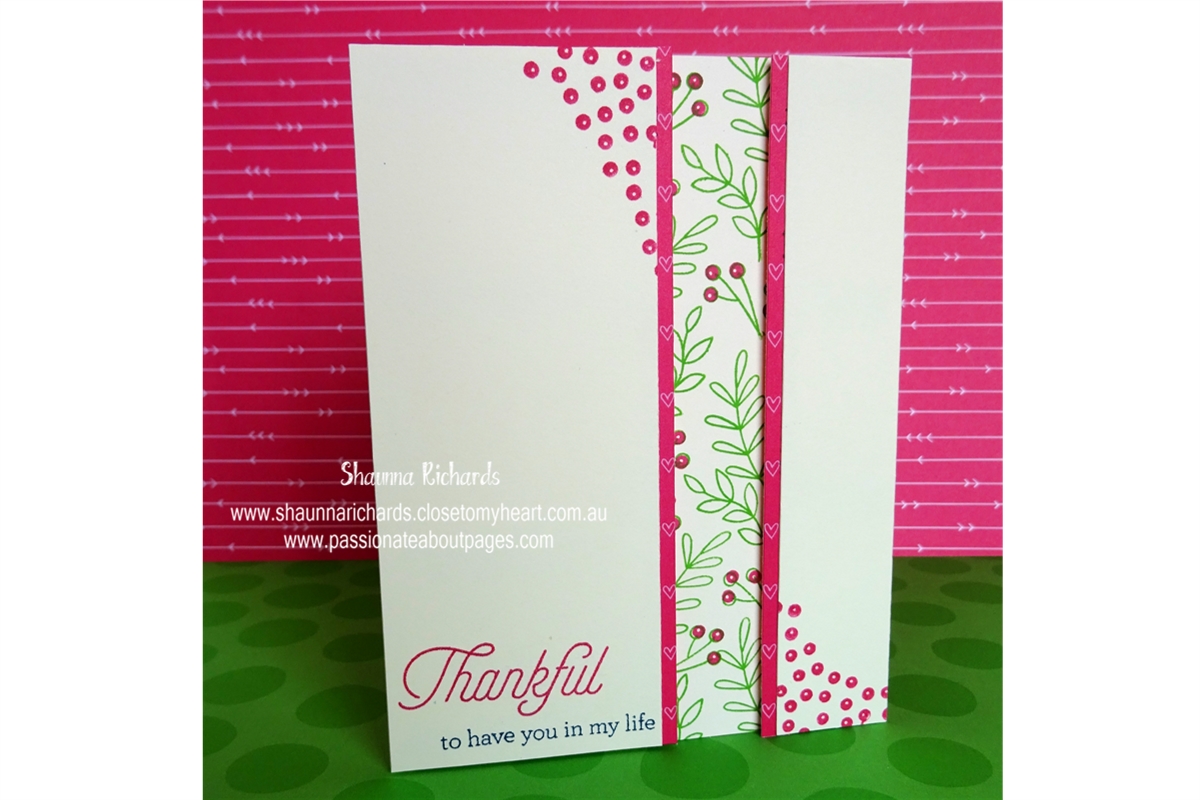 Blessed Beyond Measure 
(S1609) is only available during September, 2016.  Full retail price is $27 but you can have this gorgeous set for just $7.50 when accompanied by a $75 order. Place your order with your
Close To My Heart Consultant.
Did you like this card and layout? I'd love you to leave a comment for me before you click on the underlined link and move on to Denise's Blog , 
Scrap Stamp Share 
, to see the gorgeous project she has designed for you.
Happy Scrappin'
Shaunna