Happy Times CTMH Australasian Blog Hop
Welcome to the Australasian Blog Hop featuring  our National Scrapbook Month Happy Times papers & stamps. We have a variety of projects to share with you which highlight the versatility of the Happy Times stamps and papers. This is a circular hop. If you have come from Maz's Blog, Inky Fingers,  you are in the right place. Just click on the link at the end of each post to move on to a new idea. Keep clicking and you will end up back here! I spent Mother's Day hosting a baby shower!  Isn't that perfect?  It was a wonderful way to spend this special day.  The mum to be and all her friends are from overseas and far from their mums and my own babes are living far from me so it made the day extra special.
This layout was inspired by pp26-27 of the Imagine How To Book.  It's a layout we were challenged to use in a team virtual crop.  Using the beautiful zip strips from the Happy Times paper pack helped frame the photo gallery on the page.
The flowers in the Happy Times Stamp set are really sweet.  I love that many different stems are offered too.  To create the large flowers shown above, ink with Honey first and then use a dauber to add Sunset ink accents to the blooms.  No two will be the same - just like in nature!  Poppy and Fern ink were used for the other flowers & leaves.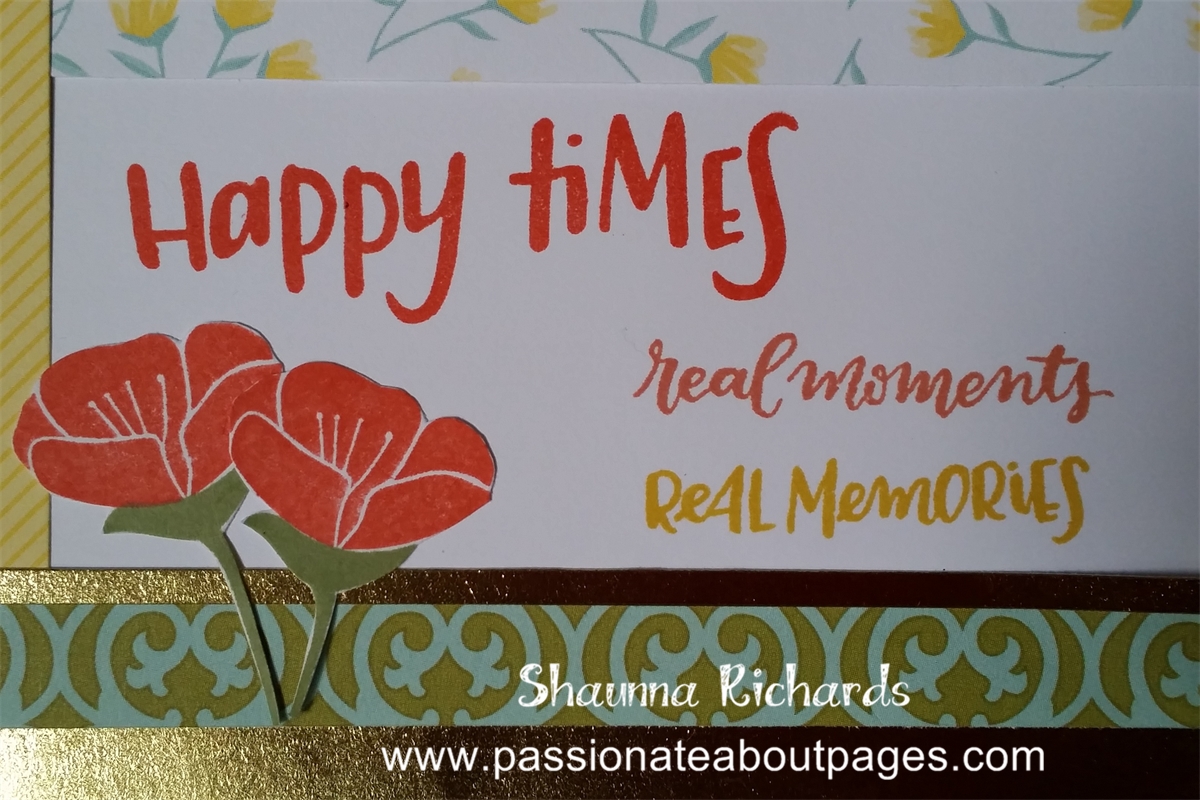 The words on this stamp set are perfect for scrapbookers.  Our goal is to record the happy times and to share real moments and memories with our family and future generations. Happy Times Papers (CC1063) and the co-ordinating stamp set (CC1064) are only available during May, 2016.    Be sure to order yours from your Close To My Heart Consultant. You can have the paper packet FREE if you order $85 worth of product this month - that's a saving of $23. Thanks for stopping to read my post, now you can hop over to Wendy's, Expressions from the Heart blog to see the Happy Times idea she is sharing. Happy Scrapping, Shaunna