CTMH Australasian Regatta Blog Hop
Welcome to the Australasian Regatta Blog Hop.  This is a circular hop.  If you arrived from  Georgia's Blog  you are in the right place. Simply read through this post and click on the link to the next blog at the end of it.  Keep reading and 'hopping' until you find yourself back where you started from.  Each blog will showcase a project featuring the Regatta Workshop Your Way Collection (G1105) from Close To My Heart.  
Today's layout features photos taken on the Close To My Heart Incentive trip to Hawaii in 2015.  I love working for a company that rewards hard work with free travel for my husband and I.  
  Do you like the journal box on this layout?  It's a  PML card that came in the paper pack.  All you have to do is cut it out and stick them down – it couldn't be simpler. The gorgeous crab and starfish stamps come from Beach Days (D1684).  They have co-ordinating Cricut cuts on the Artistry cartridge which makes life really simple!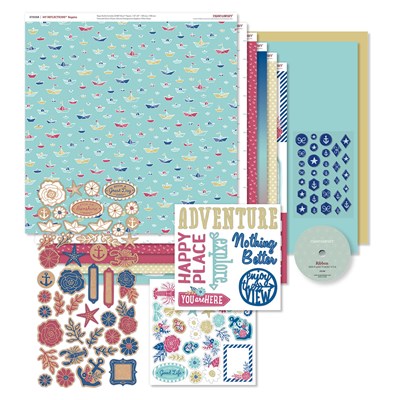 The Regatta Workshop Your Way (G1105) kit suits any photo theme. They are only available until the end of this month (unless sold out earlier).   Place your order with your CTMH Consultant. Did you like this layout? I'd love you to leave a comment for me before you click on the underlined link and move on to Wendy's Blog , Expressions of the Heart , to see the gorgeous project she has designed for you. Happy Scrappin' Shaunna