Australasian April SOTM Life In Pictures Blog Hop
Welcome to the April Stamp of the Month Australasian Blog Hop.  This is a circular hop.  If you arrived from  Vandra's Blog, you are in the right place. Simply read through this post and click on the link to the next blog at the end of it.  Keep reading and 'hopping' until you find yourself back where you started from.  Each blog will showcase a project featuring the Life In Pictures (S1604) stamp set which is April's Stamp of the Month.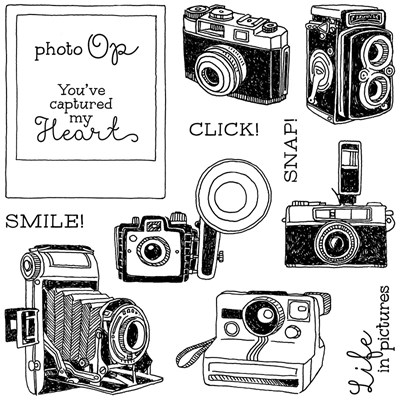 I think everyone of us needs this set in our craft room. Our fridge door photo gallery was looking very tired.  Mismatched magnets holding photos and covering some of the image, fingerprints and smears on some photos and no sense of how important the photos are to us.  So!  I created my own magnetic fridge frames.
Use Paper Fundamentals because the paper is decorative and heavy weight so it won't curl or tear easily.  Cut a piece 5 1/2" x 7 1/2" and cut a 4 1/4" slit 3/4" down from one short end.  Use the measurement guides on your 12" trimmer to make this easy.
Take a 4" x 6" Flip Flap (Z4114) and trim off the adhesive strip.  You want the side that had the adhesive strip to be higher than the other side of the pocket.
Centre the flip flp on the front of the Fundamentals Paper, making sure the lower edge side of the Flip Flap is glued to the paper and that this edge lines up with the slit you cut. [gallery ids="2485,2484" type="rectangular"] Slide your photo into the Flip Flap.  Use Shimmer Trim around the edges of the Flip Flap to hold it in place and highlight your photo.  Add decorative elements as desired.  Corner round the frame if that takes your fancy. When you want to update your photos you can slide the orignal out and replace it with a new one.
In these samples, watercolour paint was used on watercolour paper.   The paint was allowed to dry and then the images were stamped using Memento Black ink (Z899) for all the sentiments and some of the cameras.   Other cameras were stamped first and then painted with a watercolour wash afterwards.  Each gives a slightly different effect. Your last task is to recycle those magnets you were using and stick them to the back of your frame.  Liquid Glass (Z679) is perfect for the job!
Super easy and lots of fun.  This would make a great holiday project to do with the kids.  Why not make a set for a Mothers Day Gift? Life In Pictures (S1604) is only available during April, 2016.  Full retail price is $27 but you can have this gorgeous set for just $7.50 when accompanied by a $75 order. Place your order with your CTMH Consultant. Did you like this idea? I'd love you to leave a comment for me before you leave. Kay was next on our hop but we are having some technical issues so fo now, plese leapfrog over to Wendy's Blog by clicking here. Happy Scrappin' Shaunna