CTMH Australasian Stampaganza Blog Hop
Welcome to the Australasian Stampaganza Blog Hop.  This is a circular hop.  If you arrived from Maz's Blog you are in the right place. Simply read through this post and click on the link to the next blog at the end of it.  Keep reading and 'hopping' until you find yourself back where you started from.  Each blog will showcase a project featuring Stamps from Close To My Heart.  This  month you can order 2 stamps sets and get one free. We don't have grandchildren yet but we have a very adorable grand- fur ball named Luna.  Her mummy and daddy flood our Facebook with cute photos and she even has an Instagram account of her own.  Check it out @luna_the_calico.  I decided to do some pages using some of these photos.  These 2 stamp sets were perfect for the job.
Today's layout comes from p110 of the Cherish How To Book.  It's a clean design suited to the Fundamentals Paper range.  This layout uses Basics and Adventure Fundamentals.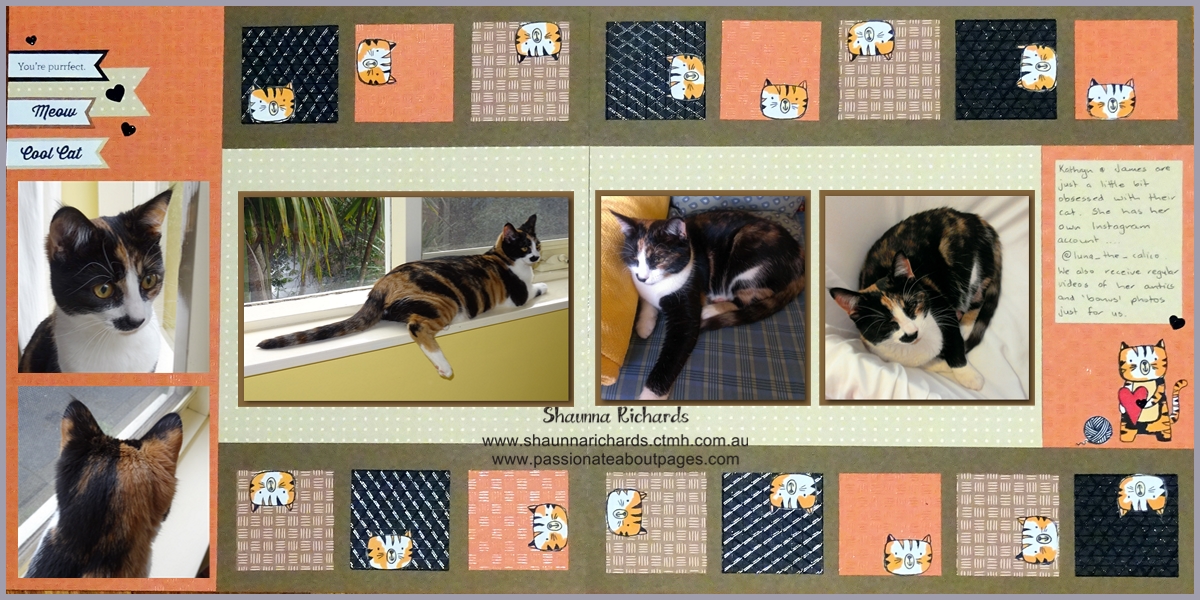 Begin with these cute cats.  Using scraps of White Daisy stamp just the head of the cat from Friendly Pets (B1481) 15 times.  Using Shin Han markers, try to make them look like calico cats - that's the new name for tortoiseshell puddies.  Did you know they are all girls?  Next you need to fussy cut these images.  
Don't you love those inquisitive little faces?  Have some fun with these cheeky fur babies popping up on all sides of the squares.
This little cat is super cute. The colouring was so easy because a calico cat has a very random coat colouration - anything works!
The sentiments all come from Love My Cat (A1181) and the hearts are from the Black Fundamental Assortments (Z3104) Stampaganza runs until March 31. Order all 3 stamps you want and the one with the lowest price will be given to you at no charge. Order 6 stamps and the 2 lowest price ones will be given to you.  Place your order with your CTMH Consultant. Did you like this layout? I'd love you to leave a comment for me before you click on the underlined link and move on to Kara's Blog , Creating with Kara Davies, to see the gorgeous projects she has designed for you. Happy Scrappin' Shaunna