CTMH Australasian Penelope Blog Hop
Welcome to the Australasian Penelope Blog Hop.  This is a circular hop.  If you arrived from  Maz's Blog you are in the right place. Simply read through this post and click on the link to the next blog at the end of it.  Keep reading and 'hopping' until you find yourself back where you started from.  Each blog will showcase a project featuring the Penelope Workshop Your Way Collection (G1106) from Close To My Heart.
Today's layout celebrates the two loves in my daughter's life - her gorgeous man and her cat!  Penelope is a perfect match for Kathryn's vibrant personality.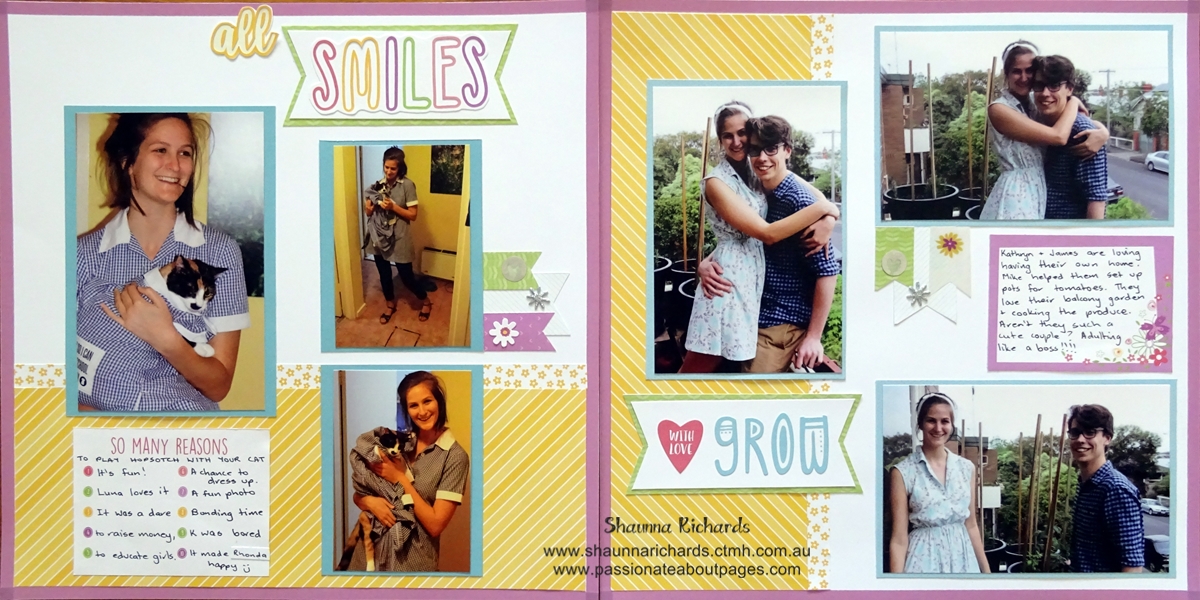 I love the look of pages with a solid colour as a border but I don't always want the bulk of a second layer of cardstock.  Thank heavens for the 1/4" rolls of Limeade Washi Tape (Z3198) that comes in the Penelope Workshop Your Way Kit.  It is super easy to frame your page this way.
The Penelope Complements(X7207C) are just lovely.  The titles can be used twice!  Use the stickers on one layout and the negative space on another.  Complements are also part of the Workshop Your Way Kit.
If you have 'flat' spots on your layout, reach for your scraps.  This cluster of flags was made from the offcuts left in the pack.  The heart vellum is one of the die-cuts in the Complements pack and that really cute starburst is from Playful Puffies (Z3205).  Puffies are raised a little bit but they are spongy so ideal for use in your albums.  They also come in the Workshop Your Way kit. Do you like the journal boxes on this layout?  They are the PML cards that come in the paper pack.  All you have to do is cut them out and stick them down - it couldn't be simpler.
The Penelope Workshop Your Way kit suits any photo theme. They are only available until the end of April, 2016.   Place your order with your CTMH Consultant. Did you like this layout? I'd love you to leave a comment for me before you click on the underlined link and move on to Kara's Blog , Creating with Kara Davies, to see the gorgeous project she has designed for you. Happy Scrappin' Shaunna