CTMH Australasian March SOTM Blog Hop-Sunshine Birdies S1603
Welcome to the March Stamp of the Month Australasian Blog Hop.  This is a circular hop.  If you arrived from  Tanya's Blog, you are in the right place. Simply read through this post and click on the link to the next blog at the end of it.  Keep reading and 'hopping' until you find yourself back where you started from.  Each blog will showcase a project featuring the Sunshine Birdies (S1603) stamp set which is March's Stamp of the Month.
Don't you just want to smile when you see these stamps? We have a beautiful wetlands near our home which we walk in several mornings a week.  Late spring is such a fabulous time to visit as the Rainbow Bee Eaters come to nest.  They are only 20cm long and they nest in burrows in the ground!  I've been saving these photos to use with this stamp set.  I hope you like it.  The Penelope Papers provide a happy backdrop.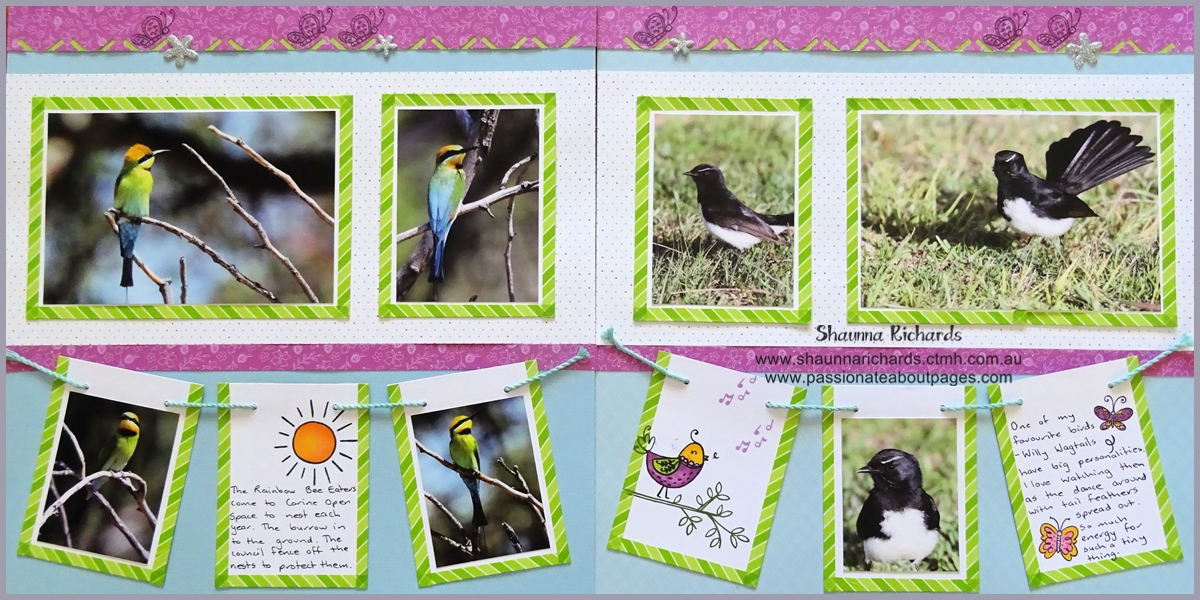 Each photo mount on the string is 3" x 4".  All the photo mounts on the page have been 'wrapped' in a 1/4" border of Washi Tape.  I love this wide green tape from the Limeade Pack (Z3198)  I found the speediest way to use it was to stick it to two cards at a time, cut them apart and fold the excess to the back.  Glacier Thick Twine (Z3029) threaded nicely through the 1/8" holes in the cards.   [gallery ids="2248,2241" type="rectangular"] The top border had some pattern added courtesy of the CTMH Corner Rounder (Z1912).  If you slide the lower plastic guide off you can use it as a scallop punch.  I spaced mine out to make it look like blades of grass for the butterflies to rest on.  Use the markings on your Versamat to make the spaces even. [gallery ids="2238,2240" type="rectangular"]   Sunshine Birdies (S1603) is only available during March, 2016.  Full retail price is $27 but you can have this gorgeous set for just $7.50 when accompanied by a $75 order. Place your order with your CTMH Consultant. Did you like this layout? I'd love you to leave a comment for me before you click on the underlined link and move on to Lauren's Blog, CTMH Craftings, to see what she has designed for you. Happy Scrappin' Shaunna