CTMH Australiasian Share The Love Blog Hop
Welcome to the Australasian Share The Love Blog Hop.  This is a circular hop.  If you arrived from Lauren's Blog you are in the right place. Simply read through this post and click on the link to the next blog at the end of it.  Keep reading and 'hopping' until you find yourself back where you started from.  Each blog will showcase a project featuring the Share The Love Stamp Set (CC1060) from Close To My Heart.  This stamp set is only available THIS month.
Mike and I had the great pleasure of attending an evening of A capella singing by 3 university groups.  Our nephew came from Melbourne with his group - it was the first time we'd heard him sing and it was wonderful.  As I looked around the packed room, filled with people of all ages, focused on young adults singing joyfully and having the time of their lives, I was reassured that there are still plenty of young people who are amazing.  The media has it wrong when they spread their doom and gloom stories - the youth of today do share our values... we just need to give them the vehicle to exhibit it in.  So, this stamp set was perfect for the photos!  They did make me smile - all night and all of the next day.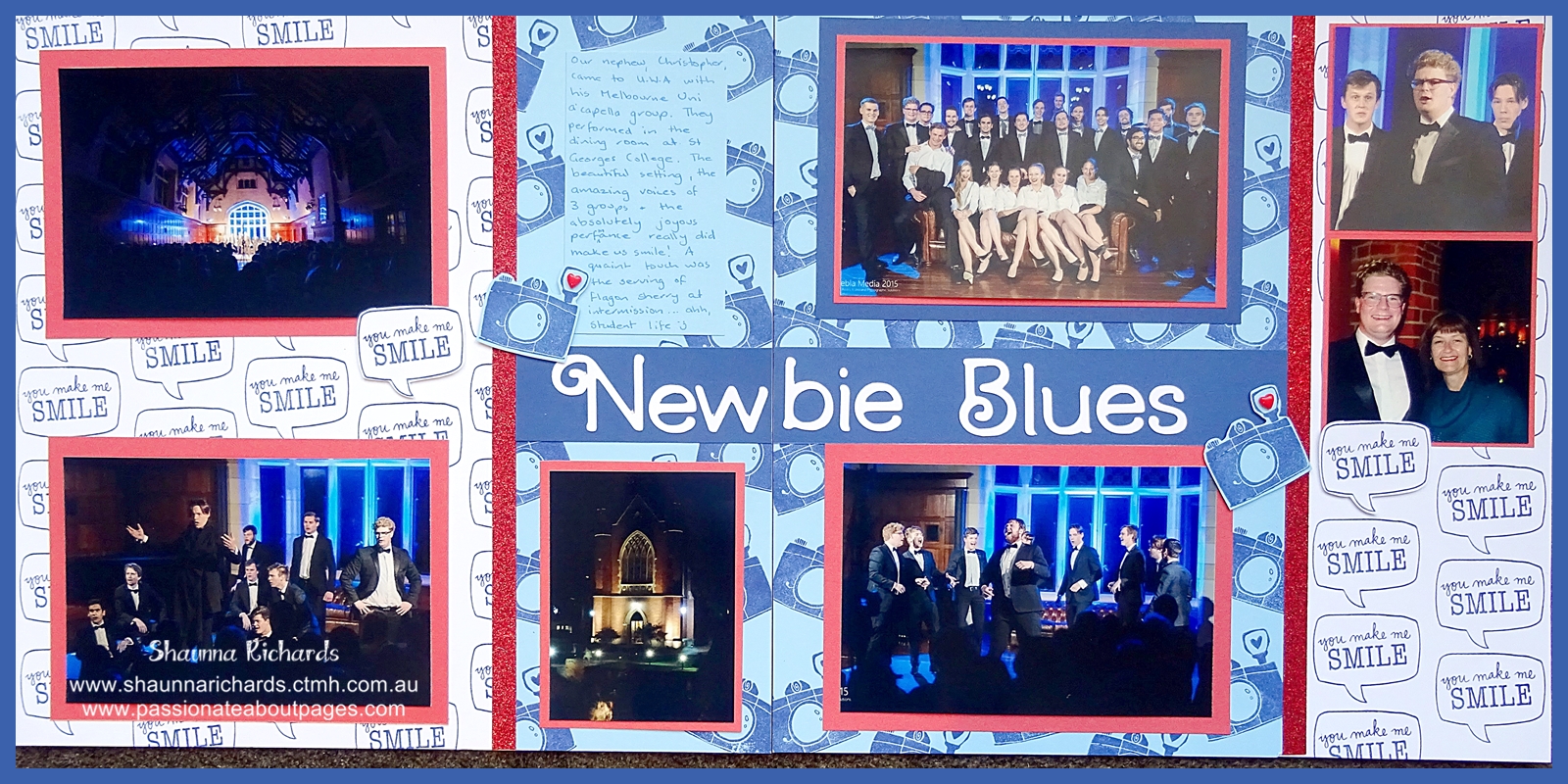 This is a pretty simple layout.  One tip is to decide your photo placement before you stamp.  You can mark the spaces with pencil and then you don't have to stamp over the entire page.
My second tip is don't cut the paper before you stamp - my cameras didn't line up where the two pages meet and that bothers me a little. (But not enough to make me re-do the page!)
Once you have all the photos and journal box stuck down add a couple of stamped images on foam tape so they pop off the page across other elements. I also had fun making cards and a gift box with this stamp set.  I designed 3 cards and made them up in Charlotte, Penelope and Regatta.  The cards are super easy to make and I can't wait to gift the whole set to a friend for her birthday. [gallery ids="2183,2182,2181" type="rectangular"]
The Share The Love (CC1060) stamp set is only available during February, 2016. $7 from each set sold will be donated to Operation Smile - isn't that a beautiful way for you to share the love a little further?  Place your order with your CTMH Consultant. Did you like this layout? I'd love you to leave a comment for me before you click on the underlined link and move on to Denise's Blog , Scrap Stamp Share, to see the gorgeous projects she has designed for you. Happy Scrappin' Shaunna