Cornish Coastline
Mike and I have had a fabulous time travelling in Cornwall.  It is such a pretty corner of the world.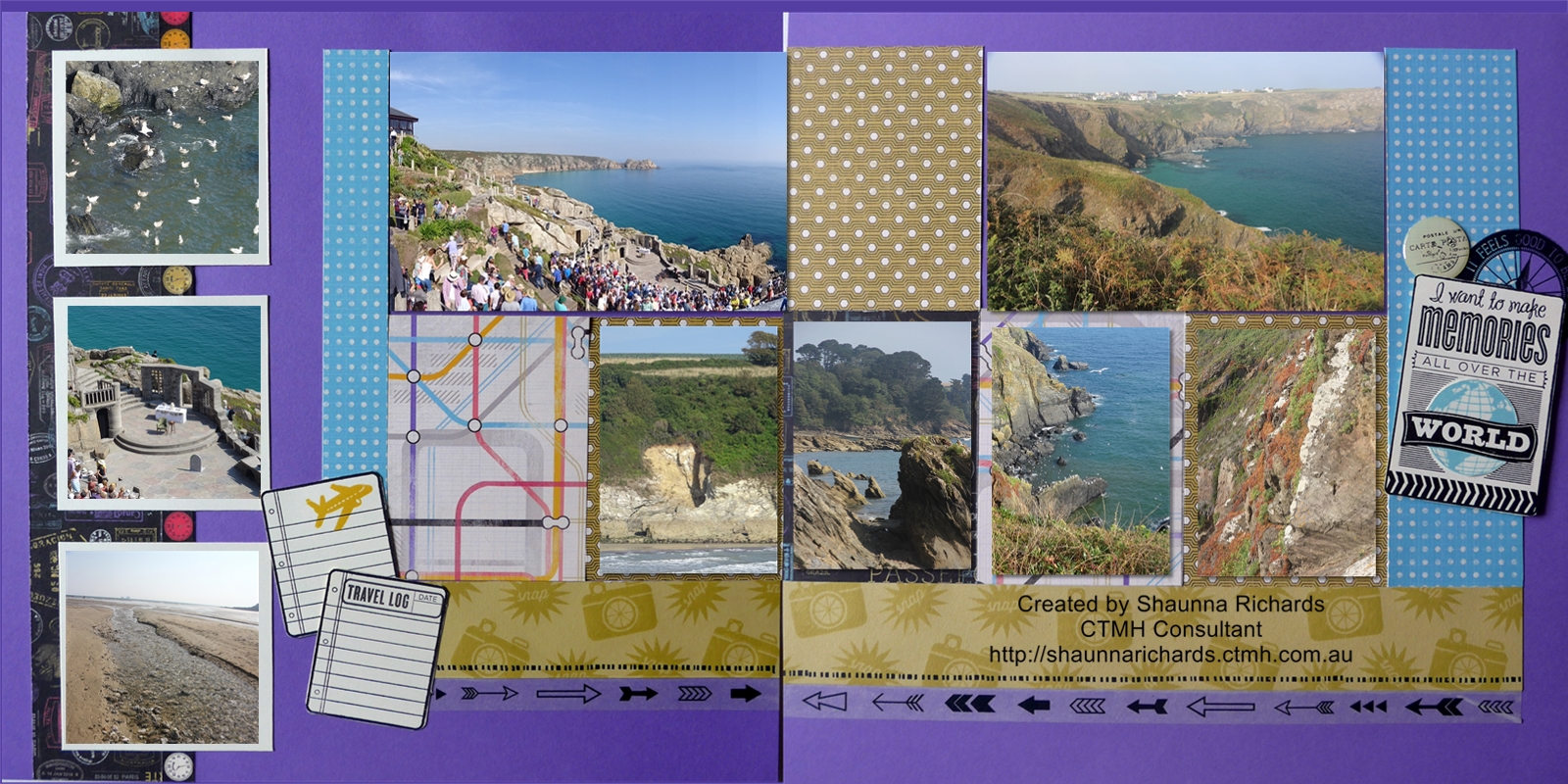 This layout is one I adapted a little bit from the
Wanderful WOTG
kit. (G1088)  Once again, we have taken far too many photos so I had to find a way to squeeze extras onto the page.  Not shown in this photo are the Flip Flaps I will be adding to the layout at home.  I'm really excited to have a pack of 15
3" x 4" Flip Flaps
 (Z3027)in our range now.  I print most of  my photos in this size and I love how Flip Flaps allow me to include lots more photos on the page than I would normally.
Here's those trusty two stamps from the
Wanderful WOTG
 (G1088) again!  I just love how easy it is to find a space for journaling with these stamps.
The border along the bottom of the page was created using the camera and flash icons from the
World Traveller
Stamp Set (C1592).  I used
Flaxen
ink on
Flaxen
cardstock.  This is one of the new colours in our range and I know it's going to be a favourite for me.  The
Black Arrows Washi Tape
 (Z2003) finished the border off nicely, I think.
The sentiment on this stamp sums up how I feel!  I adore travel and I have a very long list of places I want to visit.  The thing I enjoy as much as the travel, is creating albums with my photos when I get home.  It's like I've taken the trip twice!.  I stamped this image twice - once in
Archival Black Ink
 (44751) and once in
Crystal Blue
(Z2117).  Next I cut the globe out of the Crystal Blue image and layered it over the black one.
Happy Scrappin'
Shaunna