Australasion Stamp of the Month Blog Hop Sept 2014 Family is Forever S1409
Welcome to the Australasian Stamp of the Month Blog Hop for September 2014.  This is a circular hop - just click on the link at the bottom of each blog entry to take you to the next amazing creation featuring the
"Family Is Forever"
Stamp of the month.  You will eventually end up back here!  My fellow consultants have created some gorgeous artwork for you to enjoy.  If you've just hopped over from
Natalie's
blog, welcome!
Whenever I get a new stamp set I like to take a good look at each stamp on it's own and try to think outside the obvious theme of the set.  The gorgeous tree motif just jumped out at me with this Stamp of the Month.  I am currently travelling in England - happily spending the profits from my business over the past year!  One of the things I LOVE about being in the Northern Hemisphere at this time of year is the colours on the trees as they prepare for the transition to winter.  My garden in Perth stays green all year so autumn foliage is a feast for my eyes.  So, here is a page celebrating autumn leaves when we visited Croatia a couple of years ago.
I chose the
Wanderful papers
(X7191B) for this page.  It is a travel themed collection and the colours were perfect for my stamps.  3 simple torn strips is all I needed for the backdrop.  I had a lot of fun creating the coloured foliage and you will see that each tree is a little different.
All you need are 5 inks -
Cranberry (Z2116), Cashmere (Z2175), Olive(Z2137), Goldrush(Z2123) and Honey(Z2162
) - plus some
daubers
(Z1938). To create the effect of autumn colours you ink the whole tree in Cashmere and then turn the block so the stamp is facing up.  Using your daubers add small patches of colour to the stamp.  I began with Olive near the stems, then moved out with Goldrush and finished with Honey on the tips.  Finally, colour the hearts with Cranberry and stamp onto
White Daisy cardstock
.  Repeat this 3 times, fussy cut the trees and mount on
foam tape
(Z1151).
Once I had put the page together I felt it was a bit flat.  Autumn leaves often catch the sunshine as they move in the breeze and I wanted to create this effect on my page.  If I had thought of this first, I could have used pigment inks and heat embossed the images but as it was an afterthought I found another solution.  I added
Liquid Glass
(Z679)  to the image and some
Bitty Sparkles
(Z1263) on the Cranberry elements.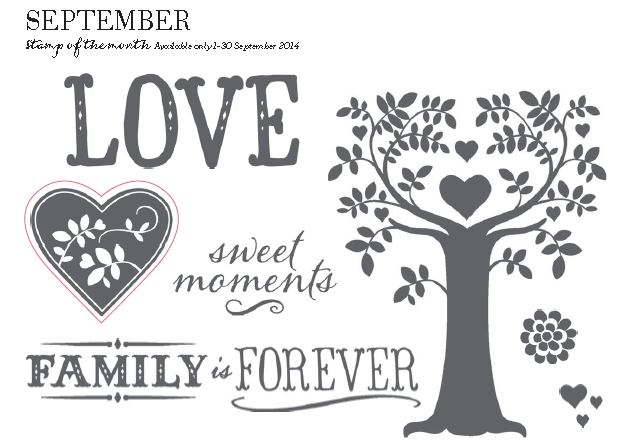 The
Family is Forever Stamp
Set is only available for purchase during the month of September 2014.  There are 2 ways you can own it - Purchase at full price of $27 or add it to an order valued at $75 for just $5 extra!  Can you guess which option I chose?  Visit your
consultant's website
to begin shopping now.
I'd love you to leave a comment or share this post with friends if you liked it.  Now click on this link to hop on over to Denise's Blog,
Scrap, Stamp, Share .
Happy Scrappin'
Shaunna