When is an owl not an owl?
When it's a cat!
This clever idea is one shared by a fellow consultant,
Doris Taylor
, at a recent consultant crop day.  Having a tendency to crazy cat lady behaviours myself, I couldn't resist making up a couple for this card.  I plan to send it to a lady I have recently met - I know we are going to become firm friends.  
To create the cat you need the
August Stamp of the Month, What a Hoot
(S1408).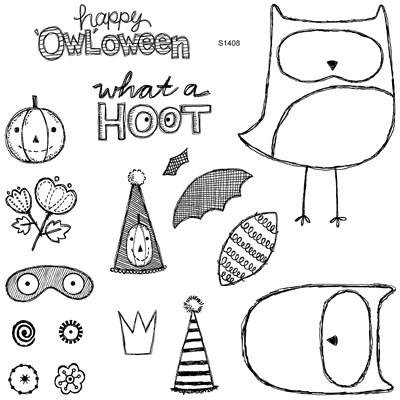 This gorgeous stamp set can be yours for just $5 when accompanied by a $75 order or $27 full retail price and is available during August 2014 only.  To make the outline for the cat's body I cut my stamp.
"Ahhh!",
I hear you scream... but  it's OK.  If I want to use it as an owl I can position the two pieces on my block and still have an owl stamp. (Or place another order for $75 and get a second stamp set  )
Next I drew a tail and went over the lines a few times to mimic the doodle qualities of the stamp and then I fussy cut the whole cat, added face details with markers and they were purr-fect pussy cats.  The flowers come from the same stamp set as the owls.  I coloured them with my lovely NEW
Shin Han Alcohol Markers.
  The sentiment is from
A Budding Friendship
(D1602) The orange band at the bottom of the card is just 2 strips of our NEW
Sunset Chevron Washi Tape
(Z2005)
I have several other critter ideas I'll be sharing at my Paper Picnic on Saturday Aug 16.  The workshop runs from 10am to 4.30pm.  Contact me for further details shaunnarichards@bigpond.com
Happy Scrappin'
Shaunna