Duchess Retreat Page
I had the great pleasure of running my 12th Annual Duchess Retreat for 24 ladies this past weekend.  My sister runs it with me and we treasure this time together. We proclaimed ourselves
Duchesses
12 years ago when we decided our camp would be based on a series of challenges, like the Duke of Edinburgh Awards.  The challenges can be simple but there are always a couple that stretch croppers skills just a little (or a lot if you ask some!).
I look forward to this weekend of creating, laughter and hijinks as much as my customers and team members do and always arrive home on a high, love cup overflowing and so thankful to have such fabulous women in my life.
This year my good friend, Rose, was our chef and we enjoyed homemade gourmet treats all weekend.  Friday night is always 
Frock Night
and the ladies excelled this year, scouring op shops across Australia for frocks with just the right level of hilarity.
I kept the layout simple so the Duchess outfits could shine.  You will notice 2 products that aren't in the current ideas book.  The
Better with a Friend
Stamp Set is in our NEW Ideas Book launching August 1 and is one of the Exclusive Hostess Rewards stamps.  These glamorous gals are coloured using the blending pen (3174) and Exclusive Inks.  I'd love to show you how.  Why not invite a few friends over for a free class to play with this set and then you can purchase this stamp set with your Hostess Reward dollars.
The other new product on the page is the
Chevron Border Punch
(Z1998).  This was a firm favourite over the weekend.  A strip of shimmer trim behind it really adds some zing to the page. Click
here
to see all the shimmer trim colours available. Be sure to check out my
website
on August 1 to view the online Ideas Book & Catalogue.
http://shaunnarichards.ctmh.com.au
If you would like to see the range of new products, we'd welcome your attendance at our
Perth New Product Launch and crafty afternoon
this coming Saturday.  Comment below or contact me for address details.  You are most welcome to bring a friend.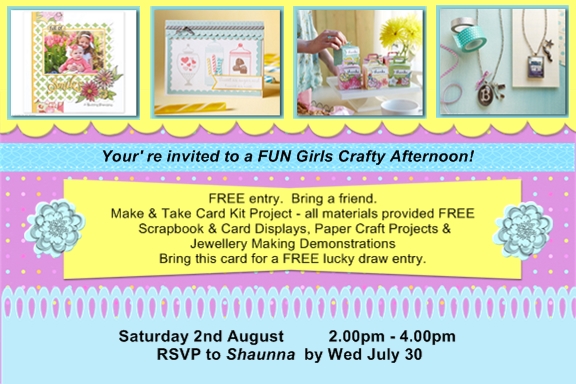 Happy Scrappin'
Shaunna