Mother's Day
I hope all the mums had a great day yesterday.  Mine turned out to be just so lovely... my family are so supportive of me and made sure I didn't have to do a thing all day (except eat and sip champagne).  I wanted to make this page while the memories were fresh so my journaling told the complete story.  I don't usually type my journaling, preferring hand writing (warts & all) but there was quite a long story to tell.
So, I chose a very simple layout, based on a card I'd seen by Kimberley Thomas on
Pinterest
.  This gave me lots of room for the story.  The paper is from  the
Ivy Lane
papers and the embossing pattern is the
Quatrefoil folder
.  The gold shimmer trim came from the
Ivy Lane Card Making Kit.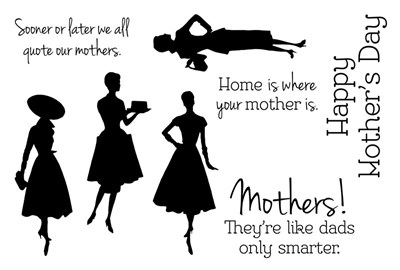 I love the silhouette ladies in this
Mothers Day stamp set
(C1577).  I didn't use the full length of the ladies, preferring the cameo look  on the ovals.  I know I will use the other sentiments from this set on pages about my daughter and in my Book of Me when I get to the pages about my relationship with mum.