St Patrick's Day
Yesterday was St Patrick's Day and a bit of serendipity saw me scrapbooking a photo from last years St Patrick's Day!  I decided a monochromatic colour scheme fit the bill.  The chosen colour of course, was green!  I love using shades of the one colour on a page - it always makes the elements work together so easily.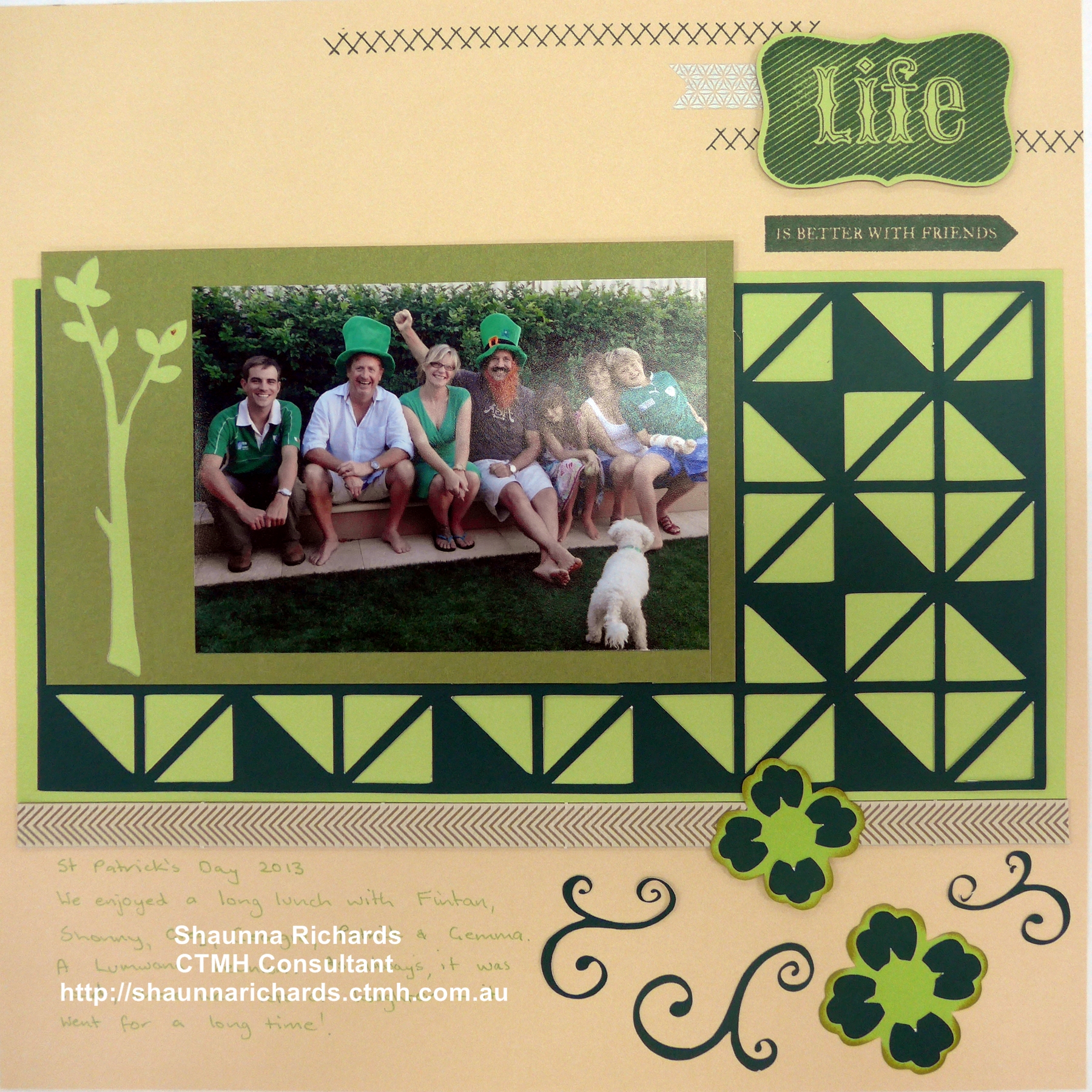 I chose Champagne for my background because it is an earthy neutral and it was what we drank on the day!  The greens  used were
Pear, Sweet leaf, New England Ivy and Olive
. I am in love with the overlays cut from the
Artbooking Cricut Cartridge
.  Imagine creating this triangle background with a square punch!  It would have taken hours instead of a few minute with the Cricut.  The best way to purchase a Cricut Cartridge is as a half price reward when you host a gathering.
If you would like to learn more about using a Cricut machine, book into my new series of classes beginning April 1st.  You don't have to own a machine to come along.  Email me at
shaunnarichards@bigpond.com
for more details.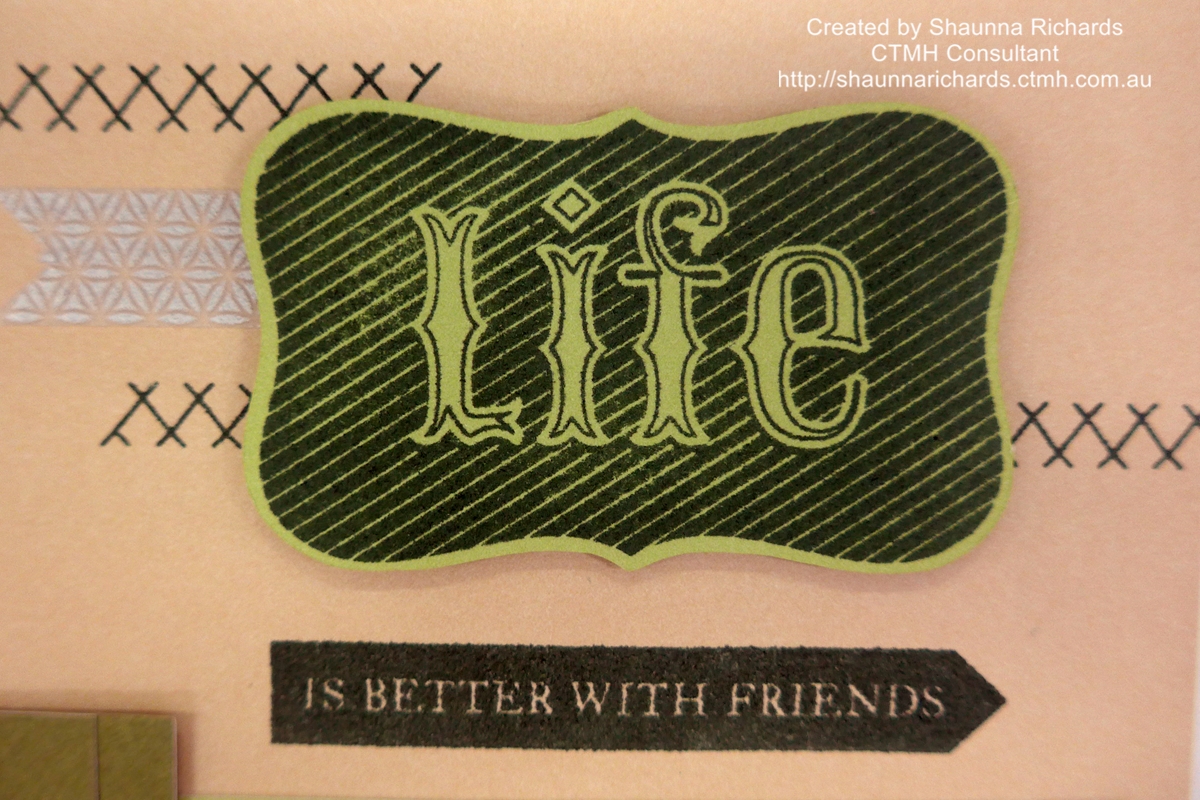 The title block was created using a combination of stamps and  Silver Geometric
Washi tape
 (Z1932).  The stitches came from
Stitch Wonder
(C1564) and the stamp set that comes with the
Ivy Lane Card Making Kit
(G1079).  The phrase, "Life is better with friends" is one of my mantras.  The friends photographed all met in Zambia and now live in Perth and we love catching up with them.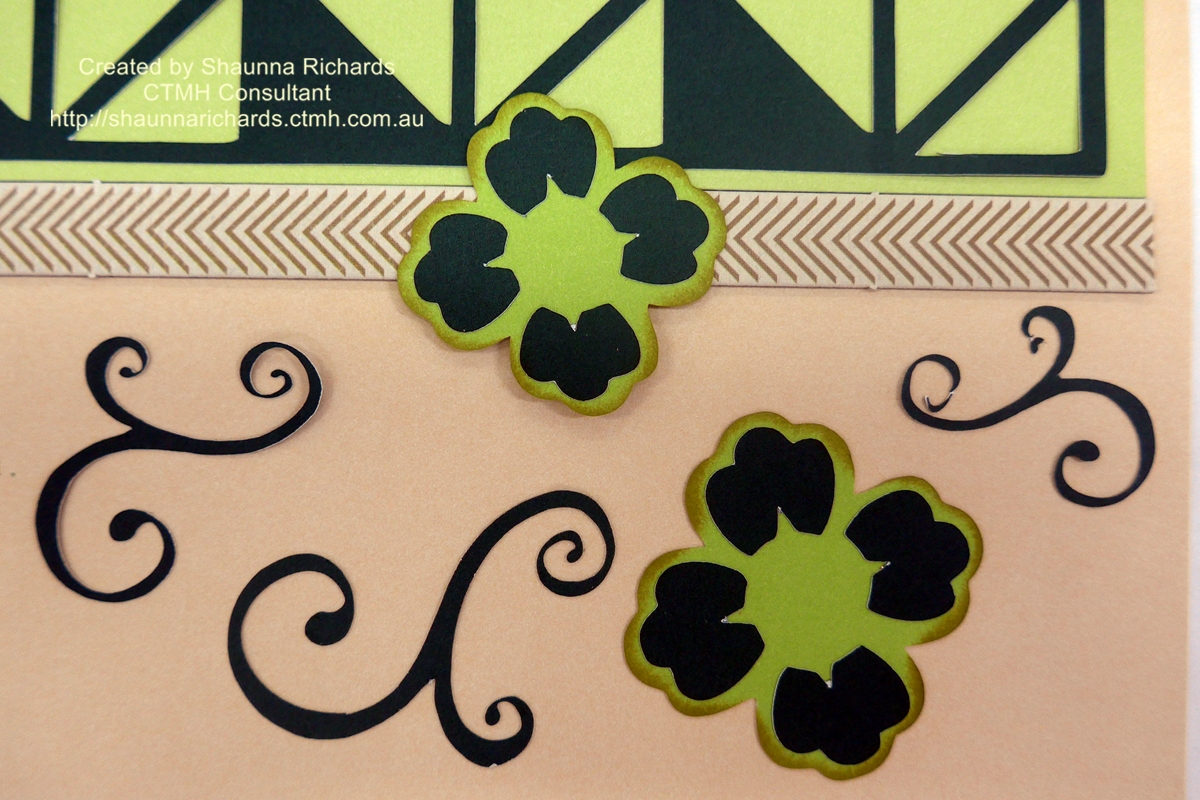 To balance the page, a cluster of flowers and swirls was used in the lower right hand corner.  These also came from the Cricut but you could substitute stamped images or paper flowers and freehand swirls.  The chevron ribbon from
Ariana Compliments
(X7179C) provided a balance with the olive photo mat.
As always, my inspiration for the page came from an idea book!  I actively practise the
CASE
method of paper crafting...
Copy and Share Everything
.  You will find this layout in
Make It From Your Hear, Vol 2
(9042)
To receive blog posts direct to your email account simply click the
Subscribe ~ RSS Posts
link in the blue side bar of this page, follow the link to subscribe and you will receive an email each time I post a new entry.  It's the perfect way to keep inspired in your paper crafting. Anyone subscribing during March will  receive the instructions for making the gorgeous "Exploding Box" pictured in the
'Birthday Celebrations'
post below.
Happy Scrappin'
Shaunna