HIgh Tea
I just love the way new ideas you happen upon so often fit with photos you are ready to scrapbook.  A cute folded dress card was shared on Facebook and I thought, "That's nice but I have nothing to use it for" and scrolled on past.  Then I found my daughter's High Tea photos and thought of this card.  Fortunately for me, a colleague showed me how to make it.  We found a template  on Pinterest. (I've made it the cover photo for my Cards board on my
Pinterest
page if you want to download it.)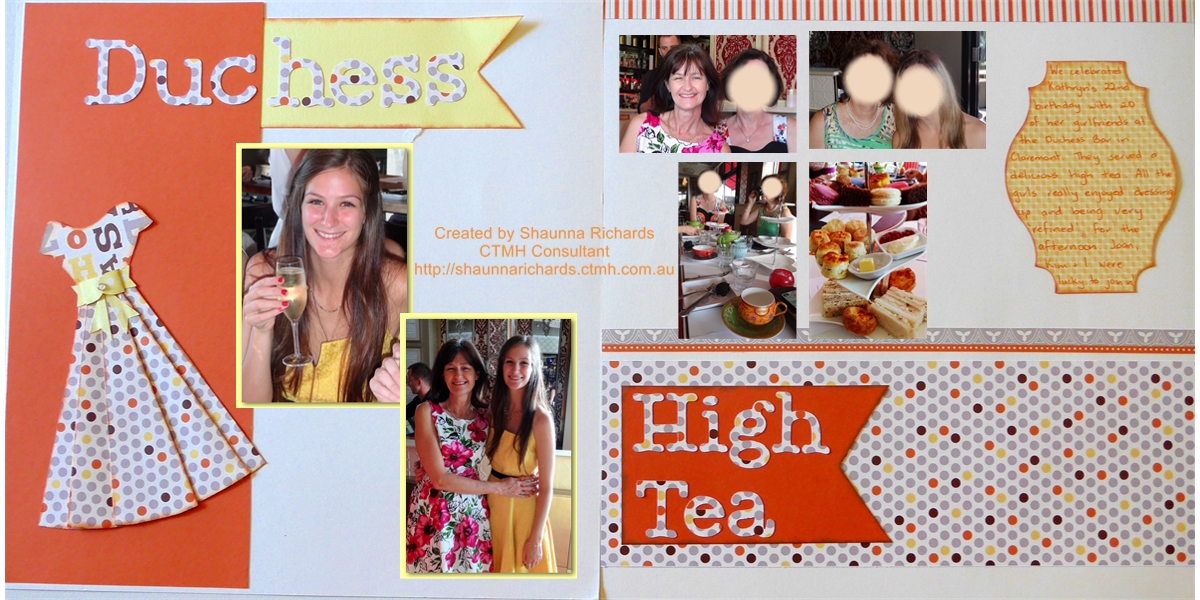 The layout for this page began with the RH page given to me in a swap by the lovely Michelle Koppl.  I love Babycakes and the colours toned in nicely with Kathryn's dress.  I love the zip strip as the accent ribbon.  I cut a decorative journal box using the
CTMH Artiste Cartridge
on my Cricut ( Page 65, Accent 3, Shift).  I didn't want anything too fancy to detract from the dress on the other page.
The base for the dress using the
CTMH Artiste Cartridge
on my Cricut ( Page 41, Accent 2, Shift) rather than hand cutting the bodice as shown on the handout.  To make the skirt, cut the pattern piece and then fold to create pleats as desired.  I inked the folds to make them stand out a little bit.  The join between skirt and bodice needed a little something so I went back to my trusty
CTMH Artiste Cricut Cartridge
and found a bow on page 55.
Happy Scrappin'
Shaunna